Hits: 442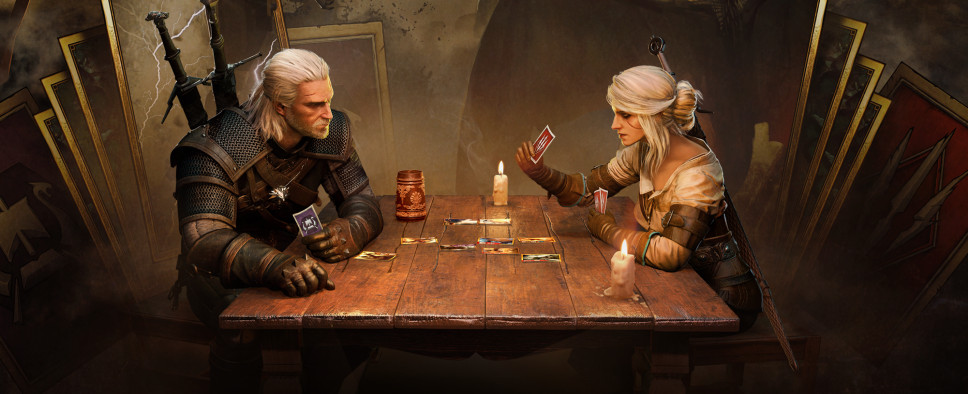 If you're in the mood for some card-based battles, you might want to check out GWENT: The Witcher Card Game's third Journey, CD Projekt's story-driven take on the Season Pass progression system. Revolving around Alzur, an obscure wizard of legend, this Journey invites us to play the game and gradually unlock his story and a bunch of cosmetic rewards as we go.
Here's the official trailer:
And some additional details:
PROGRESS

Every victory matters. Each round you play and win across GWENT's standard, seasonal and Draft game modes will earn you Journey progress.
Receive a boost every day. Come back every day to receive a "Well Rested" bonus that will speed up your progression.
No boundaries. Continue your Journey progression beyond level 100 and receive extra rewards along the way!

UNLOCK

Rewards for everyone.
Collect player avatars and Reward Points simply by playing — it's free for all!
Get Alzur's legendary neutral leader skin.
Unlock it immediately after purchasing the Premium Pass.
Collect over 50 unique ornaments.
Even more rewards are up for grabs with the Premium Pass!

CUSTOMIZE

Customize your Alzur. Level up in Journey to unlock more customization options for Alzur's legendary leader skin: outfits, auras, accessories, items, and focuses.
Personalize your style. Expand your GWENT collection with brand new coin skins, animated avatars, and borders available as part of Journey's third season.

WEEKLY UPDATES

An unfolding story. Check back weekly to delve into more stories about Alzur's past.
New quests every week. Each chapter of Alzur's story comes with its own set of quests which, upon completion, will boost your Journey progression.

FAQ

1. What is Journey?
Journey is our level-based progression system, allowing players to level up and unlock rewards simply for playing GWENT.

2. Is participation in Journey free?
There are two tiers of Journey: free and premium. All players automatically get access to the free tier of Journey. Purchasing the Premium Pass will gain you access to the premium tier, featuring even more rewards.

3. Is Journey available on all platforms?
Yes, Journey is available in GWENT on GOG.COM, Steam, iOS, and Android!

4. How can I get Alzur's leader skin?
You will gain access to Alzur's legendary neutral leader skin immediately after purchasing the Premium Pass.

5. How is Alzur's leader skin different from other GWENT leader skins?
Alzur's skin is a GWENT legendary leader skin featuring multiple customization options. You can unlock and equip numerous outfits, auras, accessories, items, and focuses changing Alzur's appearance. This being a neutral skin, it can be used with any of the game's factions.

6. Will playing games in any mode count towards Journey progression?
Winning a round in any competitive game mode in GWENT (Standard, Seasonal, Draft) will count toward your Journey progression.

7. How many goodies can I unlock via the premium tier of Journey and by achieving level 100?
The premium tier of Journey features over 200 USD worth of vanity items, including over 50 unique ornaments, among them various alternative looks for Alzur's legendary leader skin.

8. When will the Journey end?
Journey will conclude with the end of GWENT's Season of the Wolf. After this date, you won't be able to purchase the premium tier of Journey or further progress through its free and premium tiers to unlock their rewards.

9. Are there going to be more Journeys after this one?
Yes, Journey is an ongoing feature.

10. What is the "Well Rested" boost?
While being "Well Rested", every win that normally grants you 1 Crown Piece will additionally grant you an extra Crown Piece. Every day you can receive up to 14 extra Crown Pieces by winning rounds. You can track how many extra Crown Pieces are left to be claimed that day in the top right corner of the Journey panel (above quests).

11. What are Journey quests and how do they work?
Journey quests are one of the main sources of obtaining Crown Pieces and are designed to boost your Journey progress.

Players will have access to 2 quest chains, where quests will need to be completed in sequence relative to their chain. Each quest chain will feature 3 new quests per week and each completed quest grants you 20 Crown Pieces. Both quest chains are active to all players, meaning free and premium tier players can participate in both. However, quest rewards for Premium Pass quests are only granted to those who purchased the Premium Pass.

Quests are not lost or removed until the Journey ends. This means that even if you joined during the last week of the current Journey season, you will have access to the free chain of 36 quests and a Premium Pass quest chain of 36 quests to complete. Please note that you will have to start progressing from the first quest.

12. What will happen if I purchase the Premium Pass after progressing on the free tier?
You will immediately get all Premium Pass rewards up until your most recently unlocked Journey level. In case of purchasing the Premium Pass + 25 Levels bundle, you will automatically receive all Premium Pass rewards for levels you have already unlocked when progressing on the free tier of Journey, as well as get a bonus 25 level boost from that point and unlock all free and premium tier rewards for those levels. Additionally, purchasing the Premium Pass or the Premium Pass + 25 Levels bundle will retroactively earn you all the rewards for Premium Pass quests completed prior to the purchase.

13. What will happen after I reach level 100 in Journey?
With this Journey, you will be able to progress past level 100. For each level beyond, you will receive an extra 2 Reward Points, regardless of whether you are playing through the standard or the premium Journey. All Journey quests and the "Well Rested" bonus will also continue to add toward your progression.

14. Is there a limit of Crown Pieces I can get daily/weekly?
You can earn a maximum of 350 Crown Pieces from winning rounds each week. Quests and the "Well Rested" bonus don't count toward this limit. After exceeding the weekly limit of 350 Crown Pieces, you can still get the additional 14 "Well Rested" daily Crown Pieces.