Hits: 815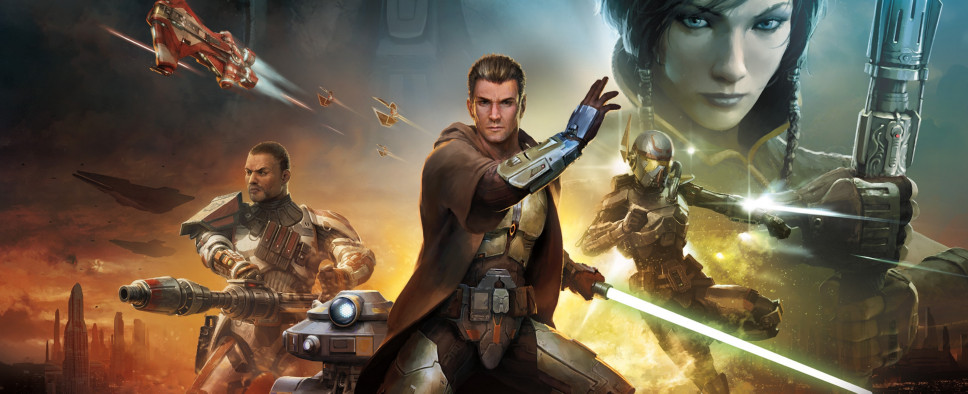 Star Wars: The Old Republic, BioWare's free to play MMORPG that was positioned as a continuation of the Knights of the Old Republic series when it launched back in 2011, has finally made its way to Steam. If you like to have all your games in one place, and if you're interested in playing a story-driven MMO, you might want to check it out.
Here's the game's description along with some information about its optional subscription:
STAR WARS™: The Old Republic™ is the only massively multiplayer online game with a Free-to-Play option that puts you at the center of your own story-driven STAR WARS™ saga. Play as a Jedi, a Sith, a Bounty Hunter, or as one of many other iconic Star Wars roles and explore the galaxy far, far away over three thousand years before the classic films. With 5 narrative expansions, become the hero of your own STAR WARS adventure as you choose your path down the Light or Dark side of the Force™.

Create your legacy.

Make meaningful choices throughout your journey and become the hero of your personal STAR WARS saga. The game includes an interactive storyline with cinematic dialogue and full voiceover for all in-game characters.

A growing world awaits.

For more than 8 years, players have been able to live out their own Star Wars stories. With the most recent Onslaught expansion, STAR WARS™: The Old Republic™ continues to deliver ongoing content through regular updates.

8 playable classes.

Do you prefer the elegance of a lightsaber or the reliability of a good blaster by your side? Choose from one of 8 iconic roles and make your mark on the galaxy! Each class has a unique storyline, allowing you to create your own personal STAR WARS story.

Explore numerous planets.

Hoth, Tatooine, Alderaan, and over 20 other unique and vibrant planets offer exciting exploration and thrilling adventures around every corner!

Multiplayer gameplay.

Gather your allies to face challenging encounters against enemy bosses in Flashpoints and Operations, or battle against other players in Player vs. Player Warzones, Arenas, or Galactic Starfighter missions!

Galactic Strongholds

Want to take a break from the inter-galactic traveling and adventure? Kick back and relax with our player housing system called Galactic Strongholds! Whether it's overlooking the sandy dunes of Tatooine, the bright cityscape of Nar Shaddaa, or the tranquil mountains of Alderaan, there's a Stronghold for everyone. These destinations and more are available for your galactic homestead!

Cartel Market.

Only the slickest items can make their way to the Cartel Market, the premium marketplace for the galaxy's most sought-after commodities. Players wishing to buy things here will need to purchase in-game currency called Cartel Coins. Learn more about what Cartel Coins can unlock on our Cartel Coins Page.

Subscriber Benefits.

STAR WARS™: The Old Republic™ offers an optional subscription that allows you to experience even more of the STAR WARS universe. Benefits include an increased level cap of 75 and access to the most recent expansions: Onslaught, Knights of the Eternal Throne, and Knights of the Fallen Empire. In addition, you will receive a monthly Cartel Coin Grant, increased XP, and more. Details on Subscriber Benefits can be found on our Subscriber Page.
And here's an overview of the new Steam features:
Star Wars™: The Old Republic™ is now available on Steam! The Steam platform provides a new way for players--Padawan and Master alike--to play, discuss, and experience The Old Republic. Now you can earn new trading cards, emoticons, and more all while playing your original characters with full cross-save and crossplay, on or off the Steam platform!

Crossplay and Cross-Save

If you decide to play The Old Republic through Steam instead of the direct SWTOR launcher, all of your progress will carry over when you switch! Likewise, all progress you make on Steam will carry to the next time you play using the direct launcher.

Trading Cards

A majority of games on Steam come with cool and unique Trading Cards! These virtual cards, earned by buying and playing games on Steam, can be crafted into badges that grant Steam-related rewards. Star Wars: The Old Republic has a total of eight Trading Cards featuring notable characters like Darth Malgus, Satele Shan, HK-55, and others! Collect a set of cards to earn items (like emoticons and backgrounds) you can use to customize your Steam profile and account. Trading Cards, along with emoticons and backgrounds, can also be bought and sold on the Steam Marketplace.

Achievements

Although SWTOR will not have Steam achievements on launch, over 100 achievements will be added with a future update later this year. All of the Steam achievements will be exact copies of their SWTOR counterparts, meaning Steam will not have exclusive or unique achievements.

Achievements will be retroactive! For example, if you have 47 achievements already unlocked in-game, those same achievements will all unlock on Steam when you launch SWTOR through the platform for the first time.

With the addition of Star Wars: The Old Republic to Steam, we are excited to welcome new adventurers to a galaxy far, far away! May the Force be with you!