Hits: 811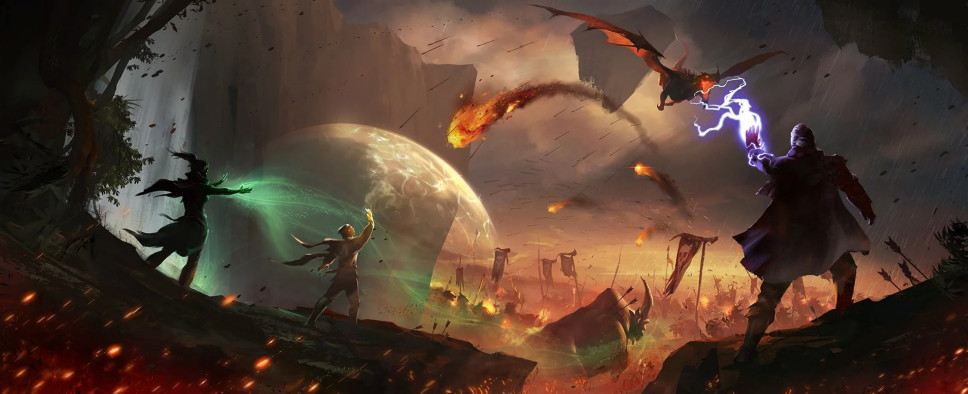 Cryptic Studios and Perfect World Entertainment's upcoming free to play MMORPG Magic: Legends will feature numerous recognizable Magic: The Gathering locations. One of them is Tazeem, a lush jungle continent on the plane of Zendikar. The game's latest developer blog goes over the visual design of this continent. An excerpt:
During the development of Magic: Legends, our team has taken on several world-building challenges that go well beyond that of a standard 3D game. Today we will be talking about the development of Tazeem, a lush jungle continent located on the plane of Zendikar. As the third region we built out for the game, Tazeem tested our knowledge and learnings from developing previous regions. Each region we approach, like Benalia and Shiv before them, has presented a unique challenge to overcome and Tazeem has been no exception!

In a game with free camera movement, artists work extremely hard to make everything look amazing regardless of orientation. This means everything must look great in both vertical and horizontal spaces, where the camera can rotate around them. The camera angle in our game focuses in on the lower hemisphere of the world, which means our artists must convey the appropriate feelings of a region, from wild grandeur to claustrophobic areas, using the ground space and below without added verticality.

AMONG THE TREES

Tazeem is covered in dense foliage, the composition of which creates a thick jungle canopy that obscures the ground below. Our challenge was to communicate the feeling of being hidden underneath this canopy without being able to actually look up and see it. We also had to make sure that treetops didn't obscure the camera view of the playable space. Our team of environment artists came up with a few clever solutions to give the illusion of the jungle canopy we needed.

The first solution is an old stage lighting trick called a gobo, where a stencil cut-out of a tree canopy is placed between the light and the stage. When light shines through and a gentle sway is added, the shadows feel like you are among the trees.

The second solution he discovered was to place thin vines that span the vertical space of the screen giving the illusion of added height. After adding the vines, he experimented with how far he could push this approach. He added thicker vines and tree trunks that extended up past the camera. The cumulative effect makes walking the paths through Tazeem feel like they're bathed in jungle.
You may also be interested in this recent post from the game's executive producer Stephen Ricossa where he shares some high-level monetization details. Check it out:
Magic : Legends is a free to play, persistent online Action RPG that puts you in the boots of your own planeswalker. Over a variety of blogs, we have discussed classes, Artifacts, deck creation, and a few of our progression systems to highlight all of the amazing things you'll get to experience in the game. We have more exciting features and content to share with you over the coming months which will further expand your understanding of how you'll adventure throughout the Multiverse and become more powerful as a planeswalker. Now that our first Closed Alpha test is behind us, with several more Closed Alphas and Closed Betas on the horizon, I wanted to take some time now to cover some high-level monetization details for Magic: Legends and how it will factor in to the overall game experience.

First things first, Magic: Legends will not be selling content updates or playable missions. Our goal is for the entire game to be playable and fun from beginning through endgame and beyond without having to spend a dime. Period. We will be offering a variety of items for purchase that will give players alternative options when building their decks or loadouts, but not give them a numerical power advantage. Building on that philosophy, we'll be offering an in-game currency exchange just like Cryptic's other free-to-play titles, Neverwinter and Star Trek Online. You will be able to exchange a specific currency earned through play, in this case Aether, with other players for actual cash store currency at a conversation rate that is completely community driven. The exchange empowers people to purchase cash store items or lower the cost of them by playing the game.

Booster Packs have been a staple of the Magic: The Gathering card game for over 26 years as a way to build a library of cards that allow players to construct different decks for different situations. Magic: Legends will also be offering booster packs as a way to collect spells, and collect shards of spells in order to expand and level your spell library. If you choose to purchase these booster packs, there are several other types of items you have a chance to unlock in addition to spells. These range from unique Artifacts, to unique spells, and even a unique class. These classes and items are not more powerful than the free classes or other items that exist in the game, but are different horizontally. They provide a different set of play options, but don't give a power advantage. For example, the Geomancer and Mind Mage are equally powerful ways to experience the Multiverse, but they offer different and unique gameplay experiences.

Classes are a large part of your progression in Magic: Legends, and having a variety of playstyles at your disposal makes deck building, Artifact collecting, and loadout creation all the more interesting. In addition to the classes that are included in the game for free, we'll be selling themed Planeswalker classes that give you more class options to choose from when constructing your loadouts. These classes will have their own progression trees, Traits, Spark Powers, abilities, and a unique costume that can be worn on its own or mixed with the costume parts from other classes to customize the look of your planeswalker. As before, these classes are not more powerful than the free classes that exist in the game, but are different from the free classes horizontally. They will have their own set of play options without giving a numerical advantage.

While we have a variety of progression systems in Magic: Legends, we'll also be adding a Battle Pass system for added progression and even more rewards. We will have a completely free track that features currency packs, costume options, unique spells, and Artifacts that reward players for engaging in the system regularly. We will also offer a paid track that comes with everything mentioned before but also including unique cosmetics, more bonus currency, and more unique loadout customization items. The Battle Pass seasons will provide plenty of time to collect all of the great rewards, while giving you interesting challenges to complete while you progress.

We will run events that feature free content and unique rewards regularly. Event rewards will range from new spells and Artifacts to new playable classes and more. All of these items can be earned for free by participating, or players can choose to purchase an event buyout which immediately provides them with the event rewards.

Lastly, we will be offering a variety of convenience items at launch and over time such as loadout slots, deck slots, XP boosts, and other items that assist with leveling throughout the game. None of these are required, but they do allow for faster progress if you would prefer to level up more quickly or catch up to friends that are ahead of you.

Thanks for taking a moment to check out this high-level view of how monetization will work in Magic: Legends. We have so many incredible play experiences and stories that we can't wait to share with you!

I'll see you in the Multiverse!

Stephen Ricossa
Executive Producer
Magic: Legends