Hits: 692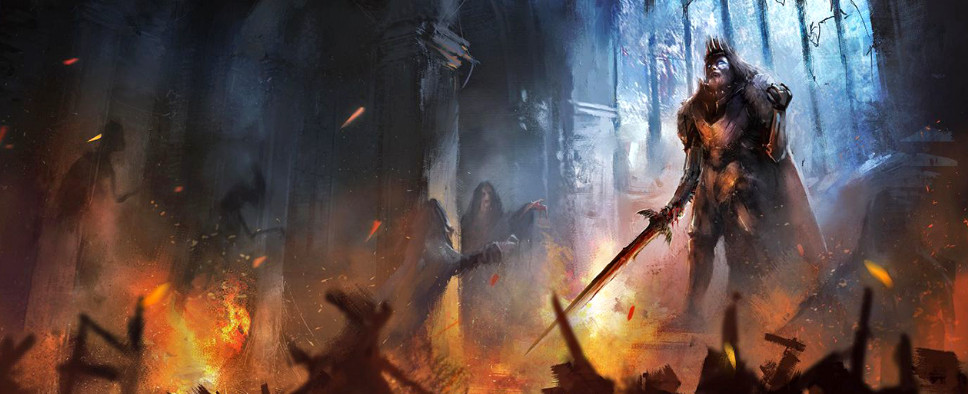 We first heard about Tainted Grail, a digital adaptation of Awakened Realms' Tainted Grail: The Fall of Avalon board game, back in 2019. The game is now live in Steam Early Access, priced at $24.99 or your regional equivalent. It's positioned as a dark fantasy reimagining of Arthurian legends that you can play as either a story-driven open world RPG, or a hardcore roguelike.
The early access version will be focusing on the roguelike mode, with the developers working on the single-player campaign behind the scenes. Here's the launch trailer for the roguelike Conquest mode:
And some additional information:
Today is the big day! Today we finally share with you the Early Access version of Tainted Grail, and we couldn't be more excited about it. We probably couldn't be more stressed about it, too :D

This was an extremely long journey for us… We've spent almost 2 years of our lives on this game, learning as we went. The project kept evolving, the team kept growing, and we've all learned so much from working on this title that it's almost unbelievable.

And when we think back on how it all started - we're really proud and honestly amazed that our company actually got to this point.

You see, the journey of Awaken Realms was much, much longer than our two years. The company was formed about six years ago in the basement of an old house located in a small village near Wrocław, Poland. At first, it was run by two guys (they say they were "extremely passionate about games and stories," but they are just geeks, like all of us! :D) with zero capital and no experience whatsoever. But they decided to start a miniature-painting studio... and we're pretty sure they never would've thought that, in time, their company will be able to break Kickstarter with its board games and start working on ambitious digital games!

A lot happened on this 6-year-long journey from painting miniatures, and most importantly, a lot of talented people joined the company and managed to create some great games… or even open up a board game pub in our city :D

And so, we at Awaken Realms Digital, are incredibly proud to share with you an early access version of Tainted Grail. The first video game Awaken Realms ever started working on - and the first one we're publicly launching!

You can imagine why this feels exciting and stressful at the same time. We've worked days and nights, we've put our hearts into this game, and we are incredibly proud of what we've been able to achieve.

We REALLY hope you're going to enjoy Tainted Grail!

But OK, we probably got a little carried away with this intro… Let's write a little bit more about what is waiting for you inside this Early Access!

TAINTED GRAIL: CONQUEST

As we announced before - our main focus during early access is going to be Conquest, our narrative-driven rogue-lite/RPG hybrid. An endless game mode, we're going to support with regular updates all the way until our proper launch.

Here's the introduction to Conquest's storyline!

[...]

What's Conquest?

This is a whole, new roguelike mode that we announced in our last update. We've been working on it for the past months, and we've been actively iterating it with our discord community, and while there is still a lot of work ahead of us... It already feels really satisfying to play!

Also, we have our first community-made guide to playing one of the classes! Thank you, Disiesel!!! :D

Main highlights:

Tons of story locations/interactions with different lore and choices
Procedurally generated world – every time you start a new run, you will find different things on your way!
Possibility to create unique combos between cards, passive skills, items, and consumables
An option to build and upgrade your village in between the runs
High-scores! Defeat the final boss and beat your high score!
Learn extra lore about the world of Tainted Grail.

To stress it out: this mode will be the focus of our early access and will be developed over time with your help, folks! We will be adding much more content, new classes, new runes, new monsters, new bosses, and various challenges!

And we're going to share a roadmap with you really soon! :)

Campaign

On top of that, we have a re-mastered teaser of the game's single-player campaign for you. This is still a teaser which lasts for around 3 hours, but it comes with quite a lot of changes!

Huge visual upgrade
Polished storyline
More content to find and more story interactions
More voice overs!
The game's world was built from scratch!
...And much more!

We hope this will give you a good taste of what is coming in the full release. (But please remember if the story campaign is what you are mostly looking for, we are recommending waiting for the full version!)

Visuals

First of all, we were able to really enhance everything in the game visually and bring everything into 3D! Animations are better, visual effects are better, the scale of heroes and the environment is right, and the terrain is much better looking, too! But well, screenshots and videos speak for themselves!

Hopefully, our visuals will immerse you in the dark Arthurian world! ;)

Voices, sounds, music!

We have also enhanced our soundtrack and audio, and we are so happy with the final effect! Not only did we got the AMAZING Danheim (definitely check out their Bandcamp page!) on board and they allowed us to use their songs on the game's soundtrack, we were also able to get a lot of great voice over actors. Huge thanks to Emma Powell for being THE voice of Tainted Grail!

So...

We really hope that you will get a great experience out of the game – but please remember this is still Early Access. We expect some bugs, small problems, issues, and a general lack of polish in various places. We will be reading all of your feedback, and we'll try to fix everything as soon as it's possible!

This is it! On behalf of the whole Awaken Realms Digital team, who worked as crazy on this game, we would like to invite you to take a look!

Meet the hungry knight, sleep in the skull of the Great Stagfather, and curse those damned rats again and again! See you on the trail and let the All-mother protect you from wyrdness!