Hits: 488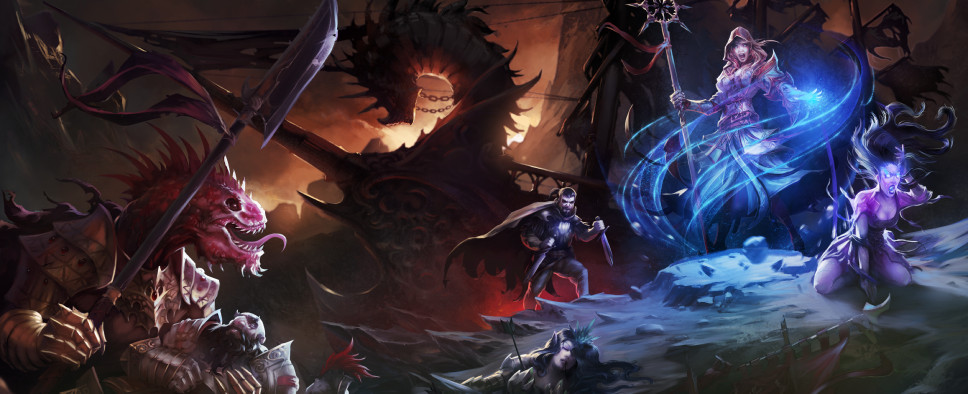 Following this year's PAX East, we get a new Kickstarter update for Divinity: Original Sin - The Board Game. The update offers a quick recap of the event, lets us know that the CrowdOx pledge manager is now live, shows off a new premium add-on, and then mentions the project's future. Here are the text bits:
Welcome to update number 17!

We're just back from PAX East, and we have some exciting news! Read on as we talk about the pledge manager, improved player boards, PAX East, and playtesting.

Pledge Manager

First up, we're delighted to say the pledge manager is now live! Backers should have received an email last night giving you instructions about how to access your account and show your pledge in CrowdOx. The manager will have a comprehensive list of all tiers and add-ons. So you'll have all the elements you need to get exactly what you want.

Simply follow the link in the email and sign up with the same email address used for your Kickstarter account. Once you're logged in, you will be able to choose your pledge tier and any add-ons you may want. You can modify your pledge easily from here, and select any add-ons you backed for.

Speaking of add-ons...

Wyrmwood

We have one final (but epic) add-on available in the pledge manager that wasn't in the main campaign. The good folks over at Wyrmwood have created a high-quality, four-wood, collector's game board. Words really won't do it justice, so here is a picture of the board[...]

Wyrmwood used several exotic hardwoods, including Tiger Maple, Wenge, Plane Tree Burl and Padauk; the hand-inlaid surface combines more than 50 pieces into the final board! It's a beautiful piece of craftsmanship. The board also includes a mounting bracket on the back, so when it's not in use you can display it on the wall as the work of art it is. It truly is an investment for bringing your game to the next level.

PAX EAST

PAX is always a great opportunity to show the game to fans and get your feedback. And this year was our biggest yet. With the gameplay reveal of Baldur's Gate 3, and a beautiful new booth to show it to attendees, we set up a separate booth on the convention floor just for board game demos - and it was packed all weekend!

With three tables running for four days straight, we had a lot of fun playing the demo with plenty of new players. The demo scenario has been upgraded since our time showing it during the Kickstarter campaign. It now includes the new environmental effects and interactions, as well as barrelmancy!

Thanks to the great folks over at Kickstarter, we also showcased it in their PAX showcase room. They had a great space, and allowed us to run some extended sessions. We used the extra time to run the demo boss fight in a special two-hour-long session each day. The party had to take on the fearsome Ghoul in the forest depths and all weekend long, no one had been able to defeat it. All that changed on Sunday, when the play group looked like they might be able to take it down...

At first, it looked like victory was in their grasp, but then the Ghoul summoned a pack of wolves and surged back. There was much bemoaning of the fact that the Elementalist covered several areas with water (did we mention we ran the demos with the new barrel and environmental rules?) The Ghoul had been brought down to eight hit points and was close to death as the party went for the kill.

There was a communal "aww" when the two-handed fighter rolled all blanks, missing the Ghoul. The Ghoul retaliated, and brought down their heaviest hitter.

Everything got tense as the battle continued, even when the boss got down to four hit points. It seemed like they might just pull it off! With only three minutes left before we needed to pack up the Geomancer slammed the Ghoul, bringing it down to one hit point, setting it up for the Hydrophist to kill the Ghoul with a Restoration skill that pierced through armor (because it's Undead and therefore damaged by healing spells) and brought it down! It was an epic way to end the encounter and the weekend.

Updated Player Board, Dials & Tokens

Up to the moment we send the game to our manufacturers, we'll be refining every element of the game through playtesting and iteration. Today, we wanted to show you some of the work we've been doing to the artwork and reference text on the player boards. The intention is to make everything easy to read and understand while playing. We've also made changes to the HP trackers to help better match the art style of the main board. The style should now be much more consistent between the main board, player board, and hp trackers!

The original intention was for the game to have four HP trackers, one for each player. But now we've added a fifth, larger, boss HP tracker. This avoids the need to count damage tokens on bosses with bigger HP totals. You may notice the third dial. This means we have the freedom to design bosses that go above 99 HP…

With so many characters and a new look for the player board, we've also done away with the player colors from previous prototypes. Every Origin character now has a personal initiative token and target token, which makes it much clearer what is going on when you look at the initiative track.

Since the main use for the target token is to keep track of less common statuses that players might assign using their skills (such as the Huntsman's Pin Down Skill), we've also changed it to look more like a status token. We'll talk more about how statuses and environments have evolved in a future update.

Future Updates

Very soon we'll be sending out playtest copies to our wider blind playtest group. These will be unassisted playtests, with the intention to start and end the full campaign with as little Larian or Lynnvander assistance as possible. Playtests like this will give us a comprehensive understanding of how the game fares. We'll be looking for feedback on rules explanation, balance, sense of fun and adventure, story, player agency, and lots more. We'll follow up with multiple iterations to rules and story flow as these playtests are in progress. We plan on keeping you updated as interesting ideas and design changes come up.

Next update we'll share with you how the blind playtests are progressing and we'll discuss environmental effects and interactions, along with the the fan-favorite: barrelmancy.

In the meantime, the Lynnvander team will be streaming on their usual schedules. And we're also planning on recording a two-player playthrough to show how the game works in that situation.