Hits: 383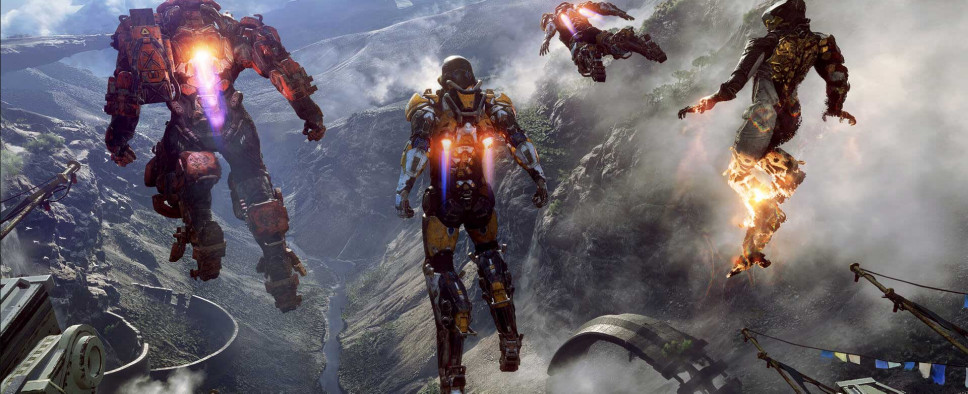 Last week, BioWare's co-operative action-RPG Anthem received a new update that kicked off the game's seasonal Icetide event that combines some holiday season festivities with new challenges and objectives. The update also fixes a number of bugs and introduces new cosmetic items. Here's an overview of the new features:
New Features

Welcome to Icetide - Shaper devices have brought localized ice storms into Bastion, bringing excitement with every glittering snowflake across the region. Ice is rare here, but when it arrives, people know that Icetide celebrations will soon follow. Holiday lights shine throughout Fort Tarsis, their bright colors sparkling on blankets of snow

Seasonal Themed Strongholds - Each week a different featured seasonal Stronghold will unlock for players—now including score leaderboards. If you're up to the challenge, compete with other Freelancers for the highest score. Visit the Seasonal Store to exchange your Crystal for War Chests.

Freeplay Time Trials - Have you ever wanted to put your javelin flight and navigation skills to the test? Join Freeplay, and race through eight time trials that can be found in Bastion. Try to beat our Gold times!

New Legendary World Event: Icetide Coolant Harvesting - Help the Arcanist harvest precious coolant resources while fighting off the outlaw forces that are trying to steal it from you.

New Challenges - Explore the Challenges to see vanity rewards! Gain new armor sets, special time trial wraps, and more.

New Hidden Collectables - Explore the region to find all Festive Wreaths.

Icetide Cortex Entries - Explore the region to find new story entries to add to your Cortex.

More Powerful Drops in Grandmaster 3 - All Legendary loot drops on GM3 now drop with +5 Gear Score.

New Tomb of Legionnaires Offering - New Guardians' Tokens are granted through daily and weekly challenges. Freelancers can make offerings of a Guardian Token and additional crafting materials within the Tombs of the Legionnaires to gain a random Legendary item. Each tomb grants different items, but all items have a +5 gear score.

Tomb of Artinia: Legendary Weapons
Tomb of Cariff: Legendary Gear
Tomb of Yvenia: Legendary Melee Weapons and Javelin-Specific Components
Tomb of Gawnes: Legendary Support Gear and Universal Components

New Seasonal Cosmetic Items - Visit the Featured Store throughout the season for new Icetide-themed cosmetics.

New Short Stories - In addition to these new features, keep an eye on our Anthem News Page for all new Icetide-themed short stories from our writing team!
And here's everything you need to know about Icetide:
A strange but welcome chill in the air heralds the coming of one of the most anticipated seasons in the world of Anthem, Icetide. It's a time of joyous celebration, friendly competition, and harvest – but it also has its dangers. While some enemies avoid the cold, others flourish in the frigid temperatures and will test you to your limits. Better bundle up, Freelancer, it's time to take on Icetide!

Your Guide to Icetide

Icetide is a themed, season-long event that offers unique rewards and challenges for its duration – similar to the Season of Skulls. The normally steamy jungles undergo a fantastic transformation as Bastion becomes a winter wonderland, for a time. The people of Fort Tarsis celebrate by hanging colorful lights and delicate glass ornaments in every public space.

How to Begin

There are no level requirements for the Icetide content, anyone at any level is welcome to enter. If you'd like to participate in the Seasonal Stronghold events you will only need to have completed the Incursion story. You can select currently available events by visiting the "Game Modes" menu. For more information on what's happening during each week of this event just visit the World Updates page here on the Anthem website.

Strongholds and Freeplay

Each week you'll face a Seasonal Stronghold with leaderboards, scoring, and timers – plus extra objectives and challenges. Understanding how to maximize your score by planning out your Stronghold strategies and keeping score multipliers in mind will also mean earning more Crystals to spend in the seasonal store.

If you've unlocked Freeplay (the mode where you can freely roam through the world of Anthem) you can also encounter season-related world events. Here you'll aid Arcanists as they attempt to harvest a rare Coolant in the midst of ferocious, localized snowstorms. But beware, bad weather is the least of your worries!

Or, if you'd like to test the speed and agility of your javelin, enter one of the Time Trials – races where you'll maneuver through floating hoops to try to achieve the best time possible. There are three different tiers you can complete the race in – Gold, Silver, and Bronze – with greater rewards going to those who finish faster.

Enemies and Rewards

Some enemies (like Scars and Dominion) find the cold weather daunting and will withdraw or even go into hibernation. Unfortunately, that doesn't mean Freelancers are in for an extended winter holiday. You'll find yourself fighting off Outlaws with greater frequency throughout the whole of the Icetide season as well as formidable wildlife adapted to the colder weather.

Of course, a new season means new seasonal store inventory to spend your hard-earned Crystals on. Visit Herschel's Hut (in the Fort Tarsis market, near the doors to the courtyard) for weekly inventory refreshes of ice-themed vanity items, War Chests, plus gear and weapons. Unique seasonal vanity items will also be available as rewards for completing challenges.

The Lore of Icetide

You'll be able to delve further into the lore of this much-anticipated season through weekly stories published on the News page. And take some time to explore the wintery landscape for light-up wreaths that will help you unlock even more!