Hits: 497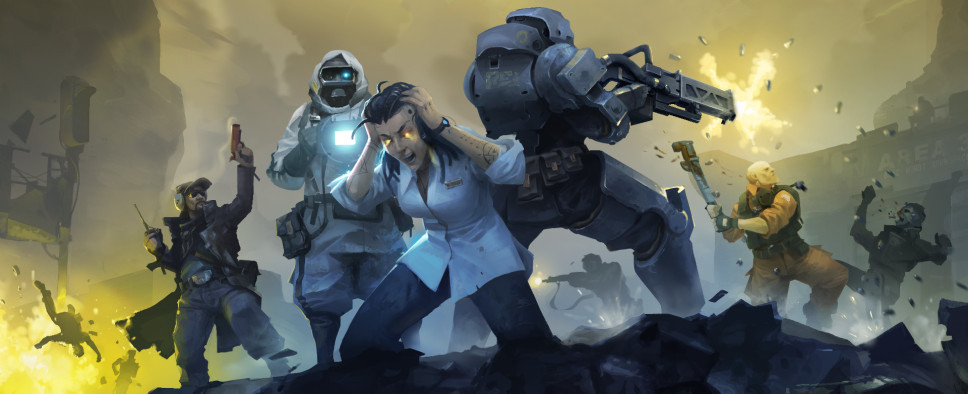 Encased, Dark Crystal Games' Fallout-inspired post-apocalyptic RPG, is currently going through Early Access on Steam, and should be getting a full release sometime next year. And according to this PC Gamer preview, the game already shows plenty of promise and its developers know what they're doing. Here are the opening paragraphs:
I'm in a crowd of gamblers, all craning our necks at flickering security monitors to watch a group of rats scurry through narrow tubes. I had to slip a guard 100 Combonds just to watch the race: She looked the other way while I shimmied down an elevator shaft into a cavernous reactor room, my radiation meter ticking up every second. I'll have to visit the lab later, but it was worth it. Cherry—a rat I'd heard her owner boast about just before I placed my bet—pips the leader at the post, and I net a tidy profit.

Later, I help an engineer catch a rat that's nested beneath the floors of a transport bay filled with rusty cars. I consider giving it a new life as a sprinter in the irradiated depths, but it seems cruel. Instead, I stash it in my inventory, and now I'm carrying a rat in a cage around with me as I blast mutated bugs with a shotgun, crack once-genius scientists over the head with an electric baton, and try to figure out why the whole world has gone to hell.

Together Preston and I, as I've named him, have completed Encased's first act. We're happy to report that despite being nine months from release out of Early Access, Encased already feels like a deep, complex post-apocalyptic RPG full of mini storylines that will easily steal 40 hours of my life. The turn-based combat is entirely average, but I like how vividly Encased creates its world and the social structure within it, before wrapping everything in a shroud of mystery. It starts by explaining its rigid, rules-driven society and ends with me floating through an imaginary world of smoke as the shapes of characters drift around me.
And here are the patch notes for the latest Early Access hotfix update:
Here's the list:

Fixed the game build: starting with hotfix 5, all updates will become much more compact,
Nashville, Residential Floor: patency on location, fixed,
UI: fixed interface error when applying the Hacking skill and choosing a tool for hacking,
UI: items equipped with a player are now marked with a special icon during barter,
Magellan, Administrative Floor: patency on location fixed,
Magellan, Residential Floor: fixed battery check in a discharged elevator,
Magellan, Training Ground: patency on location was fixed,
Magellan, Training Ground: fixed the use of a canister on the generator,
Magellan Reactor Room: now you can't bet on Rocker if you accused its owner of doping,
Magellan, Lab Floor: the mechanics of treatment of Dr. Burdansky and the Medkom-72 apparatus fixed,
Gunsmith's House: rewards added to ammo and food drawers,
Gunsmith's House: the approach to the Vega machine gun has been fixed,
Gunsmith's House: increased Heinrich Stolman character level,
Nashville, Excavation Area: added ability to use the artifact during battle,
Nashville, Offices: patency on location fixed, now you can sit on sofas,
Nashville, Offices: added vignette illustrations (Aggressive infected),
Nashville, Sewer: fixed updates to the quest "A series of strange events",
Global Map: the death of the protagonist fixed,
Global Map: fixed display of the border of the Dome,
Global Map: fixed loading of one of the desert locations,
Nashville: removed the possibility of trading with the possessed,
Fixed the ability to create an item, despite the lack of the necessary components,
Random encounters: fixed behavior of enemies after loading a saved game,
Random encounters: fixed dead engineer event ,
Fixed reduced quantity of skill points given in a situation where the character receives a new level in a state of intoxication,
"Detective" Quest: fixed issuing a reputation for helping Ide Grace.