Hits: 1274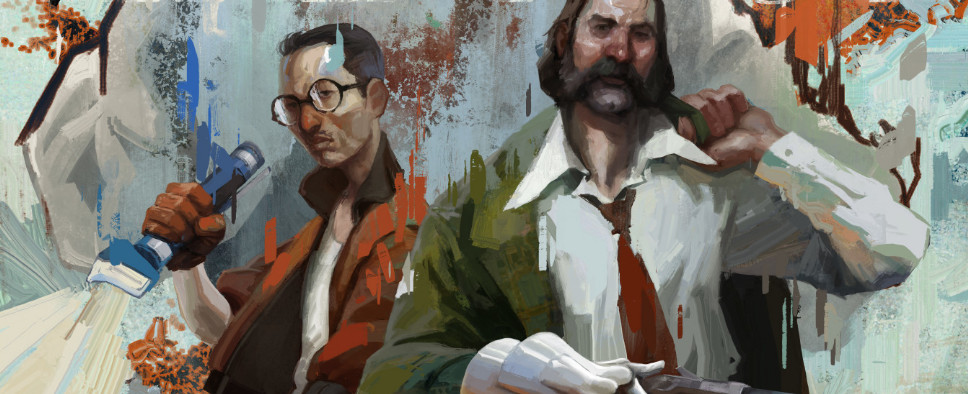 Disco Elysium, ZA/UM Studio's innovative RPG where you play as a down on his luck detective in a world on a collision course with the apocalypse, is now available for purchase on both Steam and GOG. The game is priced at $39.99 or your regional equivalent, and if you purchase it on GOG before October 22, 2019, you'll also get Stygian Software's Fallout-inspired RPG Underrail for free. Here's the official launch trailer that summarizes what Disco Elysium is all about:
And here's the game's description:
You Are a Detective

Disco Elysium is a groundbreaking open world role playing game. You're a detective with a unique skill system at your disposal and a whole city block to carve your path across. Interrogate unforgettable characters, crack murders or take bribes. Become a hero or an absolute disaster of a human being.

Features

Unprecedented freedom of choice​. Intimidate, sweet-talk, resort to violence, write poetry, sing karaoke, dance like a beast or solve the meaning of life. Disco Elysium is the most faithful representation of desktop role playing ever attempted in video games.

Countless tools for role playing.​ Mix and match from 24 wildly different skills. Develop a personal style with 80 clothes items. Wield 14 tools from guns to flashlights to a boombox, or pour yourself a cocktail of 6 different psychoactive substances. Develop your character even further with 60 wild ​thoughts ​to think – with the detective's Thought Cabinet.

A revolutionary dialogue system with unforgettable characters. ​The world is alive with real people, not extras. Play them against each other, try to help them, or fall hopelessly in love. Disco Elysium's revolutionary dialogue system, with partially voiced characters, lets you do almost anything.

Carve your unique path across the city​. Explore, manipulate, collect tare or become a millionaire in an open world unlike anything you've seen before. The city of Revachol is yours for the taking, one small piece at a time. From the streets to the beaches – and beyond.

Hard boiled, hard core. ​Death, sex, taxes and disco – nothing is off the table. Revachol is a real place with real challenges. Solve a massive murder investigation, or relax and kick back with sprawling side-cases. The detective decides, the citizens abide.
Then, you might be interested in some quite positive reviews:
PC Gamer 92/100:
How you complete tasks and solve crimes is dependent on your character. If you're the physical, all-action type, you'll deal with situations in a more direct, aggressive way. But if your character is psychological or empathetic, you might find a more subtle solution. Crucially, every kind of player is catered for. In my experience you'll never hit a brick wall because of the way you've built your character. This makes Disco Elysium a supremely satisfying RPG, because if you want to play a certain way, it's primed to accommodate it.

The thing about Disco Elysium is that my experience of it is completely unique to me, such is the dizzying variety of skills, stats, thoughts, and conversation options on offer. You could play through it five times and still not see everything, so there's no one experience to assess. But I can say with certainty that it's one of the finest RPGs on PC if you value depth, freedom, customisation, and storytelling.
WCCFTech 9.5/10:
It's impossible not to fall for Disco Elysium, from its intriguing murder detective work to the world it depicts, not to mention the voices inside your own head. It's an experience that could easily make the top of some Game of Year lists and for good reason.
Fextralife 8.5/10:
In a day and age where social and political issues are subtly weaved into the very fabric of nearly every form of entertainment, Disco Elysium takes them head on without a hint of shyness. Disco Elysium is certainly not a game for those that are faint of heart, but if you have a sense of humor, and you're looking for a breath of fresh air then Disco Elysium is a must buy game. If it doesn't make you laugh out loud a time or three, I'll ride the Cock Carousel.
GameCrate 9.25/10:
I've never laughed this much while playing a game. Well-read, nihilistic, dark, and intellectual, Disco Elysium is like your favorite poli-sci professor huffed paint and ran naked through the quad.
Rock Paper Shotgun Scoreless:
But those are the complaints of a pedant next to my larger criticisms, and those larger criticisms don't take away the good things Disco Elysium has achieved. It does deserve to be compared to yer Planescapes, yer Fallouts, even if it hasn't stepped totally out from their long shadows. It's a great, bleak rumination on the failings of humanity on a macro and micro level. But not without hope. A masterpiece, but flawed, and proof positive that if ZA/UM can do flawed masterpiece for their first outing, they might already be chipping away the flaws in time for their next.
Gaming on PC 10/10:
So, you might be asking yourself, is there anything even remotely wrong with this game? And to be honest, I can't really come up with a single negative thing, unless I have to wade down the good old tech issues part. Is that your thing? If it is, then know that I experienced a few soft locks that were solved after saving and then loading that same save file (seemed to be caused by the game getting confused after my detective woke up from a good night's sleep), and that I also lost the HUD a few times (the solution here implied a full game restart, but no progress loss of any sort, so not a big deal either way). Do keep in mind that these issues might not even be present in the version of the game you get to play, as I was playing an earlier build for review purposes.

Aside from these two very minor tech issues, my time with the game has been pretty much perfect. Disco Elysium is an unforgettable journey that shouldn't just be experienced by all RPG fans, but by anyone who has ever played a videogame. I can't think of a single thing this game does wrong, and for all intents and purposes, ZA/UM's debut release has dethroned Planescape: Torment as the best RPG I've ever played. Don't sleep on this gem!