Hits: 876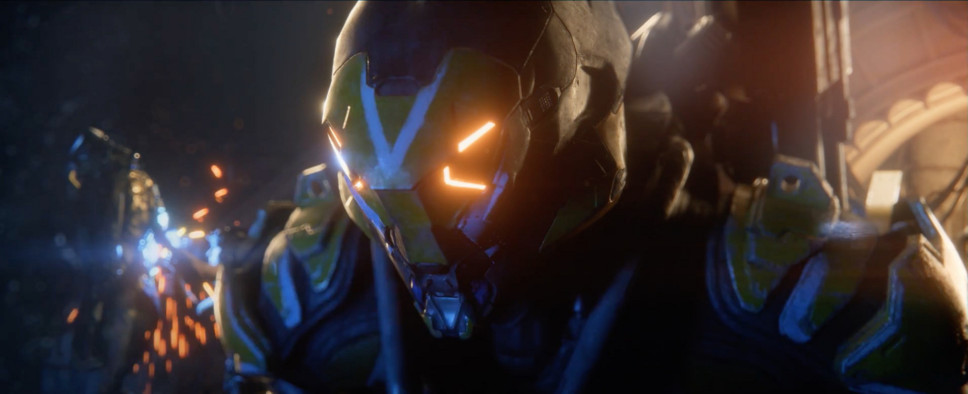 During this year's PAX West, BioWare unveiled a new trailer for their upcoming co-operative action-RPG Anthem. The trailer serves as an overview of the game's features that also stresses the importance of story to the whole thing. Have a look:
If you're interested in the game, you may also want to give PC Gamer a visit and check out a couple of their recent articles dedicated to Anthem. This one tells us about the game's simplistic two-option dialogue system. And this one mentions the upcoming "VIP" demo coming in February. Here's an excerpt from the former:
During a Q&A session at a pre-panel press briefing on Anthem at PAX West, BioWare debuted footage of the conversation system players will use in Fort Tarsis, the singleplayer area players visit between multiplayer missions.

Forgoing the complex conversation wheel of previous BioWare games like Mass Effect and Dragon Age, Anthem will only allow for two dialogue choices in conversations. The two choices aren't aligned with a morality system of any kind, but do differ in tone slightly.

When asked why the system was simplified for Anthem, executive producer Mark Darrah replied, "We are showing this to an audience that is not used to these kind of decisions and conversations. We wanted to keep it simpler, but we also don't want to present you with any false choices."
And on top of that, a few days ago, the official BioWare blog revealed Sarah Schachner as the game's composer. A bit on that:
In an original IP, building the musical score is a journey to find the right sound and tone to accompany an exciting new world. For Anthem, a science-fantasy game, BioWare was looking for a unique and skilled composer to help us achieve our vision. That's why we're pleased to announce that Anthem's score will be created by Sarah Schachner.

Previously, Schachner worked on the critically-acclaimed scores for Call of Duty and Assassin's Creed. Her history of creating compelling scores for film and games make her particularly well-suited to bring Anthem's music to life. A multi-instrumentalist, Schachner's evocative time-travelling and intergalactic scores will create the perfect backdrop for rocketing around in a javelin and exploring Anthem's dangerous world.

Scoring Anthem in Music City

EA and BioWare have a long-standing history of working with Ocean Way Studios in Nashville, Tennessee. Alongside London and Los Angeles, Nashville is one of the most important live orchestral recording destinations in the world. We are excited to bring Schachner and Anthem to Music City, U.S.A., for one of 2019's most anticipated projects.