Hits: 958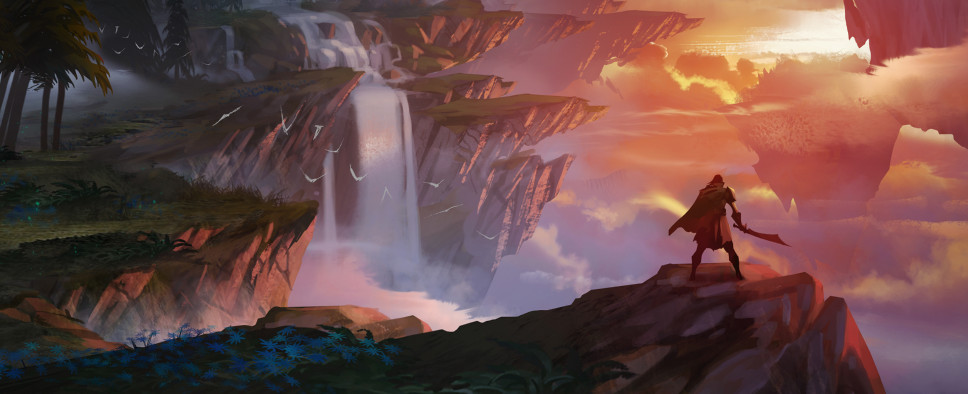 In just a few weeks, Phoenix Labs' co-operative action-RPG Dauntless will be launching into open beta. In order to prepare their players for this milestone, the developers have put together the Seeking the Horizon content update that was heralded by a full server reset. The update expands the game with plenty of new content and game mechanics, and fixes a heap of miscellaneous bugs and issues. You can find the complete patch notes on the game's website, but here's an overview of the new stuff:
WHAT'S NEW

Seeking the Horizon is the first of two major content patches leading up to the Dauntless Open Beta. Included in this update are four new Dire Behemoths, new exotic gear, and a gameplay progression rework that will lead Slayers to the Maelstrom, where they can get their first taste of the Evergame. With this update, Slayers will also be able to wield and wear whatever weapons and armour they'd like, thanks to Transmog, and remap their controls on both keyboard & mouse and gamepad.

RUMBLE WITH THE BEAST

NEW DIRE BEHEMOTHS TO HUNT AND PURSUE

There are challenges that Slayers seek, and then there are threats that test the mettle of even the most seasoned hunters. Rumours around Ramsgate suggest cataclysmically lethal Dire Behemoths prowl The Shattered Isles. The Bloodfire Embermane, Firebrand Charrogg, Frostback Pangar, and Razorwing Kharabak are all waiting to unleash their bone-crushing power. Moonreaver Shrike and Deadeye Quillshot are also back and deadlier than ever.

SARTORIAL ONSLAUGHT

UNIQUE EXOTIC WEAPONS AND ARMOURS

Slayers looking to stand out amongst their friends with top-tier kit will get their chance to shine with exotic gear. Crafting these wieldable and wearable wonders will require materials gathered from Behemoths emboldened by challenging hunt modifiers.

The impression that exotics make isn't limited to their visual appeal. Exotic gear will imbue Slayers with unique abilities that will augment their power and change the way that they hunt.

INTO THE MAELSTROM

EVERGAME GIVES EVEN THE TOUGHEST SLAYERS ENDLESS CHALLENGES

Far beyond the horizon, raging aether storms have coalesced into the furious Maelstrom. Here, Slayers will hunt powerful Behemoths while adapting to punishing island modifiers brought on by the twisting storm. If they are able to rise to the challenge, they will be rewarded with unique materials needed to craft powerful exotic weapons and armour pieces.

MAKING THE MYSTIC ARTISAN PROUD

TRANSMOGRIFICATION AND CONTROL REMAPPING

Seeking the Horizon introduces the highly-anticipated Transmog and custom keybinding features. Slayers can now transfer the appearance of gear to other pieces without compromising on stats or perks. They can also remap and change their controls for both keyboard & mouse and gamepad.

These features are still in their prototype state, so please share your feedback with us!

IRON FALLS & SANDRIAN'S STONE

DISCOVER TWO NEW ISLANDS

A pair of beautiful new islands replete with dense flora and aether geysers have drifted into range of Ramsgate. Slayers will notice that verticality plays a much bigger role on these landmasses. You'll also be encountering Behemoths in tighter quarters, so stay on your toes!

KNOWN ASSOCIATES

REPUTATION SYSTEMS & DAILY CHALLENGES

Even if they prefer to hunt alone, no Slayer can survive solo in The Shattered Isles. Whether it's the alchemic aid of the bosun or Wils' weaponcrafting, building a reputation with the residents of Ramsgate is a must. This update introduces reputation tracks that will unlock access to weapon classes, handy consumables, and more.

Daily and weekly quests will give you the chance to prove yourself to these important NPCs, and they'll also give you a variety of ways to test your skills. Let us know what you think!