Hits: 1401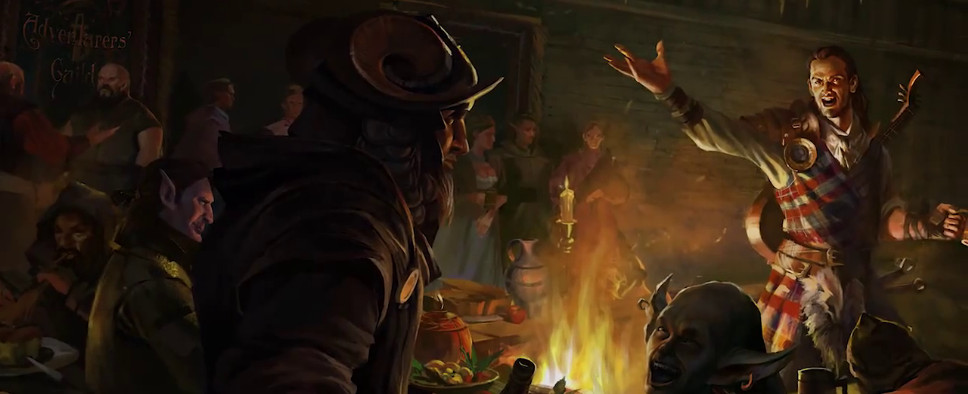 The Bard's Tale would just be a Tale without its Bards, and so the latest Kickstarter update for inXile's upcoming dungeon crawler The Bard's Tale IV introduces us to Brew Masters and Rabble Rousers, two of the Bard classes we'll be able to see in that game. We get an overview of their abilities, learn what makes these classes unique, and are treated to a series of sample skill animations.

The update also deals with some backer reward logistics, informs us that we'll be learning about the specifics of the Practitioner classes next, and announces a tentative release window for the game. If all goes well, The Bard's Tale IV should launch sometime in Q3, 2018.

A few snippets:
Brew Master ("Just one more test, and then we are ready for the world!")

Bards are only as powerful as the brew that fuels them. In the original trilogy, bards must wet their whistle. When they've sung too many songs, they'd have to return to the Adventurer's Guild for a drink. Caith is a big, wild place, and the adventure extends well beyond the walls of Skara Brae! With that in mind, we didn't want to force the player to stop what they are doing and backtrack to the Guild every few fights. Still, we also wanted to hold true to the booze-fueled theme of the Bard's Tales of old. In The Bard's Tale IV, the Bard drinks as they fight to gain useful generate Spell Points, which are in turn used to sing their magical songs.

Brew Masters are not only masters of brewing beers and spirits, they're masters of drunken brawling. The bard's Basic Combat skill teaches a bard to not only swing a hatchet, but also how to chug a drink in the heat of combat and craft Trow Squeezins, a drinkable power-up. Trow Squeezins, and really all brews in The Bard's Tale, do two things: grant Spell Points and build up the status effect "Drunken." The Spell Points can be saved up or spent on one of the bard's magical songs (which we'll cover below). As for the latter, being drunk also carries its own risks and rewards.

How well a bard can hold their drink is based on their Intelligence stat. While your Drunken status effect is equal to or lower than your Intelligence stat, you're fine, dandy, and fighting-fit. However, the moment your Drunken status exceeds your Intelligence, your bard goes into a drunken fury, gaining a huge burst of Strength before blacking out for a few turns. Overindulging limits how many songs your bard can sing in a fight before going out of commission, but can also be used strategically to get yourself out of a jam. The boost in Strength they receive before blacking out empowers both their attacks and their songs, allowing for huge damage/defense spikes in a time of need.

The next skill in the Brew Master line is Battle Brewer. Battle Brewer grants +1 Intelligence, allowing you to hold your liquor that much better. You'll need it, because it also teaches you how to craft Elven Wine. Elven Wine is notoriously potent. It grants +2 Spell Points, but also grants +4 Drunken. Since you can only chug booze once per turn, and some songs cost 2 or more Spell Points to sing, Elven Wine is your fastest way to pull off that clutch song. It's also your fastest way to end up asleep in a nearby gutter when your party is being bashed by some giant monster. Please drink responsibly.

[...]

Rabble Rouser ("Time for a bit of the rough and tumble!")

Rabble Rousers are probably the most aggressive of the Bards, emboldening their allies to perform great feats. If you want to boost your party's damage output, Rabble Rouser is the Bardic class for you.

The first skill you learn on the way to becoming a great Rabble-Rousing musician is, appropriately, Hot Crossed Buns. Hot Crossed Buns is the first skill any bard learns as they pursue any of the four musical classes: Rabble Rouser, Troubadour, Minstrel, and War Chanter. From the Hot Crossed Buns skill, the bard learns to play the most basic instrument, the Bones. With their musical Bones, they can play Sanctuary Score, the first magical song a bard learns. By singing Sanctuary Score, the Bard shifts into a stance which provides healing for the entire party at the end of each turn, until they leave the stance willingly or mental damage breaks their focus, forcing them out of the stance.

Rabble Rouser: Novice is the first real step down the Rabble Rouser path. Here, the bard learns to play Rhyme of the Duotime on a Schofar. This new song reduces the cooldowns of all your allies' abilities, allowing a character to launch the same ability multiple times in a row, which can be incredibly power if an enemy needs just one more hit to go down, or that character is benefiting from lots of buffs.

If you become a Rabble Rouser: Master you gain access to an even more powerful song, Falkentyne's Fury. In this iteration of The Bard's Tale, Falkentyne's Fury marks all enemies with a special Falkentyne's Mark for a few turns. If that enemy takes damage while the Mark is on them, it explodes, dealing Falkentyne's Mark extra damage. This ability does a TON of damage, and drives you to spread the damage out across the entire enemy party before the Mark falls off, rather than focusing your damage on a single character like you normally might be inclined to do.