Hits: 923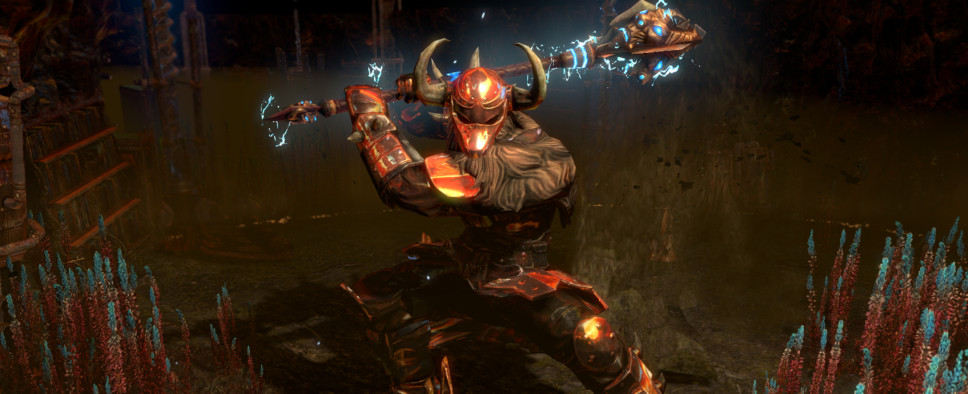 Have you ever wondered who would win in a fight between two action-RPG bosses, one a barbarian king, the other a masterful gladiator? Well, the folks at Grinding Gear Games apparently have, and as Path of Exile has two such bosses, they were in a unique position to find out. And so they put both these AI-controlled bosses into an arena and had them fight each other instead of the player. Here's the result:
And if you're not a fan of such light-hearted silliness, you can also check out this in-house interview with Felipe, one of GGG's visual effects artists. An excerpt:
Are there any unexpected challenges you've faced while working on visual effects for Path of Exile?

All the time! I didn't know I would have to rely on Maya (our 3D software) that much, for example, and I think that's because this is my first job in the VFX area. However, these challenges are nothing for the VFX team we have here. They are awesome people, very supportive and patient. They really helped me from the very first day I started working here and they've been helping me day after day with all sort of things, particularly Maya which I had little knowledge of when I first started here, and getting used to our Particle Systems tool. So, it has been pretty challenging for me, but thanks to the company, I'm able to endure all of this and grow more and more to become the professional that the company deserves!

Are you able to give us an overview of what it takes to create a visual effect for Path of Exile?

Mostly balance. Balance between the visual itself and the context of the visual effect. Sometimes you want to create a really flashy effect, but the context that effect appears in doesn't call for that kind of moment. So you have to keep it simple to fit the context, you need to make it look as good as possible to give greatest impact to the players. I would say that having a good notion of these things is the ideal mindset to create effects for Path of Exile currently!

What is your favourite thing you've worked on for the game so far?

The Abyss League was full of really awesome stuff for me but I think that my favorite thing that I've worked on recently, is the Constrictor Elder Guardian fight! It's my favorite one because I did all of the effects for the fight, from beginning to end, and some of the arena effects too. It became special to me because it had a new and different debuff mechanic called Growing Vines, where if you stand still for too long in the arena, vines start attaching to your body and reducing your movement speed. It was a bit of a challenge on how we would represent that visually but together with the programmers we could find a really cool way to represent that. Because of how well it was executed, both in code and visually, it's going to be seen again the future in another form! So, this one is definitely my favorite for sure but I'm pretty confident that I'll have a lot more to share in the future. The designers never fail to amaze me with their ideas and I'm here to support those ideas visually!