Hits: 2777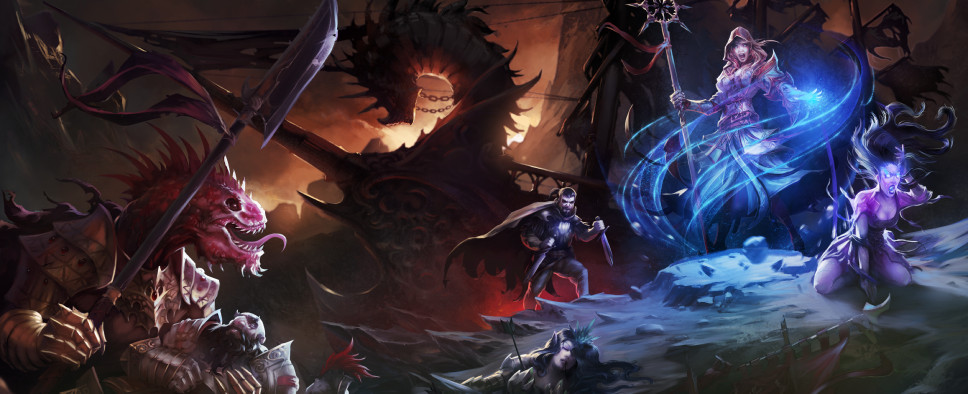 Let's start the new year with something positive, shall we? 2017 was a great year for video games and it just so happens that quite a few of those were RPGs. The plentiful best-of lists reflect that, and while they feature perhaps a few JRPGs too many for my taste and not enough great indie and AA titles like Expeditions: Viking, ELEX, or Vaporum, it's still a nice thing to see our favorite genre celebrated across the Internet.

Here's COGconnected with a list of contestants for their RPG of the year award:
Nothing is more satisfying than finding yourself deeply immersed in the lore, history, and world of a game. Feeling that unconscious moment where you think and act like the character you portray; every movement and decision meticulously plotted in the blink of an eye because you simply are that character. 2017 has been a year of blockbuster titles, one after the other, and while games these days tend to blend genres to give gamers something entirely new to experience, at their core, these games did an amazing job of pulling you in and putting you in the shoes of their protagonist.

This year saw a number of action-packed and deeply engrossing sequels, including South Park: The Fractured But Whole, Persona 5, Assassin's Creed Origins, and Divinity: Original Sin 2, to name a few. Each of these games surpassed their predecessor and our expectations in what an RPG experience could be, and surprise titles like Nier: Automata and Golf Story delighted us as a welcome departure from the norm.

Whether putting together a team of rag-tag child heroes, exploring the supernatural Metaverse, putting together a party of miscreant warriors to defeat an ancient evil, or defending the people of ancient Egypt, the RPGs of 2017 have given us so much more than we ever expected.
GamingBolt brings us 15 best RPGs of 2017:
Divinity: Original Sin 2

Larian Studios earned a name for itself with the first game but Divinity: Original Sin 2 surpasses it in every single way. The utter scope of freedom and attention to detail, excellent script-writing and plot development, fantastic combat system and world building ensured one of the best role-playing adventures of the year. Plus any game that lets us drop hefty barrels on foes to kill them is an automatic win. Don't let the strangeness of Rivellon scare you – there's so much waiting to be discovered and each playthrough can compel you in ways that are fresh yet grim.

Nioh

Team Ninja's Nioh is so much more than a Dark Souls clone. In fact, it combines Feudal Japan, Japanese mythology, a Diablo-like loot grind, heaps of customization and weapons, numerous side quests, a sprawling campaign, plenty of difficult encounters and memorable boss fight. The excellent combat is backed by so much customization and content that it's insane. More than just resurrecting the studio from the waning Ninja Gaiden series, Nioh is proof that Team Ninja can create an excellent action RPG worthy of your time.

Pyre

In a year dotted with so many action RPGs, Supergiant Games' Pyre is something…different. It's full of colourful characters, immersing you in its dialogue and character interaction that make the oncoming decisions all the more intriguing. "Combat" is a wholly different affair, pitting teams of three against each other in sports-like matches where abilities, cohesion and movement play a big role. Did we mention the spell-binding art design and music? Pyre is everything that one could possibly love from a Supergiant role-playing game and yet, so much more.
GameSpot ranks top RPGs of the year by score:
Torment: Tides of Numenera (PC, PS4, Xbox One) -- 9/10

"Torment wants you to dig through its hamlets and delve into its dungeons on your own. It isn't about cutting down waves of foes, it's not about being the one true hero, and it's not wish fulfillment. Narrative is an end in itself. Story is the everything, and the play that backs that story, while minimal, gives the experience a weight that's too often lost in other games. Torment defines itself as codified opposition to current trends, but that's also not all it is. Using pools of points to set limits on its players and driving player expression through curiosity are novel additions to one of gaming's oldest genres. Taken together, Torment is far more than just a phenomenal role-playing game. It's a challenge to restore the depth and nuance for which the genre was once known."

Divinity: Original Sin II (PC) -- 10/10

"From lonely farmhouses through pitched battles with gods in far-flung dimensions, Divinity: Original Sin II is one of the most captivating role-playing games ever made. Its immaculately conceived and emotion-wrought fantasy world, topped by brilliant tactical combat, make it one of the finest games of the year thus far, and it has to be regarded as an instant classic in the pantheon of RPG greats."

South Park: The Fractured But Whole (PC, PS4, Xbox One) -- 8/10

"Fractured But Whole succeeds as an interactive South Park mini-series, while effectively emulating the show's current style of adult-targeted entertainment and satirization of political correctness. In other words, it's consistently amusing and provocative without the edginess the series used to be known for."
Here's the unambiguously named RPG Site with their top 5 RPGs:
Divinity: Original Sin II - Best of 2017 Winner

While Divinity: Original Sin II may not be as much of a surprise hit as Original Sin in 2014, it takes what was established in the first game such as free-form gameplay, innovative turn-based combat, and inventive storytelling, and smartly refines each aspect even further. Crafting is tweaked into a new recipe based system so that it doesn't have to pull from the rest of your stats, and combat is elevated with a new armor mechanic - emphasizing build variety and allowing for greater encounter diversity.

Non-linear quest design returns with strong writing and a more grounded story in general, resulting in a game that provides a never-ending draw to finish one more quest or explore just one more location. Divinity: Original Sin II will relentlessly test every player's creativity and keeps giving reasons to continue playing and never lets go. [Bryan Vitale]

NieR: Automata - RPG of the Year 2017

Every year, it's a challenge to narrow down a list of game of the year contenders to just one, and 2017 proved to be the fiercest competition yet. This year was teeming with incredible releases, with several of them likely to go down in the history books as bonafide classics. However, despite the exceedingly high quality of titles that came out in 2017, none of them quite enraptured us in the same way that NieR: Automata did.

What really sets NieR: Automata apart from its peers is how beautifully written it is and how it takes advantage of its medium. Many of us at RPG Site fell in love with the game's downtrodden combat android characters, who manage to feel deeply human and say so much about humanity. NieR: Automata is a game that beautifully explores not what makes machines human, but rather what makes humans human, offering a plethora of answers that leave you thinking about the world and even yourself long after you witness the game's final ending.

NieR: Automata is also one of those rare games that utilizes storytelling methods unique to the medium to tell its narrative, as its story is one that would not be as effective if told through any other format. It is a spectacle to watch and play as it gracefully moves between different gameplay styles, almost as if it were celebrating the different eras of gaming that came before it. Now, going forward, it will be celebrated as a game that is bold in its unforgettable storytelling, characters, and themes; remarkable in its unique art direction and phenomenal soundtrack; and thrilling in its action-packed combat system.

NieR: Automata is emotional, thought-provoking, daring, exciting, and ultimately, our Game of the Year. [Natalie Flores & Kyle Campbell]
And finally, here's The New Yorker's best video games of 2017 list that notably includes Larian's latest Divinity: Original Sin II:
Divinity: Original Sin 2 (Windows)

For decades, video-game designers have attempted to translate the rangy, electric (albeit stigmatized) drama of the tabletop role-playing game—dungeons, dragons, and so on—to the small screen. Divinity: Original Sin 2 comes closer than any. Though the high-fantasy styling may put some players off, the writing is clever and the combat is joyously flexible. In its most stimulating moments, it requires chess-like foresight, as you nudge your characters into feints and flanks. But it's the way in which the game accommodates invention and imagination, allowing you to test hastily hatched ideas and, sometimes, see them succeed, that proves its most enduring delight.