Hits: 1576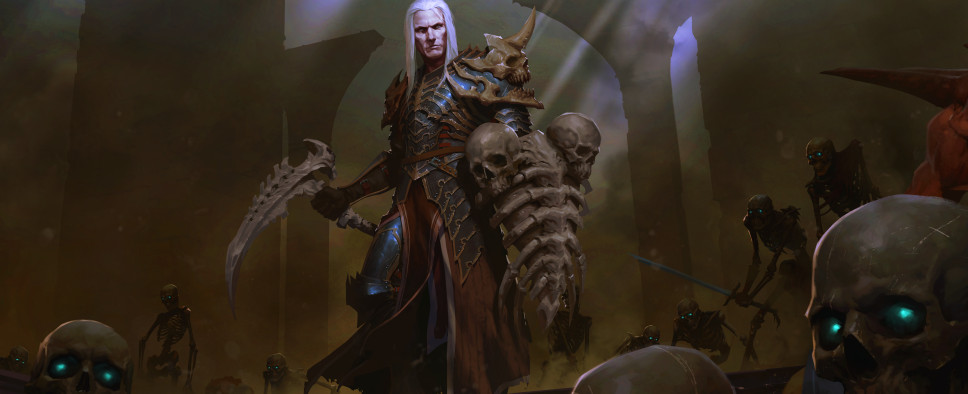 A new post on the official Diablo III developer blog outlines the balance goals for the upcoming 2.6.1 patch for the action-RPG, as well as the steps towards achieving those goals. Ultimately, the patch is aimed towards increasing the variety of viable builds and creating a smoother endgame experience, which is always important in a game such as Diablo. An excerpt:
Main Goals

There were two main goals for this patch. First, we wanted each class to have multiple builds with different styles that can play in similar difficulties. We agree it's important that there is a lot of variety in the end-game experience and, because we have so many difficulties, we want as many players as possible to reach similar goals regardless of their preferred class set or play style. While we might not get every build, we're making sure there is a lot of variation among competitive options.

Secondly, we want to smooth out the overall endgame experience. This means making sure each build plays well in high density situations and group play. While this has always been an ongoing effort for our team, some of the changes we've made in this patch specifically targeted this goal.

Steps to the Goal

With those goals in mind, what have we done so far? Some changes should be more immediately apparent than others. A lot of older fan favorites, like Whirlwind, Frozen Orb, or Exploding Palm were ideal candidates for changes. These were long-requested builds that felt like obvious targets for buffs.

While we may not have raised every build in the game to the top bar, we think that's okay; some builds can just be fun and own their place in lower difficulties as stepping stones or for farming. Those types of builds are important too, and not all builds can fulfill every role.

We've also been keeping our ear close to the ground, visiting different class forums, watching videos and streams, analyzing our own internal data, and running playtests to identify places where further tweaks make sense. This is an ongoing process. Between our efforts and the feedback received from players or through our community team, there's always something new for us to look at, discuss, and try out if we feel it's a healthy direction for the game.

Lastly, we iterate and repeat. Game development requires trial and error, experimentation, and reworks. Sometimes, these experiments don't make it to the PTR because we've identified a problematic issue that makes a change non-viable.

Incorporating Player Feedback

There have been incredible contributions from players during this PTR, and we wanted to take a moment not only to thank you for them, but to call out just a few ways we're reflecting the community's feedback.

Barbarians, we've been eying your class sets and the iconic Whirlwind build for a while. From previous changes to game performance to the defensive tweaks on the 4-piece Waste's bonus and Band of Might, we heard your call for survivability loud and clear. We'll be spinning to win beside you in the name of Bul-Kathos!

Wizards, Halo of Karini is an effective piece of equipment, though awkward to use. We've added some leniency to its buff so there's a bigger window and less downtime between applications. We're also buffing up other gameplay styles available to the Wizard so that Archon doesn't have to feel like the end-all, be-all class skill. Thank you for your dedication, honored Vizjerei!

Necromancers, Dayntee's Binding has been a hit, but its curse viability felt too narrow. Opening this item's affix to all curses should allow a lot more gameplay variety, especially in multi-Necromancer groups. It's been great to see so many of you enjoying our newest class; thank you for keeping the Balance in check!

Witch Doctors, Jade Harvester is a DoT-filled fantasy we all dream to live. Its fragility has been a long-standing concern, and we're excited to see more masters of poison with the added defense bonuses to the Jade set. Thanks for making your voodoo desires heard!

Demon Hunters, Monks, and Crusaders have plenty of changes coming too! We expect to see a lot more Multishot, Exploding Palm, and Blessed Shield, for example, and we're just as excited to return to these powerful gameplay fantasies as you are!

Lastly, across most patch changes we've taken the broad approach of bringing other sets up to the latest height of progress rather than nerfing overperforming things back down. Many iconic playstyles were behind a few elite builds, and we want those memorable styles to continue feeling legendary. Boosting them up made the most sense, and we appreciate all our nephalem heroes for echoing that sentiment.
You can find the current 2.6.1 PTR patch notes here.