Hits: 905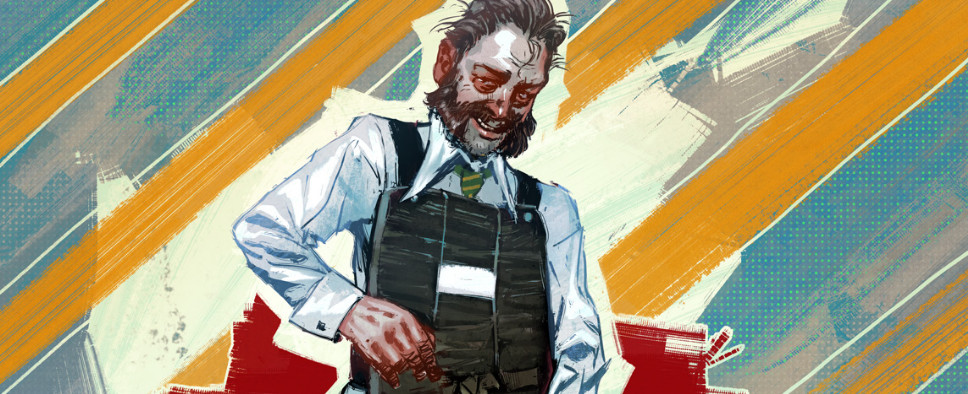 With its intriguing setting, dialogue-driven combat, and a roleplaying system where having a high attribute score can have negative consequences for your character, No Truce With the Furries is an intriguing project and I welcome any chance to learn more about ZA/UM Studio's unusual approach to game design. This recent interview with ZA/UM's lead designer and concept artist is no exception. And while the original interview is in Russian, an English version can be found on ZA/UM's developer blog. An excerpt:
3. IT'S AWESOME THAT HIGH SCORES IN YOUR STATS WOULD ALSO HAVE DOWNSIDES THAT SOMETIMES WOULD MAKE ROLEPLAYING EVEN MORE INTERESTING, NOT JUST TURN YOU INTO A BORING DEMI-GOD LIKE MOST ROLE-PLAYING SYSTEMS HANDLE THIS. HIGH INTELLECT MAKING YOU "OVERLY CONFIDENT – A COCKSURE INTELLECTUAL" OR HIGH PHYSIQUE MAKING YOU "LOSE YOUR SHIT OVER SMALL THINGS" IS A BEAUTIFULLY DESIGNED CONCEPTS. WHAT IS YOUR FAVORITE TYPE OF CHARACTER TO ROLEPLAY USING YOUR OWN SYSTEM?

Right now I really like the high Physique and pretty high Intelligence dude. He's basically this intellectual and physical powerhouse. He really comes off intelligent in a very high-concept philosophical way, but also in a physical way if you can imagine a person who is physically intelligent. Well, without having played it, it could be hard to imagine and even as a writer I hadn't written characters like this, but basically I discovered this while working with our role playing system; this kind of person who really perceives the world through his physical being and then makes sense of it through their intellectual strengths. This way their intelligence becomes sort of threatening and powerful. I also really like the super high Physique characters like the classical berserker type. For example Half Light is a skill that basically governs your fight or flight response. So this character can start doing classical intimidation-style stuff but at the same time this skill also makes him afraid of things. He senses fear in a kind of primal way. Sometimes even words or intellectual concepts can scare him if senses subterfuge or something ominous going on. It's a very interesting interplay between two roleplaying archetypes that for me have usually been separate. And then when you look at the fact that we have four stats that are like Intelligence and Physique and the skills that correspond to them then you'll find that you can have quite a lot of interesting combinations to work with and for the player to discover.

4.1 ANOTHER CONCEPT THAT I FIND GENIUS IN NO TRUCE! IS YOUR SKILLS TALKING TO YOU. I MEAN, EVERYONE CAN RELATE TO THESE MOMENTS WHEN YOUR SUBCONSCIOUSNESS TELLS YOU TO SHUT UP OR WHEN YOUR INNER-HATER FUELS OUR EGO AND PROVOKES TO KEEP ARGUING ABOUT SOME NONSENSE. HOW DID YOU COME UP WITH THIS IDEA?

Thank you! We really find that it is genius too.

I quite happened on this while writing… Well, there's this thing in literature. It´s called the parenthesis. Basically: "Something-something-something," she said with a smug face. Or: He yells at you while fiddling with his radio or whatever. These are little additions after speech. So we started to try and make these parenthesis depend on what kind of character the player has. That was our first idea for passive skills. Then we discovered that the information you put in as parenthesis can be very-very rich in all kinds of characters and the little jokes you can do with them. And the skills that can speak to you as passives in this parenthetical way – pretty much every skill can talk to you like that. So it kind of grew out of that. At first we weren't sure it's going to work out like that, but when we put pen to paper the skills started having conversations with each other and we took it from there as we went along.

Some of these skills have a unique character of their own. For example Drama is a kind of Lovecraftian thespian who constantly wants you to lie to people. Drama is the skill that governs both artistic performance and lying. Or let's take Encyclopedia which is a rather useless knows-too-many-facts-from-Wikipedia type personality that comes up and "helps" you by giving you random tidbits of encyclopedic knowledge to show off even when it actually has nothing to do with the situation at hand. This can be a pretty nifty way to present the player with interesting lore.

4.2 HOW DO YOU THINK PLAYERS WILL RATE THIS INNOVATION?

It works very well, there's no doubt about it. It's one of the highlights that everyone always mentions when they play the [Metric] system. I'm also very satisfied with how the "tutorial" handles it. It just happens, basically, and these skills just present themselves and it's come off in a natural way. It's something that's potentially existed in role playing games since the beginning. That's because it's a second person narrative. So when you say "You, you're there. You're doing this or that". In literature second person narrative is not used. It's usually a first person "I was there" or third person. You know, "Jack is there". When you start telling a really ambitious narrative like "You…" then it just suddenly springs into being and it is logical that the skills would address you that way.