Hits: 1076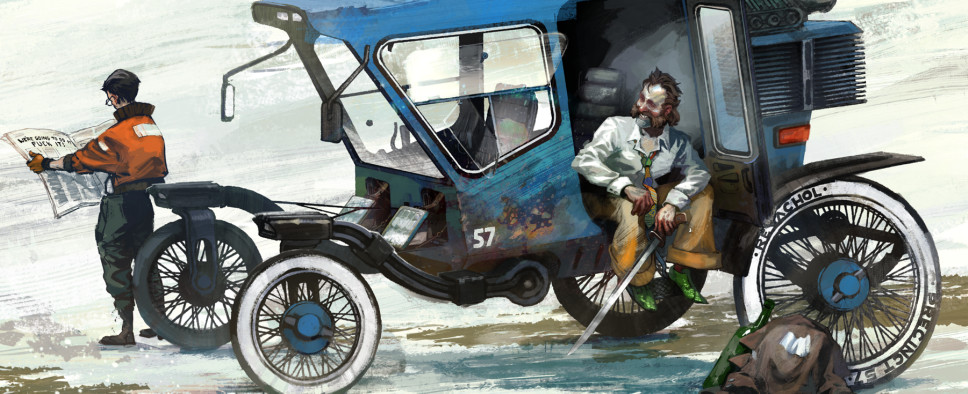 ZA/UM Studio's concept artist, Kaspar Tamsalu, talks about his trip to the United States in the latest post on the No Truce With the Furies developer blog. The trip gave him plenty of ideas for the game, which he shares in the post along with some black and white sketches. Have a look:
So, this May I found the resolve to decide that I need some actual me time away from the stylus and screen and do some traveling and see new things and most importantly: to try and get my mind off of work. I mostly succeeded. It was tough in the beginning, because all the unfinished concepts would haunt me in my jet laggy sleep, but after about a week I was finally free. For the next month I barely even thought about the game. My girlfriend and I packed our socks and sketchbooks and flew to New York to stay with some friends. Brooklyn was home base, but we drove around all over the place on the east coast. We took in the architecture, enjoyed food and visiting (art) museums. NYC with its multiple boroughs, New Jersey, Boston, New Haven, Rochester, Princeton – for three weeks I did nothing but drive around, walk around, look at the people and places and tons and tons of art.

I'd never been Stateside, so there was so much to see and do. I did manage to sketch some, but mostly I took lazy photos: quick snaps with my phone of interesting street corners. I asked my girlfriend to take better quality reference shots with an actual camera. The heat wave taught me why there are AC units in all the windows in all the movies and the midday rains on Manhattan island explained the flash flood warnings blinking on my phone.

Concepting environments for No Truce is a never ending tug-of-war between "this is not realistic enough" and "it's not weird enough". Walking the streets and avenues of the different parts of New York City gave me better insight into what makes these places tick. Every district has their own rhythm that comprises building materials and amount of detail or clutter. Interestingly enough smells and sounds can come packaged with colour, too.

Now that I've been back for a few weeks, my feet are no longer sore and my spirit is rejuvenated. In addition to all the sensory stimuli (and the whole suitcase full of art books I flew back with) that I can use in my work designing areas for No Truce, I've finally digested all the old stuff that has been accumulating in the past year and then some.

We have really crazy times ahead of us here at ZA/UM and now I'm set to rock and roll.