Hits: 1844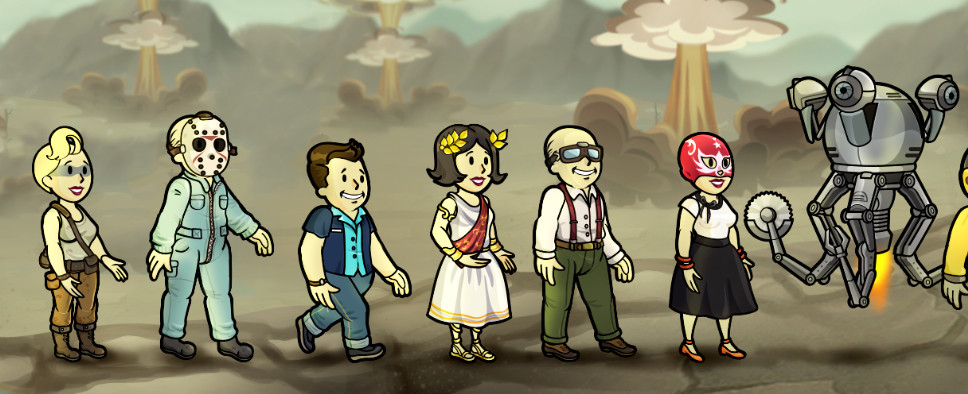 In case you've been playing Fallout Shelter on your mobile phone, tablet or PC, you'll be interested in knowing that the free-to-play manager title has received a new update that adds a number of new quests, faction-inspired room themes (only Fallout 4 factions), and some festivities celebrations for the Vault itself. Also iMessage stickers, in case you're playing on iOS:
Update 1.8 Includes:

Room Themes: Players can show off their Fallout 4 allegiances by building the new room, the Theme Workshop, which enables the crafting of room themes based on the four Fallout 4 factions – the Minutemen, the Railroad, the Brotherhood of Steel and the Institute. Crafting recipes for these themes will be found on Quests, and players can turn themes on and off at will.
New Quests: Update 1.8 brings a fresh batch of Quests – including upcoming special event Holiday Quests – to keep Dwellers busy finding upgrades and gathering resources from the Wasteland.
Holiday Festivities Coming to the Vault: For the second year in a row, holiday celebrations will return to the Vault for Halloween, Thanksgiving and Christmas. Starting in October, Halloween-themed outfits will appear as Quest rewards and spooky room themes will become available for a limited time.
iMessage Stickers: Since their release in September, Fallout Shelter players on iOS 10 have been sharing exclusive Fallout Shelter stickers to dress up their messages with friends. Update 1.8 brings a new batch of stickers, including a set of Halloween-themed stickers just in time for the holiday.