Hits: 6120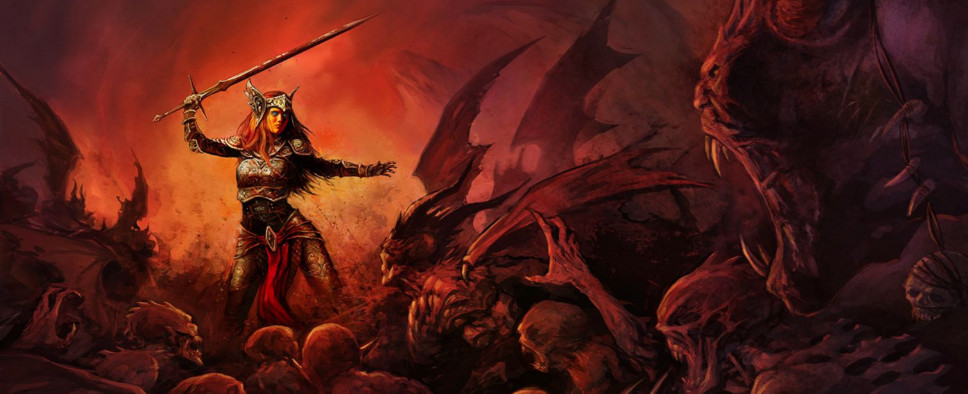 The countdown has ended on the official Baldur's Gate website, leading us to Beamdog's unveiling of "Adventure Y" - an all-new, 25-hour expansion pack for Baldur's Gate: Enhanced Edition entitled Siege of Dragonspear. There's an interview with Beamdog's Trent Oster on Global News about it, and a trailer to take in:




New locations, more adventures, a new class, returning companions, cross-platform multiplayer, and more are on their way to bridge the gap into Baldur's Gate II:
Though Sarevok is dead and his plan for war averted, peace eludes the citizens of Baldur's Gate. A crusade marches from the north, seizing supplies, forcing locals into military service, and disrupting trade along the Sword Coast. A charismatic warrior known as the Shining Lady leads this army, her background shrouded in mystery. Can the rumors be true is she, like you, the child of a god?

The closer you get to the Shining Lady, the more you realize your father, the dead Lord of Murder still casts a long shadow upon your path. Baldur's Gate has put its faith in you, but you must determine whose interests you truly serve before you face the Shining Lady among the ruins of Dragonspear Castle...

Baldur's Gate: Siege of Dragonspear adds a new chapter to the Bhaalspawn saga. The events occurring between Baldur's Gate and Baldur's Gate II are at last revealed in this 25-hour expansion pack for Baldur's Gate: Enhanced Edition.


Features

- Expand Your Story: Explore new areas, fight new monsters, and win new rewards in the Siege of Dragonspear expansion to Baldur's Gate: Enhanced Edition. Continue the adventure by exporting your game to Baldur's Gate II: Enhanced Edition
- The Crusade Rises: A sharp and subtle adventure that pits you against an enigmatic new foe
- Explore the Sword Coast: Venture through vibrant new hand-painted areas in the classic style of the original Baldur's Gate
- Gather Your Party: The original cast returns to kick butt for goodness - along with Neera, Rasaad, Dorn, and four new additions!
- To Infinity and Beyond: Updated UI and improved Infinity Engine features
- Extra Class: New items, quests, and a new class: the spirit-calling shaman!
- Venture Forth With A Friend: Functional, extensively tested cross-platform multiplayer on all supported platforms
- Story Mode: A difficulty setting to allow players to experience all of the story with none of the Game Over screens

And how about an FAQ, too?


Q: How much does this expansion cost?
Pricing has yet to be announced.

Q: What platforms is the expansion going to be on?
PC/Mac/Linux on Beamdog and Steam, with iOS and Android to follow to follow shortly thereafter.

Q: Is this an expansion pack?  Do I need to own Baldur's Gate: Enhanced Edition?
Baldur's Gate: Siege of Dragonspear is an expansion to Baldur's Gate: Enhanced Edition. You need to own Baldur's Gate: Enhanced Edition to purchase and play it.

Q: Can I import my character or saved game from Baldur's Gate: Enhanced Edition?
Yes, you will be able to continue your adventure from Baldur's Gate: Enhanced Edition in Siege of Dragonspear.

Q: Can I export my character or saved game to Baldur's Gate II: Enhanced Edition?
Yes, you will be able to continue your adventure in Baldur's Gate II: Enhanced Edition by exporting your character to that game.

Q: What are the system requirements?
Windows XP+, Mac OS X 10.8+, Ubuntu 12+, Android 4+, iOS 7+

Q: How does Siege of Dragonspear fit into the Baldur's Gate saga? Is this Baldur's Gate 3?
Baldur's Gate: Siege of Dragonspear bridges the gap between Baldur's Gate: Enhanced Edition and Baldur's Gate II: Enhanced Edition, taking place after the first game but before the second. It is not Baldur's Gate 3.

Q: Why didn't you make this expansion in a new engine instead of the Infinity Engine?
We wanted to create a cohesive, old-school gaming experience that mesh with the parent games, and we wanted to bring people the experiences that only the Infinity Engine offers.

Q: Will I get to be a beta tester if I pre-order?
There is no open beta for Siege of Dragonspear. If you wish to become a beta tester, sign up on our beta tester forums to be eligible for selection.

Q: When will Baldur's Gate: Siege of Dragonspear be released?
We will announce a release date soon.

Q: Can I import my Icewind Dale: Enhanced Edition character to Siege of Dragonspear, or can I export my character from Siege of Dragonspear to Icewind Dale: Enhanced Edition?
No, Baldur's Gate: Siege of Dragonspear is only compatible with Baldur's Gate: Enhanced Edition and Baldur's Gate II: Enhanced Edition.

Q: If I buy this expansion for desktop do I have to buy it again for tablets or phones, or vice versa?
Yes, each version of Baldur's Gate: Siege of Dragonspear is sold separately.

Q: If I buy on Beamdog.com will I get a Steam key?
Yes. After the release of the game you can contact

This email address is being protected from spambots. You need JavaScript enabled to view it.

to request a Steam key.

Q: How long is this expansion?
Baldur's Gate: Siege of Dragonspear offers over 25 hours of gameplay.

Q: Can I play this expansion in cooperative multiplayer?
Yes. Siege of Dragonspear supports up to 6 people in cooperative, cross-platform multiplayer from start to finish.