Hits: 2484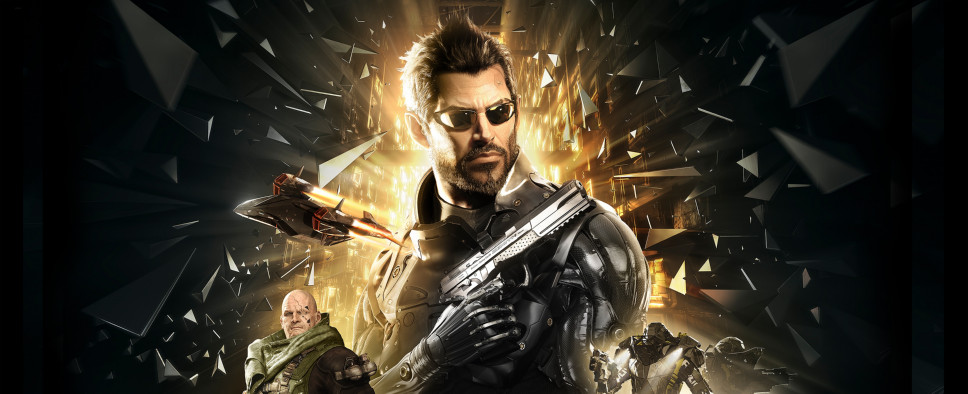 Square Enix has put together a set of Deus Ex "franchise documentary" videos, with the initial "The Legacy of Deus Ex" installment being exclusively hosted by IGN for the time being. I'll let you head over there for nearly seven minutes' worth of commentary and interview footage, and I'll share the further details regarding a charity collaboration below:
CELEBRATE FIFTEEN YEARS OF DEUS EX WITH THE RELEASE OF A NEW ONLINE FRANCHISE DOCUMENTARY

Player-Driven Collector's Edition and GameChanger Charity Collaboration for Deus Ex: Mankind Divided Also Announced Today

Montréal (June 26, 2015) Square Enix® and Eidos Montréal®, the award-winning studio behind the critically acclaimed Deus Ex: Human Revolution®, today announced that, as part of the franchise's 15th anniversary, they are producing a special four-episode documentary that highlights the progression of the series from the original Deus Ex® launch on June 26, 2000 to the upcoming Deus Ex: Mankind Dividedâ"¢. The first episode can now be viewed on IGN.com and features original game creators Warren Spector, Chris Norden and Sheldon Pacotti discussing the creation and legacy of the first Deus Ex.

To view the first episode of the four part documentary, please visit: http://www.ign.com/videos/2015/06/26/dx15-the-legacy-of-deus-ex

Square Enix also announced how fans can influence and shape the contents of the upcoming Deus Ex: Mankind Divided Collector's Edition. As a nod to the Deus Ex focus on player choice, many items like an Adam Jensen Replica Statue, Mini Art Book, a Replica Weapon and Pin Set among others, are up for selection to be included in the final Collector's Edition until July 3.

To learn more about Collector's Edition selections, please visit: DeusEx.com

Finally, Square Enix and Eidos-Montréal have partnered with GameChanger Charity to provide donors with a free PC digital copy of Deus Ex: Human Revolution Director's Cut for every contribution made to the charity in excess of $1. In the spirit of the Deus Ex themes of human empowerment and freedom of choice, donors will have the ability to decide how their funds will be used by GameChanger. A non-profit focused on improving the lives of children suffering from life-threatening diseases, GameChanger makes an impact by providing direct services in hospitals, delivering video game gifts & supporting families financially.

To donate to GameChanger for a copy of Deus Ex: Human Revolution Director's Cut, please visit: http://dx15.org.

To keep up-to-date on further events for the Deus Ex 15 year anniversary, please follow the official Twitter and Facebook accounts.

Deus Ex: Mankind Divided is launching in early 2016 on the PlayStation®4 system, Xbox One®, the all-in-one games and entertainment system from Microsoft, and Windows PC.

Related Links
Official Portal: deusex.com
Official Facebook Page: facebook.com/deusex
Follow @DeusEx on Twitter®: twitter.com/deusex
Twitter Support: #CantKillProgress
Instagram: http://www.instagram.com/DeusEx
Reddit: http://www.reddit.com/r/deusex
Tumblr: http://deusex.tumblr.com

ABOUT DEUS EX: MANKIND DIVIDED
Deus Ex: Mankind Divided, the sequel to the critically acclaimed Deus Ex: Human Revolution, builds on the franchise's trademark choice and consequence, action-RPG based gameplay, to create both a memorable and highly immersive experience. Players will once again take on the role of Adam Jensen, now an experienced covert agent, and will gain access to his new arsenal of customizable state-of-the-art weapons and augmentations. With time working against him, Adam must choose the right approach, along with who to trust, in order to unravel a vast worldwide conspiracy.

About Eidos-Montréal
Founded in 2007, Eidos Montréal embraces the philosophy to always pursue excellence in game development while creating immersive, captivating experiences for players. The studio made their mark in 2011 with the release of the critically acclaimed Deus Ex: Human Revolution. Having recently reached their sixth anniversary Eidos Montréal remains true to their founding ethos: to assert themselves as a studio the most talented developers and testers from all over the world want to call home.

About Square Enix, Inc.
Square Enix, Inc. develops, publishes, distributes and licenses SQUARE ENIX, EIDOS® and TAITO® branded entertainment content throughout the Americas as part of the Square Enix Group. The Square Enix Group operates a global network of leading development studios and boasts a valuable portfolio of intellectual property, including: FINAL FANTASY®, which has sold over 110 million units worldwide; DRAGON QUEST®, which has sold over 64 million units worldwide; TOMB RAIDER®, which has sold over 42 million units worldwide; and the legendary SPACE INVADERS®. Square Enix, Inc. is a U.S.-based, wholly-owned subsidiary of Square Enix Holdings Co., Ltd.

More information on Square Enix, Inc. can be found at http://na.square-enix.com/.

About GameChanger
GameChanger Charity's mission is to improve the lives of children and families suffering from life-threatening illnesses. GameChanger makes an impact by delivering meaningful services directly to hospital patients & staff, awarding financial aid & college scholarships, delivering video game gift packages and hosting unique online gaming events. Founded in 2007, GameChanger was started by Jim Carol after witnessing the impact video games had on his son Taylor during a 5 year battle with Leukemia. To learn more, please visit gamechangercharity.org.