Hits: 1377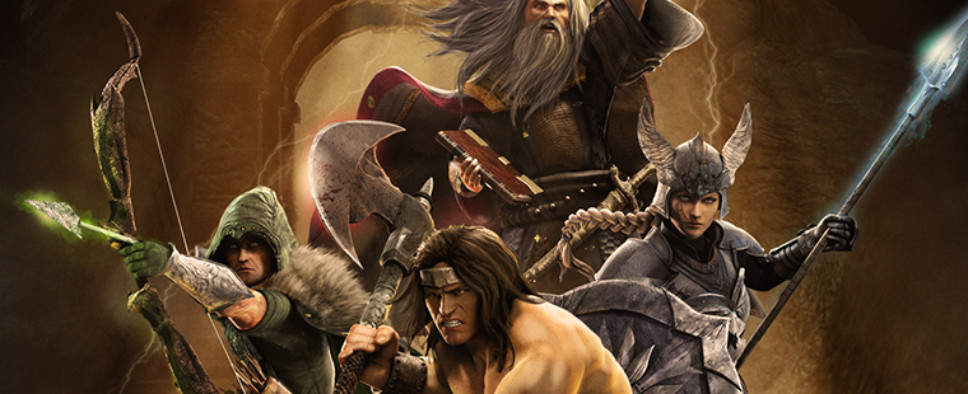 We've rounded up a few more reviews for Arrowhead's remake/re-imagining of the original arcade classic Gauntlet, which so far has garnered fairly mixed reviews from the specialized press.

RPGamer, 2.5/5.
I first played this how it's meant to be played: online co-op with someone I know, on Skype together, lying about stealing the food, and knowing he can plan passive-aggressive vengeance. The originally minor design, presentation, and content issues culminated into a large concern by the end of this meager, six-hour game that expected me to play it multiple times. The gameplay's foundation is a solid dungeon-crawler that's responsive online, works well technically, and could have been a blast to play, but drops to mediocrity because of what is, and isn't, built on it. It's hard to say who this would appeal to when all the small things that can make a game fun are vapid. The class options are nice, but not a reason to recommend it. Even if you're desperate for a PC game to play with friends, it'll take a major content patch or expansion for this to be a worthy experience, much less live up to its name.

IncGamers, 8/10.
When I first started playing Gauntlet I was in two minds as to whether it would keep me hooked, but I have to concede that I'm now thoroughly enjoying the game. If you love ARPGs and all the character customisation guff that comes with them then Gauntlet is (despite appearances) not really a game for you. If, on the other hand, you enjoyed the original, or simply love running through dungeons very quickly with a group of other players, then Gauntlet is definitely worth your attention for the price of £14.99.

One vital tip before I leave: Do not shoot the food!

GameRevolution, 2.5/5.
Gauntlet is not a roaring return for the arcade classic, nor is it a critical failure. Considering it came from the minds behind Magicka, a much more inventive take on the genre, it's still more than a little surprising, though, that this is what we've ended up with. From an outsider's perspective it seems as though Arrowhead's vision for Gauntlet has been stifled by them sticking within its eighties framework too much. There are some neat little deviations from the formula here, but it's far too safe to linger in your memory once you've had your fill of slaying monsters.

Paste Magazine, 7.0/10.
I'll take a fun night cut short over investing in yet another time sink, though. And while Gauntlet looks like an RPG in almost every way, it ultimately doesn't play like one, and I wouldn't have it otherwise. If it were, it'd be buried by the current titans of the genre, as well as its own bland level design and aesthetic. As it is, it's a great way to kill a night or two with a group of friends as you figure out your characters, how to work together, and inevitably create your own co-op setups for success. And despite the sweeping changes to the series' formula, that's Gauntlet.

The Sydney Morning Herald, 6/10.
Die-hard fans of the original coin-operated arcade machine will no doubt be amused by the in-jokes, but everyone else is likely to just be bored. Gauntlet has a lot of charm, but charm alone is just not enough.

Indie Haven, 9/10.
Barring the back-end issues, the core experience is spot on and as a longtime fan with a large chunk of my childhood wrapped within this hack and slash extravaganza we call Gauntlet, I'm pleased to say that my when I take off my rose tinted glasses frosted with nostalgia, the experience is even better without them. Arrowhead's calculated and ambitious remake retains, revitalizes, and retunes what was loved about Gauntlet through replay values in the form of character development and dynamic dungeon progression. The remake is an exhibition of greed and failure that gets more addicting with each successful dungeon clear and inevitable death.

Co-Optimus, 3.5/5, with a 4.5/5 for the co-op mode.
Repetition is a common theme throughout Gauntlet and thankfully the old school train of thought has not been completely wiped out in this version of the game. It retains the core gameplay of a Gauntlet game and small refinements have updated this series to fit in this generation. It is awesome to see enough of the old style bleeding throughout, but careful considerations have shaped Gauntlet into a worthy successor of the title. It doesn't hold a ton of content, but it sure is fun with a group of friends to hack and slash your way through a modernized classic.

Expert Reviews, 4/5.
It's a bit too short, but its brisk gameplay and no-nonsense character development make it great to jump into whether you're playing with friends in the same room or strangers online. If you enjoy dungeon crawling, but are put off by the character development and grinding of more heavyweight games like Diablo III Gauntlet is an excellent retro alternative.

The Escapist, 3.5/5.
At its core, Gauntlet is incredibly Gauntlety, but it does little to set itself apart from more fleshed out titles in the ARPG category. The Relic system is a fun addition, with each relic basically offering a special ability for you to use, but doesn't add nearly as much depth to the game as the gear systems in place in most comparable games.

Slant Magazine, scoreless.
The Valkyrie's concluding line, "If I could, I would drag you back from the dead and kill you again, but I have more important things to do," roars with hilarity and truth. You can fight through Gauntlet as many times as you want, but killing everything once is probably enough. A pandering content smorgasbord would never admit that.

Impulse Gamer, 3.6/5.
Gauntlet is a fun game when you can find others to play and this modern interpretation successfully combines the best elements of the original and throws in a few 21st century twists. The biggest letdown of Gauntlet for me are the graphics which does seem a little basic. Thankfully the gameplay works, especially in four player co-op and if you're looking for a great walk down memory lane, than Arrowhead Game Studios definitely delivers one of the best interpretations of this classic arcade game.

Gaming-Age, B+.
What I'm trying to say is that with Gauntlet, Arrowhead proved you could go home again. You could revisit old territory. You could bring the new knowledge you've gained since you left. The important part is to not reject your legacy whole-cloth, but instead use it as a grounding for what's to come. It's an important lesson, and it's best when you can share it with friends.

Canadian Online Gamers, 77/100.
Overall, Gauntlet was a lot of fun but it still felt like something was missing. Granted it was reminiscent of my own past experiences with the franchise but playing with friends over Skype and Steam wasn't quite the same as hanging out in the living room with four controllers plugged into one console. That said it still evoked the same thrills and competitiveness as before. We fought for treasure, battled for screen control, and raced for crowns and keys. If you have some friends that love to crawl through dungeons or you just want to relive some memories from the past, I'd definitely suggest grabbing a copy or splitting a 4-pack and going on an adventure sometime soon.

Digital Chumps, 7.6/10.
Whether this Gauntlet is just like the original one or not, I don't know and it really doesn't matter. But playing this game with others has proven to be a blast, even though it's not very deep or long. For $20, you can do a lot worse, but to find a game this instantly accessible and fun, you may be harder pressed to find.

Strategy Informer, 5.0/10.
Which is all sad, because as a modern update of Gauntlet it works pretty well, as Arrowhead get the same sense of humour and bring all the classic staples like destroyable food and quotable narrator back. Unfortunately like Shadowgate and Leisure Suit Larry: Reloaded having such a faithful remake just shows how far gaming has come since the '80s. Gauntlet has good writing (although a throwaway story that concludes with an abrupt ending), is humorous and definitely fun at least the first time through in four-player co-op, which fortunately at the moment is easy to find. It's all dragged down though by exceptionally tedious gameplay, simplistic static levels that really needed some randomness, and having no replay value whatsoever. All of which is a death knell for a co-op game, let alone the unplayable single-player. If you're going to get it do so now, because there won't be anyone around to play with by Christmas. Gauntlet needs fun, badly.