Hits: 10769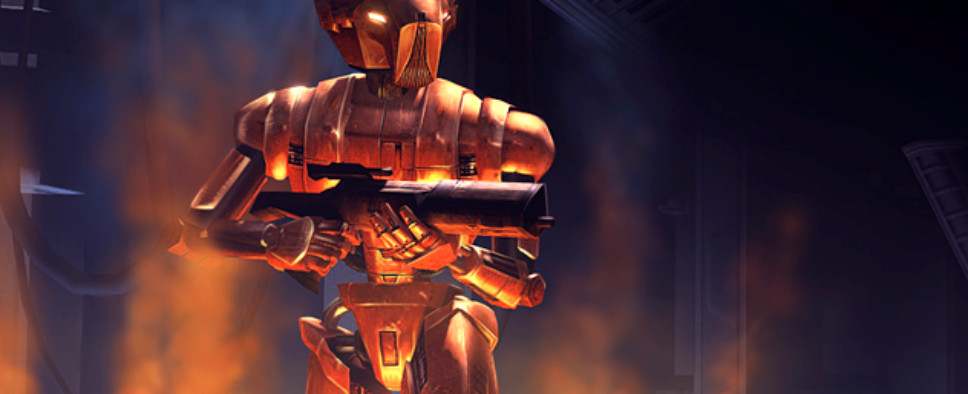 While there's no love shown for the companions in Jade Empire or Neverwinter Nights, the team at PC Gamer has at least included some memorable and loathed characters from the Baldur's Gate, Dragon Age, Mass Effect, and Star Wars: KotOR series in this lengthy list of what they're labeling "the best and worst BioWare companions". I concur:
Loves... HK-47 (Star Wars: Knights of the Old Republic)

For all the well-rounded, nonarchetypal, and sensitive characters BioWare has thrown at us, I delight in the silliest, most murderous, and one-dimensional partner they've written. HK-47 is more bloodthirsty than Jack or fellow assassin Thane, and most reliable source of bad advice in BioWare games.

He's essentially a bad-ass, malicious one-liner dispenser ("Observation: We can begin by slaughtering the inhabitants of this building, master. Would that be impressive?"), but he also shows us a dark side of droids not seen in the Star Wars I grew up with--compared to the placative C-3PO, HK-47 shows zero concern for the needs of humans. The Star Wars wiki is a fine source of HK-47 quotes, most of them containing (meatbag) as a perjorative.

...

Hates... Sebastian Vael (Dragon Age)

I struggled with this one, because there aren't really any BioWare characters I truly don't like. Jacob Taylor is boring, yeah, but his arc pays off in Mass Effect 3. I'm a bit tired of the '˜quirky little sister' template (Imoen, Tali, Merrill) but all of those characters have their moments. So I'm picking Sebastian, the launch-day DLC character for Dragon Age II who more or less totally fails to get on with any of the other characters in the game. Despite its faults, DA II portrays its companions as a diverse but closely-knit circle of friends: a revolutionary cell that grows out of natural affections and affiliations.

Sebastian, the Chantry-dwelling, revenge-chasing former dilettante doesn't fit into that family. He's too posh to slum it with Varric or Isabela, too straight-laced to indulge in the anger that motivates Anders or Fenris. He shows a bit of fire in the game's final act, but by that point I was too invested in literally everybody else to side with him. He's that guy you see in the hallway at work that you have nothing in common with but you feel obligated to talk to anyway; he's your friend's boring boyfriend from university; he's the person you invite to your house party while secretly hoping that they don't show up.