Hits: 2536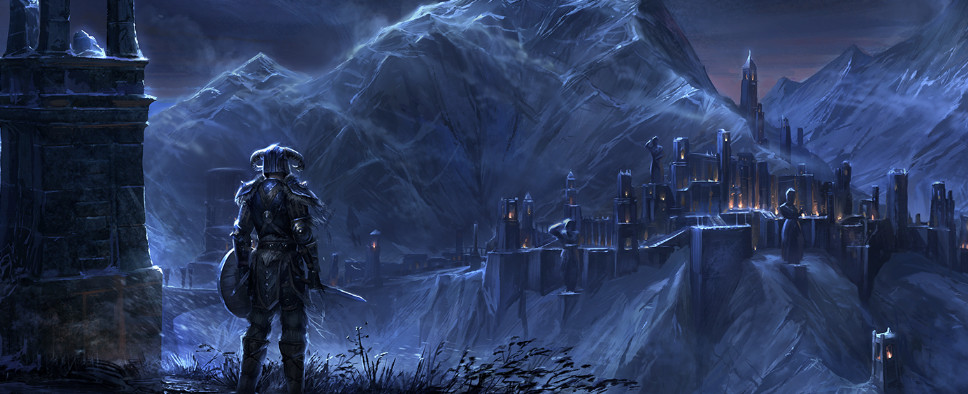 Not only has ZeniMax Online launched a new site dedicated to Craglorn, their forthcoming post-launch Adventure Zone for The Elder Scrolls Online, but they've also released a handful of wallpapers featuring the chaotic region that we can adorn our desktops with. Word is:
WELCOME TO CRAGLORN

More adventure is coming to The Elder Scrolls Online. Gather your allies to face the challenges of our first Adventure Zone. Designed for groups of veteran players, Craglorn brings new threats, a new storyline, and exceptional rewards to ESO:

'¢ Explore Craglorn and unravel the mystery of the missing constellations
'¢ Discover quests and delves made for groups of four
'¢ Take on 12-player Trials and get on the leaderboards
'¢ Obtain powerful weapons and armor

NEW FRONTIER

Rally your allies and travel to a land besieged by strange creatures, marauding Orcs, and beings of immense power plummeted from the sky. As your party explores the forbidding landscape, you'll engage in extensive group quests, confront magical anomalies and new enemies, and discover caves and delves.

THE CELESTIAL THREAT

Deadly forces have overrun the desolate region between Skyrim and Cyrodiil. An army of ancient Yokudans lays siege in the west, led by a being that calls itself the Celestial Warrior. In the east, a torrent of atronachs defiles the land under the command of another of these beings, the Celestial Mage. What drives them to their acts of destruction? Journey to Craglorn to unravel the mystery of the constellations, but don't go alone.

ARM YOURSELF

Remarkable weapons and armor can be yours if you can overcome devastating opponents like the Celestial Warrior.

PROVE YOUR WORTH

Craglorn is under attack. Is your group ready to face the welwa and hordes of dangerous new enemies?

TRIALS
 
Craglorn was treacherous enough before the stars disappeared. Who could put up a fight against the overwhelming danger now? The Undaunted, the madcap daredevils and dungeon delvers of Tamriel, have taken up the challenge, and they're looking for volunteers to join them. As part of a 12-person group, you can brave the Trials of the Aetherian Archive and Hel Ra Citadel to prove your worth and go head-to-head with the Celestials.

A NEW THREAT

Even the strongest bands of heroes will be pushed to their limits by Trial bosses like the Celestial Mage. Don't assault them unprepared!

SAVAGE FOES

You'll encounter air atronachs, ancient Yokudan warriors, and ravenous beasts as you aid the people of Craglorn.