Hits: 12301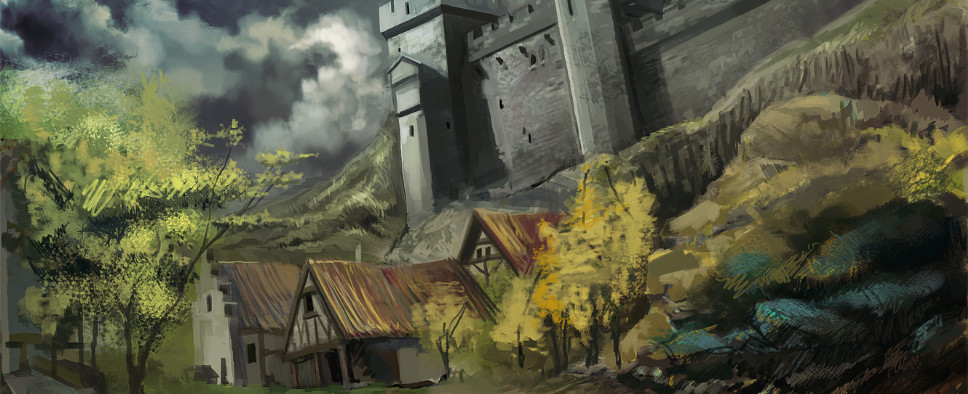 If you've been entrenched in the role-playing video game scene over the past decade, you're likely already familiar with Ossian Studios. Formed by former BioWare producer Alan Miranda in 2003, the small studio has worked on a number of projects including the Neverwinter Nights module Darkness over Daggerford, the Neverwinter Nights 2 expansion Mysteries of Westgate, and the recently released tablet-focused RPG The Shadow Sun.

Beyond these more prominent titles, however, the company also worked on an expansion pack for the original The Witcher for CD Projekt RED entitled Scars of Betrayal. Unfortunately for those of us who wanted nothing more than to take Geralt on some more monster-slaying adventures, the add-on was cancelled before it was ever officially announced.

And so, to learn more about the success of The Shadow Sun and the ill-fated Scars of Betrayal project, I sat down with Alan himself to get the facts straight from the source:


GB: How has the release of The Shadow Sun been for the team at Ossian Studios? Has the project been as successful as you had hoped it would be?

Alan: We were happy with the reception that The Shadow Sun received and it got some great reviews along with an 81% on Metacritic and iPhone Quality Index. Given Ossian's passion for making deep RPGs, we were pleased to see how many reviewers and players were satisfied to play a high-quality, story-driven RPG experience made specifically for mobile. And it was particularly gratifying to see reviewer comments like, (The Shadow Sun is pretty much what I imagine a '˜real' Dragon Age mobile game should be.) since that's what we were aiming to bring to the mobile platform.

The downside was that we took much longer than we anticipated to develop the game, which made it hard to keep pace with the increasingly more powerful mobile technology. So graphically, we were somewhat behind the curve compared to other mobile games by the time we released. But I still think our visuals stand up pretty well, and the bottom line is that it's a really fun game - if you have an iPad/iPhone/iPod touch, you still won't find a comparable action RPG on iOS. And we're bringing it to Android next!


GB: The overall reception to The Shadow Sun appears to be quite favorable, with a Metacritic score currently hovering at 81 and an iTunes profile page filled with 4- and 5-star reviews. Are you happy with these results, and has it helped pique any publisher interest in future Ossian-developed games?

Alan: We had many of the big mobile publishers contact us back in 2010/2011 about partnering up to do The Shadow Sun. Given our past experience with publishers cancelling our projects, I was rather unenthusiastic at the idea of working with a publisher for TSS. This was our chance to be in complete control of our game. Who knows what the future will bring, but we do enjoy our autonomy as a small indie developer.


GB: As an iOS title first and foremost, The Shadow Sun has clearly been optimized for touch-capable devices. Have you considered porting the game to the PC, and if so, would it require a lot of reworking to the control system to allow a keyboard and mouse to be utilized effectively?

Alan: We've had that discussion numerous times here. It's not so much the control issue to support keyboard, mouse, and gamepad, as those could be addressed. It's more the case that we designed TSS as a mobile game in 2010 and made certain decisions to suit that, such as a smaller world, shorter dialogue line lengths to fit on the iPhone screen, lower poly characters, and limited VO. So it would take significant work to upgrade the game for the PC, and in the end may not be worth it.


GB: Looking back at the development of The Shadow Sun, is there anything you would change in terms of content or scope? Is there any particular element that you wished you had spent more time on?

Alan: Getting the game done in two instead of four years would be the biggest change. ;) In terms of features and content though, we are quite happy with everything we created for the game, so there isn't much we'd want to change if we could turn back the clock. The only exception would be our camera, which had a couple of issues that weren't spotted during development and testing. I think everyone on the team got used to playing the game a certain way and found it just fine, but when some reviewers and players complained the camera acted unresponsively in certain cases, we saw the problem. The good news is that we've fixed those camera issues in our recent v1.02 update.


GB: What is your plan for the future of The Shadow Sun? Are you working on any add-on content or have you considered turning the game into a series of RPGs?

Alan: We just added some new content into v1.02 of The Shadow Sun with a new pet dog companion that the player can adopt. You can name, play with, as well as feed your dog, and just like your human companions, your dog will fight alongside you in combat. As for the future, we're looking at potentially branching The Shadow Sun into other styles of games, beyond the action RPG format, but all would have their roots in the RPG genre.
GB: Before working on The Shadow Sun and somewhere between Darkness over Daggerford and Mysteries of Westgate, you also worked on an expansion pack for the original The Witcher called Scars of Betrayal. How did that project come about, exactly? Did CD Projekt RED approach you to develop the add-on?

Alan: Working on The Witcher franchise with CDPR was a great experience - they are such down-to-earth and passionate people. How it came about was that we were demoing Darkness over Daggerford at GDC 2007 because we'd won the Best RPG Mod award for our mod at the IGF, and Marcin Iwiński walked up to me to introduce himself. He said that BioWare had recommended Ossian Studios as a good developer to make post-release content for RPG games. Marcin was interested in creating additional content for The Witcher (a game that wouldn't be released for another 7 months), in the same way that the Premium Mods were made for NWN. We were excited about the idea and by the end of 2007 we had entered full production for Scars of Betrayal.


GB: What was its overall premise of The Witcher: Scars of Betrayal and what was Geralt's role to play in the storyline?

Alan: Scars of Betrayal (SoB) was a stand-alone story that didn't tie in with the main story of the original game. It was very much like one of the many monster-hunting adventures that Geralt had pursued in his extensive travels in Andrzej Sapkowski's books. As reference, Marcin sent me a book of Witcher short stories entitled The Last Wish, and these are what inspired me to write SoB's story.

Set in the Mahakam Mountains, to the east of Vizima, Geralt arrives in the small village of Kurcova, where trouble is afoot and not all is as it seems. This wasn't going to be a simplistic plot of (go to the cave to find and kill the monster) - Geralt was to be caught in a web of intertwined intrigue and complex interpersonal relationships, with tough choices to make. I wanted to give it the same flavour as the best of The Last Wish short stories and stay faithful to the lore. CDPR was very pleased with our story, and suffice it to say it involved werewolves. :)


GB: Was the add-on going to be set up primarily as additional post-completion content, or would it have added items, alchemical recipes, skills, and other elements to the base game upon a restart?

Alan: The expansion's focus was purely on the story and adventure, so we weren't adding in new kinds of recipes or skills. CDPR's aim was to give additional content for gamers to play after finishing the main game.


GB: Were you aware of the fact that there was a The Witcher: Outcast expansion also in development at the time that you were working on Scars of Betrayal? If so, were there any considerations you had to make in your add-on to accommodate for possible tie-ins or content overlap?

Alan: Yes, we were aware of it, but it factored very little into our development. I believe Roxidy (the devs of Outcast) had approached CDP about doing an expansion shortly after The Witcher's release in October 2007. But I'm pretty sure we had been the first developer CDPR reached out to for post-release content, with them even flying to Vancouver to show me the game in the Spring of 2007. So our expansion seemed to have been given first choice on story setting, monsters, etc.


GB: Why was Scars of Betrayal ultimately cancelled and how far was the project from completion at the time of cancellation? Was Outcast cancelled during the same timeframe, and was it closer or further away from completion in comparison to SoB?

Alan: In August 2008, Ossian and CDPR were gearing up to show Scars of Betrayal at Gamescom, and then I got *the* call out of the blue. The call was from Witcher producer, Tomasz Gop, regretfully informing me that they were cancelling all external Witcher development, including SoB and Outcast (which hadn't yet left pre-production, I was told). I was stunned.

The Witcher's lead designer actually disagreed with the decision, feeling that development of SoB was so far along (60% complete), it only made sense to take a few more months to finish it because release of The Witcher 2 would be years away. Yet what happened had nothing to do with SoB or Ossian but with CDP itself, as I found out a short while later that they were going through some very tough times and had even laid off a large number of their employees. This was the start of a difficult period for CDP, leading up to what's detailed in Eurogamer's article (Seeing Red,) about how CDP nearly collapsed in 2009. And so to this day, I don't blame CDP for what happened, but feel very sad that nobody will ever play Scars of Betrayal, which we felt was going to be awesome for Witcher fans.


GB: What's next for Ossian Studios? Now that you've made a name for yourself on the role-playing landscape and have a handful of titles under your belt, have you considered pursuing a crowd-funded title?

Alan: With The Shadow Sun released, things are looking more positive than they have in previous years. Gazing back along the rocky road Ossian has travelled, first with the cancellation of Darkness over Daggerford, then with Mysteries of Westgate being shelved for 19 months until April 2009, and then with Scars of Betrayal being cancelled, it almost feels like we were being guided towards making a game on our own with our own IP. I think we've established a great new fantasy setting in The Shadow Sun, reminiscent of Conan the Barbarian with Lovecraftian undertones, along with an excellent set of tools using the Unity engine, so this is something we'll definitely continue to pursue. And maybe crowd-funding will be in the cards.


GB: Thanks for your time, Alan! And readers, don't forget to check out the exclusive piece of concept art in our image gallery for the expansion!