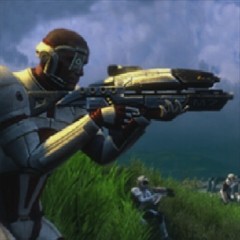 First Contact War
Category: Humanity and the Systems Alliance
Type: Primary
Humanity's first contact with an alien race occurred in 2157. At that time, the Alliance allowed survey fleets to activate any dormant mass relays discovered, a practice considered dangerous and irresponsible by Council-aligned races. When a turian patrol discovered a human fleet attempting to activate a relay, they attacked. One human vessel survived, retreating to the colony of Shanxi.

The turians followed, quickly defeating the local forces. Shanxi was occupied, the first - and, to date, only - human world to be conquered by an alien species. The turians believed the handful of ships they defeated represented the bulk of human defenses. So they were unprepared when the Second Fleet under Admiral Kastanie Drescher, launched a strong counteroffensive, evicting them from Shanxi.

The turians mobilized for full-scale war, drawing the attention of the rest of the galaxy. The Council quickly intervened, forcing a truce. Fortunately for humanity, the First Contact War was ended with a diplomatic solution.
Error: 500 Can't connect to www.gamebanshee.com:80 (Temporary failure in name resolution) Error: 500 Can't connect to www.gamebanshee.com:80 (Temporary failure in name resolution) Error: 500 Can't connect to www.gamebanshee.com:80 (Temporary failure in name resolution)