Hits: 1369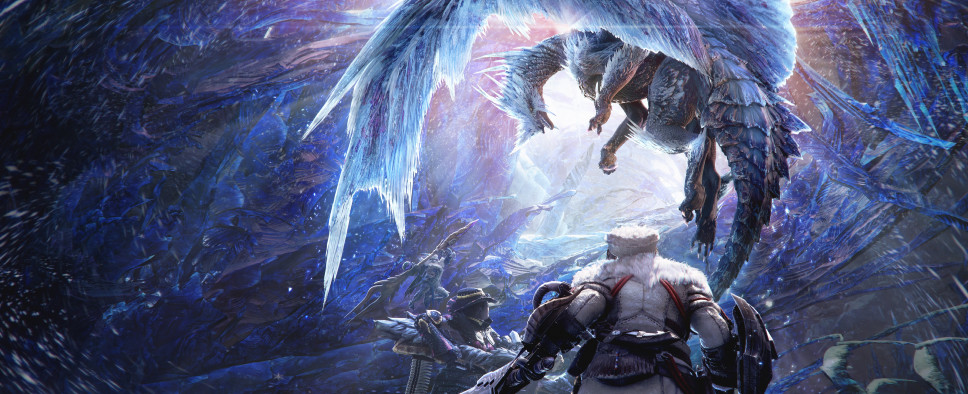 Those of you looking to slay some giant monsters in a picturesque snowy locale can now purchase the Iceborne expansion for Capcom's co-operative action-RPG Monster Hunter: World. The expansion, available for Xbox One or PlayStation 4 and coming to PC at a later date, is priced at $39.99 or your regional equivalent. It offers a new area to explore, new monsters to hunt, a series of new mechanics, a new quest difficulty, and more. You can find the latest patch notes over here. There's also this live-action "Why Do You Hunt?" trailer:
Here's what Iceborne has to offer:
Massive "Monster Hunter World: Iceborne" expansion

A diverse locale, rich with endemic life. Numerous monsters that prey on each other and get into turf wars. A new hunting experience, making use of the densely packed environment. Monster Hunter: World, the game that brought you a new style of hunting action, is about to get even bigger with the massive Monster Hunter World: Iceborne expansion!

- All-new Hunting Mechanics

All 14 weapon types have new moves and combos. Each weapon has more unique actions than ever before. Every weapon now lets you use the clutch claw, a new function of the slinger, to grapple onto monsters. You'll drain your stamina while clinging onto monsters, but it opens up various new ways of controlling their movement!

- New Quest Difficulty: Master Rank!

On top of low rank and high rank, there is now a new quest difficulty called "master rank."

Master rank quests will become available once you purchase the Iceborne expansion. You'll be able to earn new materials and fight even stronger monsters on these quests!

- New Locale: Hoarfrost Reach

An unknown environment, yet to be discovered by mankind. Hoarfrost Reach has plenty of unique endemic life and monsters that could only exist in such a harsh climate. It has diverse geographical features as well, from deep stretches of snow that impede your movement to relaxing hot springs, and even unstable ground that could collapse at any moment! The visual effects are some of the most detailed the Monster Hunter series has ever seen!

- Various New Monsters!

Hoarfrost Reach is home to many new endemic creatures and monsters, such as the snow-swimming Beotodus, the raging Banbaro, and the mysterious elder dragon Velkhana.

But changes are afoot in familiar locales as well! Keep an eye out for new tracks of fan favorite monsters, such as Tigrex and Nargacuga!
And if you'd like to know whether this expansion is any good, you can check out some fairly positive reviews below:

IGN 9/10:
Monster Hunter World: Iceborne adds loads of impressive monsters and tons of quality-of-life improvements to an already incredible game.
WCCFTech 9.4/10:
Monster Hunter World: Iceborne comes close to matching the perfection of the first adventures with the Fifth Fleet but this new expansion is all but guaranteed to lead to more times being carted back to camp.
RPG Site 10/10:
If Monster Hunter: World was Capcom ambitiously reinventing Monster Hunter for a current-generation home console, then Iceborne has been them aggressively laying the groundwork for the series' future, confident in the game that they have created. It's rare that you see a company pour this much time and budget into a simple expansion, let alone a little more than a year and a half after a game's release. Not only is Iceborne the largest expansion that the series has ever seen, it no longer remains a question if Monster Hunter: World is the best that the series has to offer. With Iceborne's release, there's simply no contest.
Trusted Reviews 5/5:
You'll not only be entertained by Monster Hunter World: Iceborne for hours, but you will be in awe of its complex systems, and how they align so well to create an unforgettable expansion to an already fantastic game.
Twinfinite 4.5/5:
If you've been itching for more Monster Hunter content after completing World's base game, then this should be in your shopping cart right now. Also, if you're totally new, the series is more streamlined than ever before, so just dive right in.
Fextralife 9/10:
Monster Hunter World: Iceborne is a sizeable, satisfying addition to the base game, expanding the content and scope while adding welcome quality of life features. Welcoming to both new and veteran players, low and high geared alike, the expansion steps up the challenge but gives the right tools for players to progress, and provides countless hours of content in a new and addictive endgame mode. It is absolutely worth the price.