Hits: 1019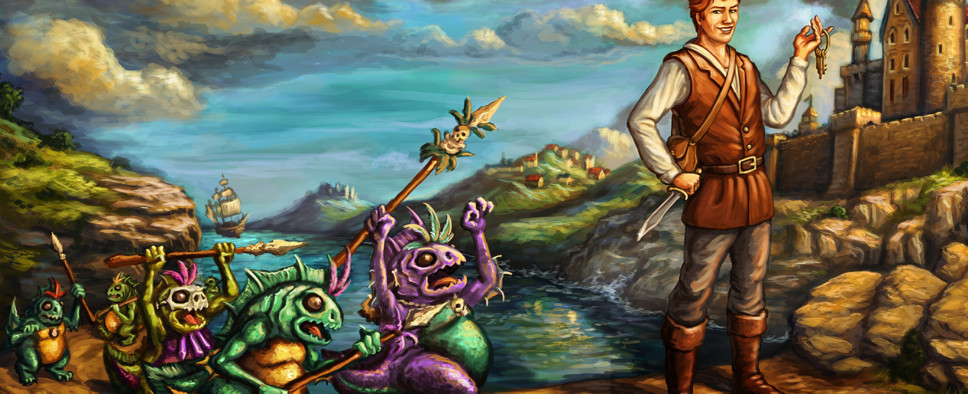 Adventure, roleplaying, rogues. Following not one but two Kickstarter campaigns, Transolar Games' spiritual successor to the Quest for Glory series, Hero-U: Rogue to Redemption, is finally available on both Steam and GOG for $31.49 or your regional equivalent including a 10% launch week discount. If you're looking for a pun-filled adventure sprinkled with a bit of turn-based combat and plenty of replayability, you may want to check it out. Here's the official description:
After two successful Kickstarter campaigns and over five years of development, we are proud to present Hero-U: Rogue to Redemption. Created by the critically acclaimed game developers Lori Ann Cole and Corey Cole (Quest for Glory, Shannara, Castle of Dr. Brain, Mixed-Up Fairy Tales), the Hero-U series follows the role-playing adventures of top students at the Hero University.

In Rogue to Redemption, Shawn O'Conner strives to become Rogue of the Year while exploring a mysterious castle, making friends and enemies, fighting deadly foes, and uncovering the secrets of his own hidden past. Meanwhile players will enjoy the rich and humorous dialogue and descriptions as they guide Shawn through his adventures.

In the tradition we created in Quest for Glory and in Shannara, Hero-U is a hybrid adventure/role-playing game. During the day, Shawn attends classes at the University, practices his skills, and tries to make friends with other students. At night, it's time to pull out weapons, armor, and traps to explore the abandoned wine cellars, stunning sea caves, creepy catacombs, and deadly dungeon beneath Hero-U. Most combat is optional for those who prefer a pure adventure game, but there are ample rewards for those who choose to valorously fight the creatures that threaten the school and all of Sardonia.

Key Game Features:

Story and Character-Driven Adventure Game
Role-Playing Game Featuring Skills, Equipment, and Tactical Combat
Many Ways to Play for Maximum Replayability
Turn-Based, Non-Twitch, Avoidable Combat
Seamless Blend of Dramatic Story and Comedy
Created by Acclaimed Game Designers Lori and Corey Cole
Soundtrack by Award-Winning Composer Ryan Grogan
Immersive Mini-Games and Challenging Stealth Gameplay
First of a Series of Games Set at the Hero University
And if you visit the game's Kickstarter page, you'll find a new update that talks about the backer keys, the upcoming patches and updates, and the studio's future plans that include two new Hero-U projects. A bit on that:
About Those Steam and GOG Keys

Between launch issues and trying to make sure backers got game keys as soon as possible, I managed to create some confusion. Here's the skinny:

I decided to provide a Steam key to EVERY backer.
All Alpha and Beta level backers have both Steam and GOG keys.
Other backers who requested a GOG key will get one soon.
"Beta-Only" - that's actually your live Steam key
"Steam Beta Key" - that's also your live Steam key

The confusing names hearken back to the beta test. Everyone who got a Steam beta key then has been updated to have the live version of the game now.

The Next Game Patch

Even before we launched the game, we were thinking about changes we want to make that we couldn't safely include in the launch. There are some errors in the game books, a few dialogues and game events that could use tweaking, and at least one known "game-locking" bug.

(If you see a plaque labeled "Pyoter," it's best not to click on it. There was a bad line of code that freezes the game.) We will also keep a close eye on player reports and feedback over the next few months.

We will probably release a patch with these and other minor fixes in about a month, after which patches should be rare.

Incidentally, several players with Ultra High Definition monitors have reported serious animation issues in the game. This is a general Unity issue that we've also seen reported for other games. The solution - set your monitor refresh rate to 60 Hz. That seems to fix the problem.

Physical Goods and Future Games

We still have some work to do on the Art Book, Bestiary, Soundtrack, Yearbook, and boxed copies of Hero-U: Rogue to Redemption. We expect to ship posters next month, new digital assets as they become ready, and boxed games in late October or early November.

We've started concept and art design on not one, but two, upcoming games. One is a smaller casual game we're calling Summer Daze at Hero-U. The other is of course the second series game, Hero-U: Wizard's Way. We're committed to creating innovative, enjoyable games.