Hits: 1388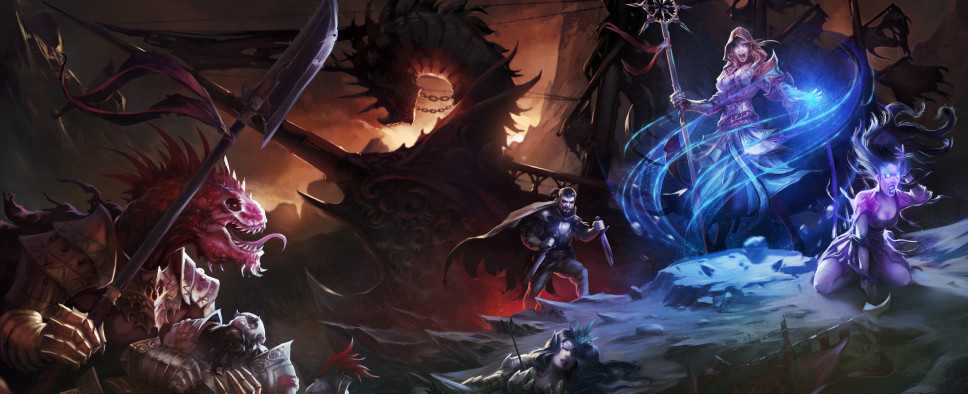 Larian Studios' Divinity: Original Sin II, the latest chapter in the Divinity saga, is now officially released on both Steam and GOG after spending a year in Early Access. You can purchase it for $44.99 or your regional equivalent. Play alone or with up to three other people, engage in emergent tomfoolery or in complex turn-based combat, be an arrogant lizard or an undead dwarf - Divinity: Original Sin II is an RPG that has it all.

What's even more impressive is that the game launched on schedule. Why is that impressive, you might ask? Well, a few hours ago, a Kickstarter update went live, informing us that Larian's offices had no electricity and that their Steam uploader PC was refusing to boot all of a sudden (after it was moved to a place with electricity). Here's Swen Vincke explaining the situation:
And apart from that, the update informs us that the German, French, and Russian translations of the game had to be postponed for about a week, briefly mentions the Collector's Editions, links to the recently released "Features" trailer, and announces a couple of promotional release streams. An excerpt:
Translations postponed one week

We set ourselves some incredibly ambitious targets for this game, and while we cleared most of those hurdles, there is one area where we unfortunately had some issues.

We'd hoped to launch the game in English, German, French and Russian, and we've been working for months towards this goal, but we hit some unexpected problems at the eleventh hour.

After a lot of discussion and heartache we decided that, rather than release the game with some disappointing translations in there, we would take an extra week to make sure that the translations were as complete and well-implemented as they could be, rather than launch the game and give you an experience that we weren't satisfied with.

This wasn't a decision we made lightly - we know how much some of you have been looking forward to playing the game in your native languages - but we hope you'll enjoy it so much more when the complete Russian, German and French translations are released on the 21st September.

Collector's Editions

Our Collector's Editions are all boxed up and parcelled out now. Depending on the postal service in your country, you should receive yours either today, tomorrow or early next week. The hoodies (as you can see Swen modelling in the above video!) are currently having a very short holiday in customs, so will be with you as soon as bureaucratically possible!

If you are one of the folks who didn't give us your address for your Collector's Edition - we need your address to send it to you! Go to https://www.larianvault.com/ and input your details so we can send you some postal happiness.
And finally, check out Divinity: Original Sin II's official description and feature list:
The eagerly anticipated sequel to the award-winning RPG. Gather your party. Master deep, tactical combat. Join up to 3 other players - but know that only one of you will have the chance to become a God.

The Divine is dead. The Void approaches. And the powers latent within you are soon to awaken. The battle for Divinity has begun. Choose wisely and trust sparingly; darkness lurks within every heart.

Who will you be?

A flesh-eating elf; an imperial lizard; an undead risen from the grave? Choose your race and origin story, or create your own! Discover how the world reacts differently to who -and what- you are.

It's time for a new Divinity!

Gather your party and develop relationships with your companions. Blast your opponents in deep tactical turn-based combat. Use the environment as a weapon, use height to your advantage, and manipulate the elements.

Ascend as the god that Rivellon so desperately needs.

Explore the vast and layered world of Rivellon alone, or with up to 4 players in drop-in/drop-out co-operative play. Go anywhere, kill anyone, and explore endless ways to interact with the world. Continue to play in the brand-new PvP and Game Master modes.

Choose your race and origin, or create your own as a Human, Lizard, Elf, Dwarf, or Undead. The world reacts to who you are, and what you've done. Every choice will have a consequence.
Unlimited freedom to explore and experiment. Go anywhere, talk to anyone, and interact with everything! Every NPC can be killed, and every animal spoken to! Even ghosts hold a few secrets or two…
The next generation of turn-based combat. Revamped action point system, AI 2.0., new elemental combos, over 200 skills, height advantage… and much, much more.
Up to 4 player online and splitscreen multiplayer! Choose one of the 6 pre-made characters or create your own. Play with your friends online or in local split screen with full controller support.
Game Master Mode. Take your imagination to the next level and craft your own stories with the Game Master mode.