Hits: 1153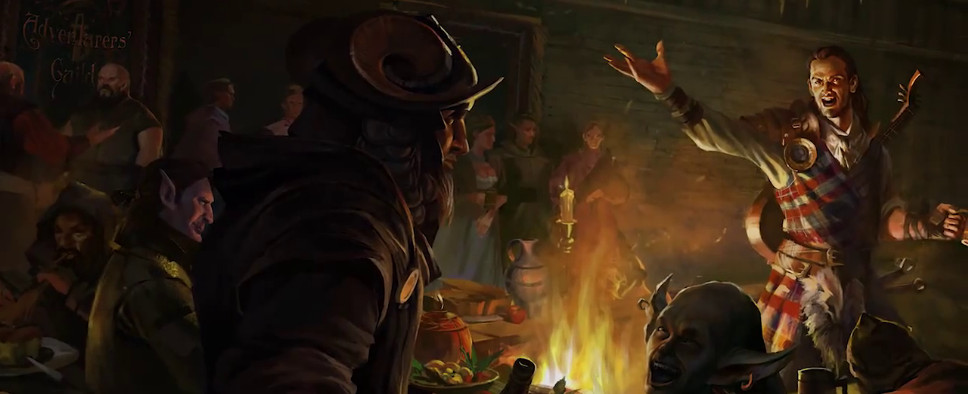 Some more good news about The Bard's Tale IV comes by way of the 14th update to reach the game's Kickstarter campaign. In it, we learn that the team at inXile will be expanding the supported party size to a total of six characters (by popular demand), get a much better understanding of the game's scope, are able to check out a full transcript of The Bard's Poem, and more. Things are shaping up well for the long-overdue sequel:
First off, we have read your arguments regarding expanding the party, and heard you! So we have decided to expand the player party size to six, one of which will be a companion NPC. Additionally, you will have summoned creatures and the like to aid you, which will not count against your party cap. Currently, our plan is to allow you to summon as many additional creatures as there are available grid slots.

There's more details on this topic we also wanted to share. If you're familiar with our work you may know we like to do vision documents for each of our games, and we shared those with you for Wasteland 2 and Torment: Tides of Numenera. To tide you over, we have made a touch points document to share with you. Check it out here!

Of course, for some of you all, this doc covers a lot of familiar ground from the Kickstarter page and our updates, but we also have new details for all of you as well.

As discussed in a previous update, we're bringing back a lot of the classes and races from the original trilogy, with your options expanding to ten character classes and over seven unique races. Furthermore, we're also planning on expanding the class evolution concept from the classic games' classes to cover all of our character classes leading to huge amounts of depth and customization. You'll be able to further define, specialize and tinker with your character as he or she reaches certain levels, choosing groups of unlocked spells, abilities and talents in order to best suit your needs or party make-up. We'll have more precise details to share on this in a future update.

We are still deciding the best way we can make good on bringing you a true sequel to The Bard's Tale trilogy, but we'd like to give you an idea of the scope of the game that we are targeting internally right now (which, as usual, is subject to change):

'¢ Over thirty beautiful levels to explore.
'¢ Locations including Skara Brae and the catacombs beneath it, towns such as Torr Fion and Fettercairn, wildernesses, castles, ruined temples and lost cities, as well as the legendary realms of the Elves, Dwarves and Trow.
'¢ Over a hundred different enemy types, including dozens from the original trilogy, as well as dozens of new creatures based on ancient Scottish, Orcadian, and Pict mythology. All-new enemy factions will oppose you: the Fecti, the Einaar, the Lestradae, and the Fatherites. We'll speak more on this lore in future updates!
'¢ Hundreds of usable items, many of which can be used in our crafting system to create consumables and special items.
'¢ Hundreds of unique weapons and armor to find; most can be enhanced through crafting, and many will be physically manipulated as a 3D model/puzzle to become more powerful.
'¢ Dozens of powerful magic spells, including some that allow the user to summon creatures to fight by their side.