Hits: 490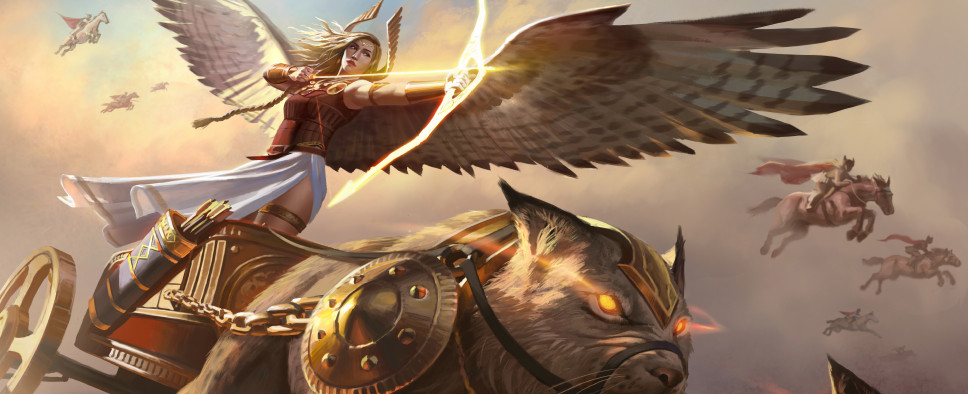 If you're up for a bit of fast paced viking action with some RPG systems running under the hood, you might be interested in purchasing Human Head Studios' viking-themed action-RPG Rune II, formerly known as Rune: Ragnarok. The game is currently available on the Epic Games store in three different editions, ranging in price between $30a and $60. Here's the launch trailer:
And the official description:
Set in a dangerous Norse universe during the end of days, RUNE II is an epic action RPG where gods, beasts, and the last remaining humans struggle to survive.

You have been chosen by the gods to be Midgard's savior - receive their blessings and powerful abilities as you endeavor to end Ragnarok! Race against time to prevent the trickster Loki from destroying Midgard as he keeps the world in a perpetual state of chaos.

Alone or with friends you will battle legions of Loki's minions in brutal melee combat, travel the world collecting rare resources, locate precious artifacts to weaken the Realm Gate and craft the mightiest weapons the Nine Realms have ever seen.

Are you powerful enough to take down a god...or will a new age of darkness begin?
And now that the game is released, in a rather bizarre turn of events, we learn that Human Head Studios had to shut their doors due to "economic realities." But by the looks of it, this was merely a formality, as pretty much immediately the team got picked up by Bethesda and reformed into a new company known as Roundhouse Studio. Here's Human Head's official statement on the matter:
The last month has been a unique one for all of us at Human Head Studios. We recently launched Rune II on the Epic Store and we hope that you're enjoying the game and checking out the Rune II streams. We're proud of what our talented team has created and encourage everyone to sail their longships in search of battle against the dark forces of Ragnarok.

However, Rune II will be the final game for Human Head Studios. After 22 great years of making games as an independent studio, economic realities have forced us to make the decision to wind down the company and close its doors. But while we are closing the book on Human Head, we are not closing the book on the amazing team we have assembled.

We wanted to do whatever we could to keep the team together and keep each member of our talented staff employed, right here at home. That's when we reached out to Bethesda Softworks to see what might be possible. As a result, we are happy to announce that the development team from Human Head is becoming part of Bethesda as a new studio based in Madison, WI, called Roundhouse Studios. The entire staff has been offered new roles with Bethesda, and it's exciting to know that our team, which has accomplished so much together, for so long, can continue doing what we love.

This is an incredible opportunity for our small but industrious clan of developers to embark on a new chapter of game development as members of the Bethesda family. With their support and resources, we look forward to creating great game experiences for many years to come.

We want to thank all of you for your support over the last 22 years. Your passion and excitement for games is what has driven and motivated us for many, many years. We're really excited for what the future holds for us and we hope you join us on this new adventure.
And here's a press release with some additional information:
Nov. 13, 2019 – (ROCKVILLE, Md.) – Bethesda Softworks has opened a new development studio, Roundhouse Studios, in Madison, Wis. Staffed by the team from the recently closed Human Head Studios, Roundhouse Studios will immediately begin work on unannounced projects at Bethesda.

"Sadly, we had to wind down the business of Human Head Studios and close its doors, which was particularly devastating due to the passion and creativity of the team we'd assembled," said Chris Rhinehart, Creative Director, Roundhouse Studios. "We reached out to our friends at Bethesda for help, and they saw that same creativity and passion in our team. With the formation of Roundhouse Studios, Bethesda offered every employee of Human Head a position at the new company. We are excited our team will remain together, pursuing the work we love, as part of a company we already know and admire."

The developers at Roundhouse Studios represent more than two decades working together on a variety of games and genres, including RPGs, shooters, action-adventure games, and more. The original developers of Prey, the team is well known for developing titles like Dead Man's Hand, Rune and Rune II, and Lost Within, and contributing to blockbuster releases like Batman: Arkham Origins and BioShock Infinite.

"While sorry to hear of their challenges as Human Head Studios, we were excited by the opportunity to bring under the Bethesda umbrella this talented, established development team," said Todd Vaughn, Senior Vice President of Development at Bethesda. "We are delighted that the entire staff will remain together and is now part of the Bethesda family."

Roundhouse Studios is the second development team to join Bethesda in the last month, following the recent acquisition of Alpha Dog Games, a mobile-games studio based in Nova Scotia, Canada.