Hits: 756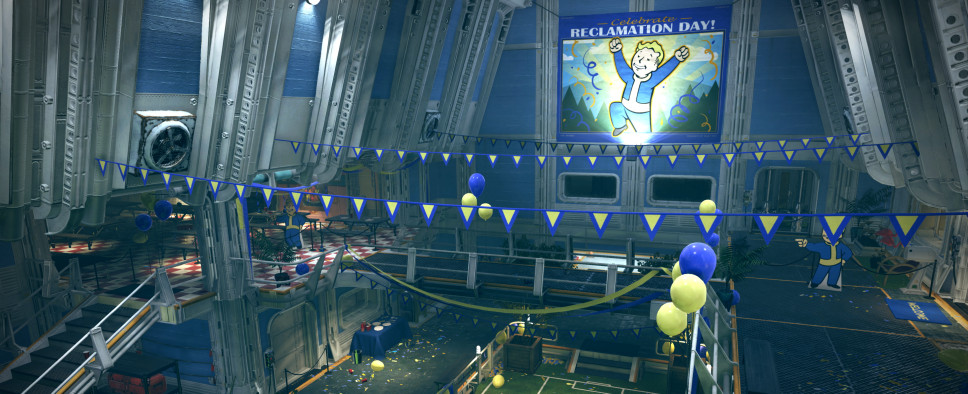 The latest "Inside the Vault" development update for Fallout 76 talks a bit about the game's "Nuclear Winter" Battle Royale mode and then lets us know what the developers have in store for it in the near future. In short, you can expect balance adjustments, better stability, and improved perk rewards. Check it out:
WHAT'S NEXT FOR NUCLEAR WINTER

"Create a PvP game mode for Fallout 76 that allows players to jump in and have a fun experience in 20 minutes or less."

That was our primary goal when we first began working on Nuclear Winter. After lots of discussion, we decided to challenge ourselves to embrace everything that makes Fallout, Fallout—all while capturing the fun of a Battle Royale ruleset.

When we found we had to kill the server after every playtest just to make the team get back to work, we realized we were on to something. We were having a ton of fun, and the Sneak Peek was about finding out if you thought so, too.

During that time, you took something that you understandably approached with a degree of skepticism and gave it a chance. We watched your feedback closely as you started jumping into matches, and the community's collective excitement prompted us to keep the mode online while we continued working on it.

Since then, we released Patch 10.5 to address several bugs and stability issues, but there is work yet to do. We're already planning to implement a number of changes based on the thoughts you've shared with us so far.

Here's a look at a few improvements we're currently planning to bring to the game with future updates:

Balance Adjustments: In Nuclear Winter, everyone starts on a level playing field. Maintaining that fairness is very important to us, especially as players gain access to a wider variety of Perk Cards by ranking up, and throughout each match as players get their hands on the many weapons that can appear in-game. With this in mind, we're currently looking to address a few balance issues for a number of weapons and Perk Cards (And yes, that includes Frog Legs.)
Duplicate Perk Rewards: We've heard feedback from some players who feel they're receiving too many duplicate Perk Cards as Overseer Rank-Up rewards. We're looking into these reports and we are currently discussing ways we can make improvements to this experience going forward.
Stability: Patch 10.5 brought a number of stability improvements to the game, but we're not done yet! As with the main game, we're continually working to address crashes and improve server performance whenever possible to reduce the likelihood of unexpected interruptions during your play sessions.

Looking further ahead, expect to see consistent updates for Nuclear Winter alongside the main game with new features, enhancements, and balance changes driven by the feedback we receive from you. Please be vocal. We are actively reading and watching as much of your feedback as we can. Together, we can continue to improve Nuclear Winter. We're excited to see where it goes, and we will see you in Vault 51!

As mentioned above, Patch 10.5 landed just a few days ago. If you haven't had the chance to check out the patch notes yet, you can click here to give them a read. Even though we just released an update, we're still moving full speed ahead toward Patch 11, which is currently planned for early July. This patch will include adjustments for all game modes, including Power Armor improvements, new features, and plenty of fixes for bugs that have been reported to us by the Fallout 76 community.
And then, you may also be interested in this GamesIndustry.biz interview with Bethesda's Pete Hines, where he discusses his studio's continued support for their multiplayer take on Fallout. A few sample paragraphs:
"It's just in our DNA," he says. "I appreciate there might be folks who are tempted to throw up their hands and [call it quits], but that's just not how we're wired. We believed in it. The fact that it didn't go the way we expected and it had issues that maybe we should have foreseen and should have planned for doesn't mean we didn't believe in what the game was and could become."

Of course, there's a reputation element to consider, too. In 2010, Square Enix released Final Fantasy XIV, another online game under a huge brand that disappointed fans. Ultimately, it decided to rebuild the entire project, leading to the much improved Final Fantasy XIV: A Realm Reborn in 2014. Square Enix said at the time that the investment was necessary as the brand's reputation was at stake. Is that another motivation for Bethesda's on-going commitment to Fallout 76?

"For sure, that had some amount to do with it," Hines agrees. "BGS is a team that's made a lot of very highly successful things. Still, in my opinion, they are one of the most respected and decorated studios in the world. There is an element of pride -- not in a 'we don't quit and give up' way, but we need to show and prove that we are going to stick with it, and that we don't just hit some adversity and throw up our hands and go, 'Oh this is too hard, let's do something else.' That's not how we think about things, either as a publisher or as a studio."