Hits: 1104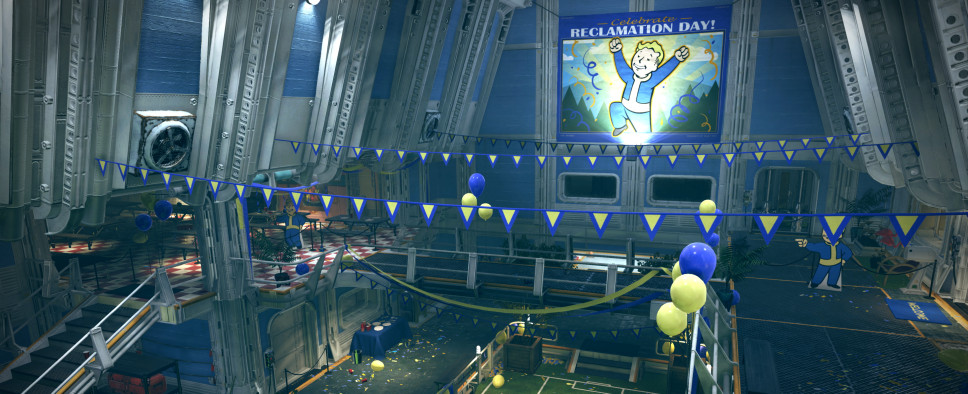 Fasnacht Parade is coming to Fallout 76 as part of the game's Wild Appalachia content update. This limited-time event will run for a week starting from March 19, 2019. During it, you'll be able to take part in a series of festive activities, burn an effigy, and earn an exclusive Fasnacht mask. Apart from this event, there's a new patch coming to the game soon. The patch will rebalance Fallout 76's energy and heavy weapons, adjust the game's crafting systems, and improve its challenge tracking.

The link above has some patch highlights, and here's a bit on the Fasnacht event:
NEW SEASONAL EVENT – FASNACHT PARADE

Each year, since the founding of Helvetia in 1869, the townsfolk celebrated Fasnacht by donning fantastic masks and parading through the decorated town. The festivities culminated by burning an effigy of Old Man Winter on the bonfire to signal the end of winter. The townsfolk may be long gone, but dutiful bots have kept the party rolling every year—and they welcome your participation!

Fasnacht Parade is a repeatable, limited-time event quest that will be available for one week, starting on March 19. You and any other dwellers who wish to take part must speak with the Master of Ceremonies in Helvetia and then divide and conquer to find and aid the town's robotic shopkeepers in setting up for the annual parade. You and your compatriots will be asked to assist with a variety of party prep duties that may have you stepping on stage to play a cheery tune, choosing the perfect decorations, or exterminating some buzzing pests, among many other activities.

If you find and aid the Protectrons quickly enough, they will be able to march in the parade. Be sure to remain vigilant! Times have changed since the pre-war days, and all that commotion is sure to attract some party crashers. Defend your marchers as they traipse around town, and then set Old Man Winter ablaze to banish the biting cold, earn some sweet loot, and even claim a festive Fasnacht mask of your very own. The more marchers who survive the parade, the higher the chance you'll earn a mask, some of which are exceedingly rare. Here's a look at just a few that you can get by completing this event. There are many more, and masks can be traded, so put your Charisma to the test by haggling with any Dwellers who have a mask that catches your eye.

Remember—No party lasts forever, and neither does this seasonal event quest. Complete Fasnacht Parade as many times as you like, grab as many masks as you can, and score new Fasnacht-themed C.A.M.P. plans before the celebration ends on March 26.