Hits: 653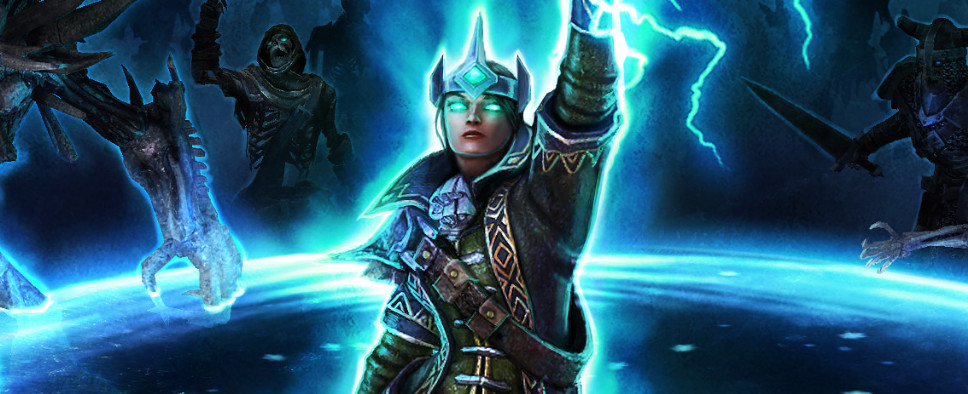 The first "Grim Misadventure" development update of the year recaps all the major updates Crate Entertainment's Titan Quest-inspired action-RPG Grim Dawn received back in 2018, shares some screenshots, and then briefly talks about the new content coming our way in the next few months. The latter includes the Forgotten Gods expansion, a big update for the base game, and some yet unannounced "major surprise." Check it out:
Welcome back to Grim Misadventures as we herald the arrival of 2019 and all the exciting content still to come! Nearly three years ago, we unleashed a little big game called Grim Dawn to the world. Just over a year ago, we doubled it with the release of Ashes of Malmouth, which was some of our finest work yet. And as you well know by now, 2019 is going to round out the game with another massive addition through the upcoming Forgotten Gods expansion.

As tradition dictates, let's see what it took to get us to this point with everything that's happened in 2018.

2018 saw the announcement of Grim Dawn's second expansion, Forgotten Gods, as well as 3 major patches and content updates, including our largest balancing pass yet. The game as a whole is in a better place than ever and build diversity has grown substantially.

From the Past…

We Almost Forgot Something – The year would not have been completed without our surprise in March. Right on the heels of the Ashes of Malmouth release just a few months before, we were pleased to announce that a second expansion is on the way. Forgotten Gods is packed with new features, and of course an awesome new mastery, the Oathkeeper!

Learn about the Shattered Realm game mode, an intense new way to push your characters to new limits and earn powerful rewards.

Some of the tech that went into the Shattered Realm is also going to make existing content more dynamic and rewarding through the introduction of Challenge Areas!

We are also introducing awesome new mobility skills, which will be available to all characters through Rune Augments.

If you've ever struggled to complete an item set, you should definitely read about the Set Transmutation feature!
Beastly Rogues – Ashes of Malmouth received a major addition last year when we introduced our fourth Roguelike Dungeon: the Ancient Grove. This once sacred land was dear to the god of beasts, Mogdrogen, and you were tasked with cleansing it of the corruption that has seeped in through its roots.

Tough bosses and powerful new items awaited you. Everyone's favorite vendor also…sprouted!
Tracking your Nemesis – A small but meaningful quality of life change, we made it that much easier to track down those pesky Nemesis spawns for your loot hunting needs.
Hit Me! – Over the last year, we made hundreds of adjustments to items, skills and game mechanics in the interest of build diversity. Among them was a controversial at the time change to cap the minimum chance to hit at 60%, which made stacking excessive quantities of Defensive Ability effectively null. This in turn allowed us to distribute more Defensive Ability across various sources, making excessively tough builds have to pay attention again, and allowing the squishy builds to catch up a bit.

Patch v1.0.7.0 was the largest changelog we've ever posted, with changes across the board to items and skills to freshen up your build options. We revamped several older sets in the process and buffed skills that were underperforming in the endgame, whether through the base skills or their gear.
Stirring the Bog – A mighty beast stirred within Ugdenbog. A creature of legend, Kra'vall arrived with unique Monster Infrequents and presented a mighty challenge for you to conquer.
Legendary Attire – One must always look fashionable as they slay Cairn's enemies, and we saw to that with the addition of three new Legendary sets in v1.0.6.0.
Added some Bite to the Bark – Patch v1.0.6.0 saw a fairly substantial change to pet mechanics that allowed us to add a portion of their attack damage to their special abilities. Previously, these skills scaled very poorly in the endgame as pet basic attacks far surpassed the damage of these skills, even in multi-target settings.
Filtered Stars – With v1.0.7.0, we introduced another major, and highly requested, feature: the Devotion Search Filter. Taking a cue from Grimtools, the in-game Devotion screen now features a powerful search feature that helps you pin down which Constellations you need based on the attributes you are looking for!
Bossy Tunes – The final boss of the base game suffered from lackOfMusicItis for too long. We saw to that with patch v1.0.7.0 with an all new boss track. Some previously unused tracks also found their place in existing areas of the game.

You can listen to the new track right here on the website in the Media Section, and you can even download Loggy's track locally for just $0, a little treat from us and Skewsound!
Cleaned the Pool…Again! – The item pool received another substantial scrubbing last year. We significantly reduced the number of items dropped and removed common items from the pool entirely past a certain level. We increased the number of Component and Potion drops from chests and ensured that opening One Shot Chests was more rewarding with guaranteed Rare drops.

What's Next?

2018 saw many changes, but there is an expansion just on the horizon! Forgotten Gods is coming in Q1 2019. In fact, closed testing of its story content began late last year and is progressing smoothly. Changes are now coming rapidly as we work to wrap up development on what is sure to be another great addition to Grim Dawn.

One thing is for sure, I think the Fashion Dawn is sure to get a big boost with the expansion. I quickly threw these little outfits together from a combination of new and old gear.

In conjunction with the expansion's release, all Grim Dawn players will benefit from the release of patch v1.1.0.0, which will see further balance tuning. One such change is the addition of Health from Cunning and Spirit to offset the value of stacking Physique and improve the survivability of builds that were unable to stack high Physique to meet gear requirements. Patch v1.1.0.0 will also introduce the x64 game client, another step on our way to a console release.

We are working on a pretty major surprise for this patch, but we're not quite ready to talk about that yet. Needless to say, v1.1.0.0 is going to be awesome.