Hits: 850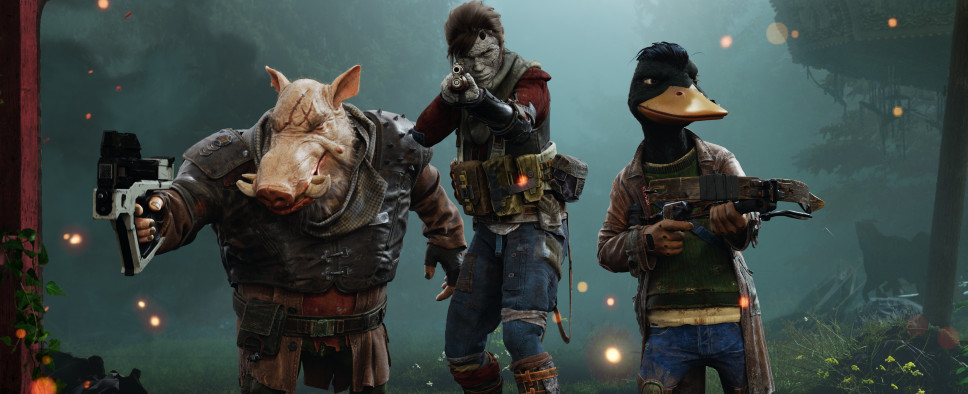 If you're interested in a tactical post-apocalyptic adventure based on a popular series of Swedish role-playing games, you should direct your attention to Funcom and The Bearded Ladies' Mutant Year Zero: Road to Eden that's now live on Steam for $34.99 or your regional equivalent. The game, also available for PlayStation 4 and Xbox One, allows you to play as a team of anthropomorphic animals, explore dangerous areas, master the stealthy approach, and participate in XCOM-inspired turn-based battles.

Here's the official launch trailer:
And the game's description:
From a team including former designers of HITMAN and PAYDAY comes Mutant Year Zero: Road to Eden, a tactical adventure game that combines the turn-based combat of XCOM with real-time stealth and exploration of a post-human world reclaimed by nature… and Mutants.

Of course the world ends.

It was just a question of time. Extreme climate change, global economic crisis, a lethal pandemic, and increasing tension between old and new superpowers. For the first time since 1945 nuclear weapons were used in armed conflict. Mushroom clouds rose from east to west before the dust settled.

Now it's over and the Earth is still. Nature has invaded ruined cities. Wind sweeps through empty streets, turned into graveyards.

The humans are all gone. Scavenging through the remains of civilization are the Mutants, deformed humanoids and animals alike, searching for salvation or just something to eat. To survive, you and your companions must venture out to explore the Zone.

Maybe one day you will find the Eden of legends, the ancients' haven in the middle of hell. That's where truth awaits, the stories say. Maybe you will find your answers there.

Then again, maybe it's all bullshit.

TACTICAL COMBAT
Mutant Year Zero: Road to Eden is the ultimate fix for your tactical strategy addiction. Dive into a deep, turn-based, tactical combat system inspired by the XCOM games.

EXPLORE A POST-HUMAN EARTH
Journey through a post-human world of abandoned cities, crumbling highways, and overgrown countryside. Check back at the Ark, a neon-bathed oasis of ill repute and questionable characters, to restock your supplies and plan out your next adventure.

CONTROL A TEAM OF MUTANTS
A duck with an attitude problem and a boar with anger issues; these aren't your typical heroes. Get to know Dux, Bormin, Selma, and many other characters each with their own unique personality and deranged perspective on the world and their situation.

MASTER THE STEALTHY APPROACH
Sneak through shadows to avoid conflict or to catch enemies unaware. Real-time stealth allows you full control of approach: sneak into an enemy camp, position the team of Mutants to your advantage, and gain the element of surprise.

UNLOCK MUTATIONS
Unlock new mutations and abilities for your Mutants, such as Selma's grasping vines, Bormin's Charge, and Dux' uncanny ability to sneak into a camp full of enemies unnoticed, despite being a 4-foot tall walking, talking duck with a crossbow.

DYNAMIC ENVIRONMENT
Use the environment to your advantage. Stay out of floodlights, hide from line of sight, or just blast down fully destructible walls and buildings and wreak utter havoc.

LOOT, LOOT EVERYWHERE
From makeshift slingshots to high-powered rifles and top hats to police vests, make sure you equip your Mutants for the dangers ahead. Nothing says post-human quite like a mutated boar in spiked metal armor charging at you with a blunderbuss in his hands.
You can find some additional information about the game's release on its website, and then check out a few mostly positive reviews below:

IGN 7.9/10:
In changing the interplay between stealth and combat, Mutant Year Zero spins an interesting and intense new perspective on turn-based tactics that pushes you to get the most out of every move you make.
PC Gamer 81/100:
I found the story, such as it is, fulfilling enough. But in the 15 hours it took me to complete on Normal, I'd only just bought a couple of late-game skills and had barely used the other two characters; I wanted a chance to explore them. Coupled with plenty of little launch-period bugs which sometimes made upper floors invisible and could get confused about where I could move my characters to, I felt Mutant Year Zero isn't quite finished.

I could do an Iron Man permadeath-and-no-saves run and I started a Hard one, but still, it doesn't fully deliver on its potential. But it's also very good at addressing things many strategy games falter at, always ensuring you have information to make good decisions and using clear hit rules. While it lasts, Mutant Year Zero is a tense, absorbing and atmospheric new member of the XCOM family. I suppose wanting more of it is a good problem to have.
Windows Central 4.5/5:
The inelegant blend of serious themes and wacky comedy, and the use of what I feel are dated strategy game aiming mechanics prevent Mutant Year Zero from being truly perfect, but it's still an incredible experience that you can't miss.
Gaming Trend 65/100:
Mutant Year Zero: Road to Eden's blend of turn-based tactical combat with stealth is interesting, but not always successful, and its story doesn't take advantage of its unique setting. Although the ability to explore the world and sneak up on enemies adds a fun twist to the genre, it brings unwelcome complications and technical hiccups as well. I also ran into numerous performance issues, including game-ending freezes, that strained my initial fondness for the game.
Twinfinite 2.5/5:
This game was a title with real potential. The unique setting, combat framework, and general artistic direction laid a robust foundation for unique gameplay. However, that potential vanished following the shallow narrative, tactical, and progression design. The numerous bugs, glitches, and technical issues only soured what fun remained.

Mutant Year Zero: Road to Eden feels entirely spread too thin. Without much depth to its name, it remains a unique setting devoid of personality.
And finally, you can read this WCCFTech interview with The Bearded Ladies' CEO Haraldur Thormundsson.