Hits: 1135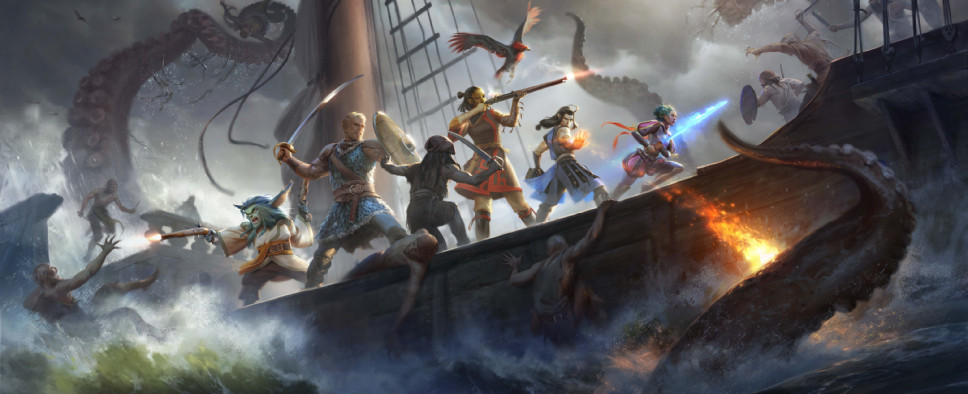 According to the latest Pillars of Eternity II: Deadfire Fig update, the pirate-themed RPG will soon be getting a couple of new optional challenge modes - one that introduces weapon durability, and another one that increases the fog of war density. An optional "Mega Boss" will also be making an appearance soon. Apart from that, the update directs us to the changelog for the latest hotfix patch and a couple of developer interviews, mentions the physical backer rewards, and more. Here's an excerpt:
Greetings, Watchers,

We hope that those of you who have journeyed to Harbingers' Watch have enjoyed your stay (and according to the Steam reviews, you have!), but there is still plenty more to come in Pillars of Eternity II: Deadfire. In the timeline that we shared with you in Update 53, you may have noticed that this month will see the release of Abydon and Skaen's God Challenges. Take a look below for descriptions of those challenges, what's new in Hotfix Patch 2.0.1, and a sneak peek of what's to come!

Challenge Yourself

Abydon - The god of the forge is ready to challenge you with forged items you carry. The more you use weapons and armor, the more they will wear down and become "Damaged". This modifier will make them progressively worse and eventually destroy them unless the mods are removed through Enchantments. Choose the items you will wear into battle wisely!
Skaen - With Skaen's challenge, when indoors or at night, fog of war encroaches more. Torches and lanterns can partially offset the additional fog of war, but only a little.

We look forward to seeing what you talented Watchers are able to do with these challenges enabled. Remember, if you're streaming these challenges, let us know by tagging us on Twitter so we can go and hang out with you!

That's One Mega Boss

Next month we'll be bringing our first Mega Boss to Deadfire. As we've said in some interviews recently, the Mega Bosses are end game challenges that you can take on in the Deadfire and are meant to test your party's mettle. These fights are meant to be for high level parties, so don't expect to be able to tackle them right when you get the Defiant out on the seas of the archipelago. We'll have more information on who the first Mega Boss will be in the coming weeks, so stay tuned!

Patch 2.0.1

Today we've released a patch that fixes some of the bigger issues some players have had since the launch of "Beast of Winter." Our forums have the full patch notes, but some of the highlights are:

Retrained party members will no longer gain Knock Down, Constant Recovery, Battle Axe Proficiency, or Mace Proficiency when they should not.
The autosave feature works as intended after jumping into the pit in the Beast of Winter DLC and allows for progression.
Party members will no longer disappear near the portal in Sunken Crown.
Party members stay together when using the portal in Sunken Crown when it's flooded.

As always, we want to continue to work with you all to help make Deadfire an even better game. If there are issues you come across, let us know through our Support Portal and on our forums. We'll assist you as soon as we can!