Hits: 1351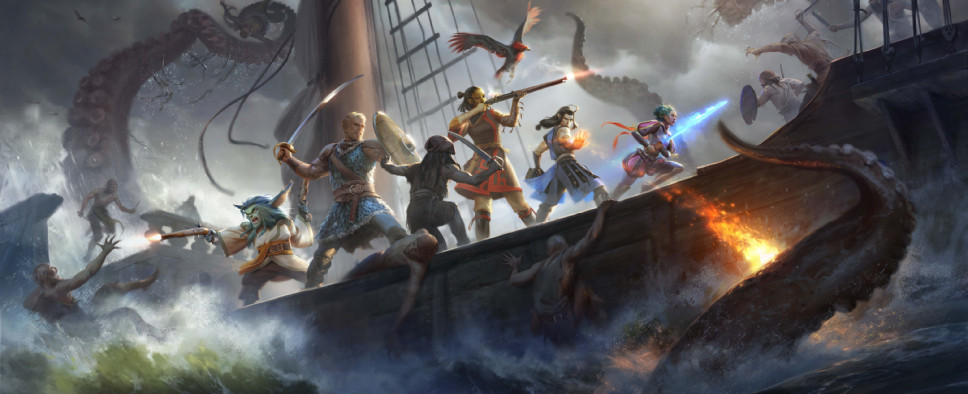 A press release openly available on Obsidian Entertainment's website details the studio's post-release plans for its upcoming RPG Pillars of Eternity II: Deadfire. Spread across 2018, the first piece of currently planned DLC will be launching in July, the second one in September, and the third and final one in November. Officially referred to as expansion packs, these DLCs sound significantly more bite-sized than The White March expansions for the original Pillars and will cost you $9.99 each, or $24.99 for the Season Pass that will give you all three.

Some additional details:
Irvine, California – April 24th, 2018 - Obsidian Entertainment, developer of critically acclaimed role-playing games, in partnership with indie publisher Versus Evil, today announced plans for three exciting, in-depth expansion packs for Pillars of Eternity II: Deadfire. The expansion packs will include new quests that will add to the lore of the Deadfire, new areas to discover, new secrets to reveal, and a whole host of new characters to meet and challenges to overcome!

The first downloadable-content pack (DLC), "Beast Of Winter" will be available in July 2018, and will take your party to an island populated by a mysterious doomsday cult, that hides an ancient secret. Players will get to experience adventuring in "The Beyond," a mysterious dimension populated by ancient souls and filled with devilish challenges.

The second DLC "Seeker, Slayer, Survivor" available in September 2018, is a combat-focused expansion taking place on a previously undiscovered island that will challenge the martial prowess of your party, and your tactical skills as a commander, as you embark on a mission to rediscover ancient relics, and pit your party against Eora's most skilled and savage.

The third DLC, "The Forgotten Sanctum" available in November 2018, will test your party's allegiance and morality in a quest to help (or obstruct) the great wizards of Eora. Will you befriend, betray or befuddle these venerable mystics as you uncover secrets lost to the generations? The consequences of your actions will be felt across the Deadfire Archipelago whatever you decide.

All three packs are included as part of the Obsidian Edition of Pillars of Eternity II: Deadfire which is available for sale now. A Season Pass including all 3 DLC packs will also be available for purchase when the game launches for $24.99. The expansion packs will be sold individually for $9.99 as they are released. FIG Backers that backed at the Collector's Edition tier or above or included the Season Pass as part of their backer pledge will also receive the Season Pass.

Pillars of Eternity II: Deadfire launches on May 8th, 2018 on Windows PC, Mac, and Linux platforms and is currently available for pre-order through Steam, GOG.com, Obsidian.net and Versus Evil, as well as other digital retailers.