Hits: 2808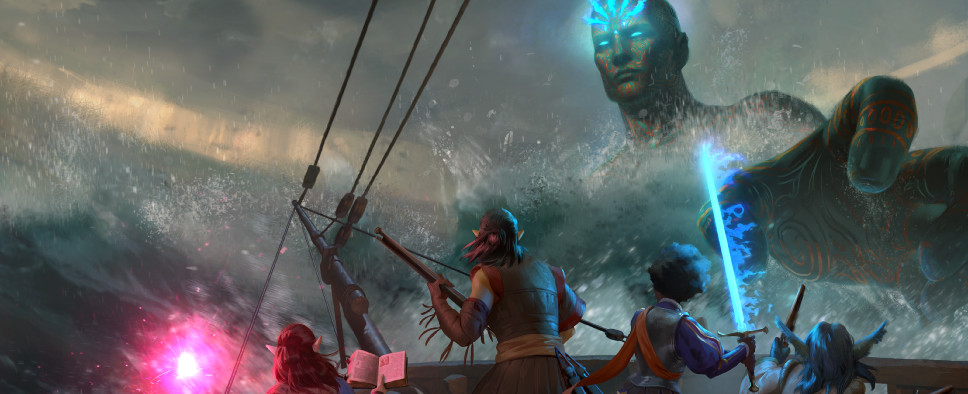 Head on over to PC Gamer and you'll find a pretty extensive list of RPGs set to be released in 2018. From such noteworthy titles like Pillars of Eternity II: Deadfire, The Bard's Tale IV, and Kingdom Come: Deliverance to the final part of The Banner Saga trilogy and the extremely intriguing Odd Gods - 2018 is shaping up to be a great year for us RPG enthusiasts. A few examples:
Pillars of Eternity 2: Deadfire

I wish Pillars of Eternity 2 were out now—a long, singleplayer isometric RPG is an excellent way to pass these recently frigid nights. Sadly, there's no release date beyond '2018,' so for now I'll just have to freeze while enthusing about the ideas Obsidian is putting out there. Pillars of Eternity was one of our favorite games of 2015, and I'm keen to see how Deadfire builds on it. What we know is that the story sets us on a hunt for a god among the islands of an archipelago. Looking down on Obsidian's lavish towns, oceans, deserts, forests, and dungeons (with "vastly improved graphics," says Obsidian), we'll build parties whose "personal relationships and interactions unfold" with a new companion system, as well as sail around in an upgradeable ship. Plus there's a cat.

Vampyr

Originally a 2017 game, Vampyr was delayed late last year to spring of this year. It casts us as a vampire in 1918 London—and also a doctor who's trying to cure the flu that's wiping out the city. Quite a pickle. I'm excited to find out just how open Vampyr is. Apparently our thirst for blood can be quenched by stalking and feeding on anyone in the game, and civilians can even be turned. Other standard vampire lore plays into it as well, such as mind tricks and being unable to enter buildings unless invited. Fun stuff, and I like the inherent dilemma of being an oath-sworn doctor and, unless you take the hard route, a bloodthirsty murderer.

The Banner Saga 3

It took less than a week for The Banner Saga 3 to hit its Kickstarter funding goal, unsurprising given the quality of the first two caravan adventures and their tactical Viking combat.

The Bard's Tale IV

The inXile crew responsible for Wasteland 2 and Torment: Tides of Numenera is resurrecting The Bard's Tale properly—as a party-based RPG as opposed to the 2004 action reboot, which was really a Bard's Tale game in name only. This is truly The Bard's Tale IV, a sequel to the '80s games, updated as a 3D party-based dungeon crawler.

Greedfall

I'm fond of Spiders—the developer, not the arachnids—because even though its previous RPGs have been clunky, buggy, and underdeveloped for their size, the undaunted ambition in each of its games is admirable. Spiders keeps striving to outdo the best of the best, your Dragon Ages and Witcher 3s, in its own way, and clearly with a far smaller budget. So despite The Technomancer and Bound by Flames being disappointing, I'm not counting Spiders out—I think it has a great RPG in it. Greedfall, which is teased with an 'imperial soldier v badass dryad-type' trailer, is another opportunity to see what Spiders' growing experience can do.

Odd Gods

Odd Gods is a '90s-style RPG about the '90s, as we called it back in November, where rather than the typical fantasy classes, we'll roll "a skateboarder or a goth or a dramahead or a jock," as examples. It also features an interesting turn-based combat system: like Frozen Synapse, orders aren't carried out one at a time, but all at once. Last we heard it was planned for Early Access soon.

Underworld Ascendant

From OtherSide Entertainment and Paul Neurath of Ultima Underworld, Thief, and System Shock fame comes another first-person crawl of The Stygian Abyss. The key promises are simulated systems and player freedom—cornerstones of the original Underworld games that inspired immersive sims like Deus Ex—with skills to mix and match, magic, and manipulation of the environment. Underworld Ascendant should be out before the end of the year.
The list is by no means complete, missing such titles like Whalenought Studios' Copper Dreams or Owlcat Games' Pathfinder: Kingmaker, but I don't really blame PC Gamer for this, since it's a good problem to have - too many interesting projects to keep track of them all. Here's to a great year of great RPGs!