Hits: 1400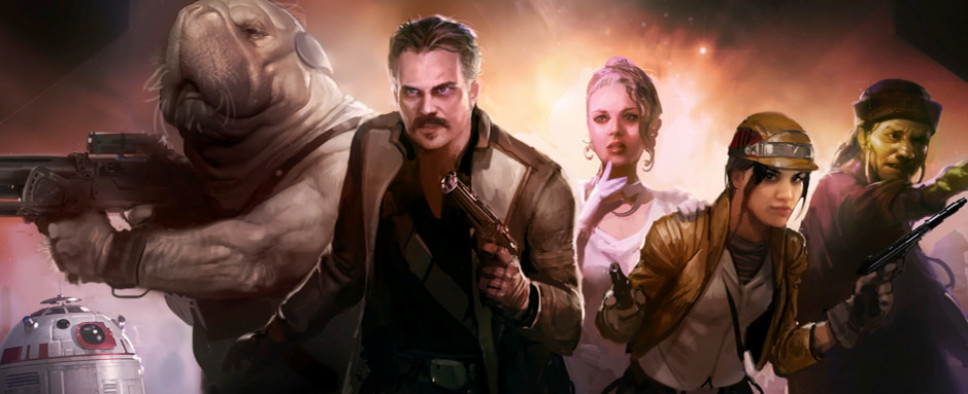 this in-depth report on Kotaku, we've been able to glean a lot more information about the shuttering of Visceral Games and the open world Star Wars RPG they've been developing for quite some time. Some of the finer points are that the working title was "Project Ragtag", the protagonist was a "cracked mirror version" of Han Solo named Dodger, its key art featured Dodger and his band of scoundrel companions, and under the direction of Amy Hennig of Uncharted fame, it was morphing from an open world RPG to a more linear adventure with an Ocean's Eleven vibe:
In the course of reporting this story and learning about the struggles of Ragtag, we wound up with a lot of questions for EA. When presented with some of these questions, the company chose not to answer them one-by-one, but instead to provide a statement by executive vice president Patrick Söderlund that provided a general sense of his philosophy on game development.

"Making games is hard," he said. "That's not new, but it bears saying again because if anything, it's getting more complex. But that's what gets us up in the morning, we love it. We have amazingly talented people making games, and very powerful tools… but expectations are going up at an even faster rate. We see it when we talk to players. We see it in our own games, in the feedback people give us, and how they play. We see it from what other games people love…and which ones they don't. There are a ton of factors."

EA also disputes the notion that it killed Ragtag for being single-player. "This truly isn't about the death of single-player games—I love single-player, by the way—or story and character-driven games," said Söderlund. "Storytelling has always been part of who we are, and single-player games will of course continue. This also isn't about needing a game that monetizes in a certain way. Those are both important topics, but that's not what this is. At the end of the day, this was a creative decision. Our job is to give people a deep enough experience and story, and it's also to push the boundaries forward. We just didn't think we were getting it quite right."

...

Hennig, a well-known director with a sailor's mouth and a head for storytelling, had joined Visceral while it was midway through Battlefield Hardline. She had worked in video games since the 1980s but was known best for Uncharted, the explosive action-adventure series she had helmed until an ugly quarrel with others at her studio, Naughty Dog, in early 2014 that led to her leaving in the middle of production on Uncharted 4. Fans and industry observers spent weeks speculating about what she might do next, and in April 2014, she announced that she was joining EA and Visceral to make a Star Wars game.

At first, Hennig didn't get to work on Star Wars for very long. She was pulled on to Battlefield Hardline for a few months to help with scripts and cutscenes, according to three sources. When she did start figuring out her next project, at the end of 2014, it became clear that Yuma wasn't going to happen. Hennig wasn't interested in making an open-world space game; she wanted to write a linear action-adventure game, like Uncharted. They'd keep the idea of scoundrels in space, but for this new project, Hennig wanted to tell a heist story. Star Wars meets Ocean's Eleven. Soon it had a new codename: Ragtag.

Everyone I asked about Ragtag's story was unanimous about one thing: They all thought it was awesome. The lead protagonist was Dodger, described as a "cracked mirror version" of Han Solo, and over the course of the game he'd battle alongside a band of fellow misfits like Robie, a gunslinger and Dodger's partner in crime; Oona, the daughter of a mob boss; and Buck, the veteran leader and mentor of the crew. Set between the original Star Wars and The Empire Strikes Back, Ragtag would focus on the impact of Alderaan's destruction and tell a story about criminal families, scoundrels, and action-packed heists. "This was the coolest shit I've ever seen," said one person who saw the story. "[Hennig] had total buy-in from the start on that. Everybody was buzzing."

In order to distinguish Ragtag from Uncharted, a point that EA's executives felt strongly about, Hennig and her team came up with some lofty ideas for gameplay. You'd play as multiple members of the team, and each would have their own AI minds and abilities when you weren't controlling them. There were no Jedi powers, but one big theme was "sabotage"—you'd be able to manipulate the environment to distract and divert enemies in non-violent ways.

These ideas were incredibly ambitious. "Picture the Death Star, and they all have jobs," said a person who worked on the game. "One Stormtrooper was on a command unit, moving boxes around. Some guys would be droids. It was supposed to be set up so it was all real, and it felt like they had jobs to do. We wanted to tap into emotions, so you could mess with Stormtroopers' emotions. Go into a room, turn the lights off. He goes back in and turns them back on. Then you turn them off again. At a certain point he starts getting spooked, acting irrationally, and bringing friends in."
If they had just left it as an open world RPG rather than trying to change it halfway through, perhaps things wouldn't have fallen apart.