Hits: 789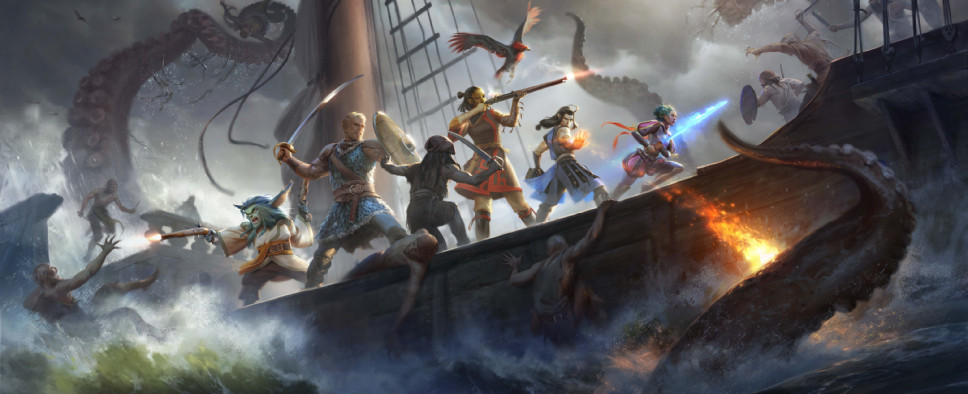 In a belated piece of E3 coverage, Kotaku's Jason Schreier interviewed Obsidian's Adam Brennecke for the Splitscreen podcast where they talked about Pillars of Eternity II: Deadfire. The podcast runs for about an hour, but fortunately for those of you who aren't overly fond of such a time commitment, its most informative parts, where we can learn about the tentative release window in early 2018, and the specifics of the game's ship-to-ship combat, are transcribed. Here's an excerpt:
Jason Schreier: What have been the challenges this time around? I've heard some of the challenges you guys ran into for the first game.

Adam Brennecke: It's actually surprisingly smooth sailing. Which is kind of a — It's smooth sailing because we have a lot of ships. Oh man. That's terrible.

Schreier: Oh god. Podcast over.

Brennecke: Surprisingly, it's going really, really well. We have two more months of production, and at that point we're in alpha, and once we reach alpha, we're really going to play the heck out of the game to see where we're at.

Schreier: You're targeting next year?

Brennecke: We're targeting early next year. We're getting to the polish stage of the project. And I feel like all of our work from the first game and all of the rework we've done on the second game will really pay dividends in the next year.

[...]

Schreier: It's really rapidly coming out. Has it really been smooth?

Brennecke: There haven't really been a lot of hurdles. Something we've been reworking and working on quite a bit now is the ship. We want to make sure that it's integrated into the game. We want to make sure that it's not just something you don't really have to deal with, or if you do have to deal with, it's not a pain in the butt.

We want to make sure the ship and all the roles that the ship have fit in with the story and fit in with the rest of the game. So we've been working on that since the Fig campaign pretty hardcore. And we have a really really cool crew system that we've been working on, and ship-to-ship combat and stuff like that.

Schreier: Have you guys played the Suikoden games? Because they went from having strongholds in 1-3 to having a ship in Suikoden IV. But that was actually the worst game in the series. So bad news... But that was actually a cool concept. Are you gonna be able to recruit people?

Brennecke: Yeah, you have a ship crew. You have to go around and recruit pirates and other sailors. They have roles to play on your ship.

Schreier: Wow, this is the third game at E3 that has pirates in it.

Brennecke: It's a popular thing. You have your ship and you can upgrade your ship in many ways. And you're not the only sea captain in the Deadfire of course — there's other factions and other captains.

Schreier: You mentioned ship-to-ship combat? Is that a totally different combat system?

Brennecke: Yeah, we're taking advantage of our scripted interactions.

Schreier: By scripted interactions you mean the storybook?

Brennecke: It's the text, the storybook moments. It will play out like that. However, if you get close enough you can ram the other ship and then take it over and board it. And then it goes into actual gameplay.

Schreier: Sounds really cool.