Hits: 2723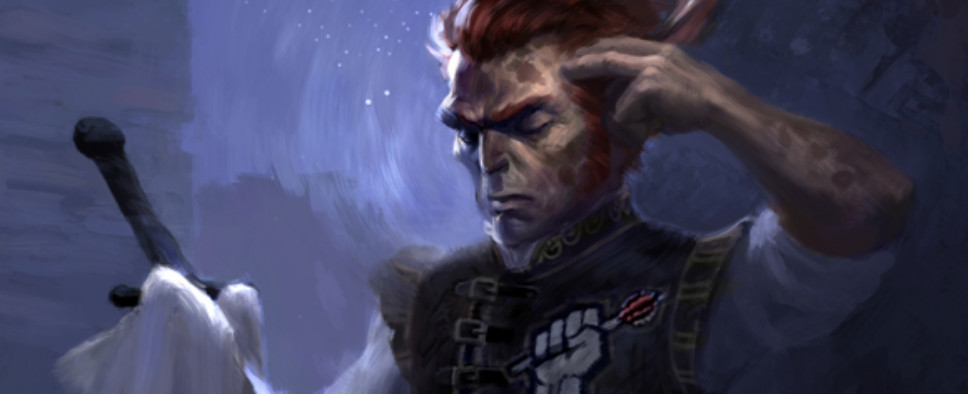 Spiderweb Software's Jeff Vogel continues to fight the good fight against the overly verbose video games by writing overly verbose blog posts. And even if, by his own admission, his case study of Pillars of Eternity is way too long and nit-picky, he does make some good points there. In particular, he uses the game's character creation screens as an example of how going overboard with descriptions can be detrimental to one's enjoyment of a role-playing game, a genre know for being text rich. A couple of snippets:
"So What's Your Complaint?"

Too many words.

Pillars of Eternity wants to have a really elaborate world and story, which is fine. It wants to have a creative game system, with new, innovative sorts of character classes and spells, which is great.

However, it doesn't do a good job of communicating stuff to the player, because there's no editing and care in giving out information. The game just floods the player with text, important bits buried in gushes of irrelevant detail, practically training the player to think that the words aren't really important. (Again, I played a huge chunk of the game without reading anything but the quest log.)

To illustrate this, I'm going to go, step by step, through the introduction and character creation, the stuff anyone who tries the game is sure to see. Let's see what the game thinks is worth the player's time and how good a job it does splitting up vital knowledge from static.

[...]

II. Pick Your Sex

And now the troubles begin. You need to choose whether you are male or female.[...]

Describing the sexes is about 160 words total. But look, it mentions a bunch of different countries. Let's mouse over one of them and see what their deal is.

Yikes! That's a lot of words. All the descriptions together are about 330 words, much of it references to random game locations the player has no knowledge of. "Ein Glanfath" "Dyrwood" "Glanfathan" "Ixamitl" "Naasitaq" How can anyone get anything coherent from this tangle? This is literally the second thing the game shows you.

Seriously, try this: Read the description of "Eir Glanfath" above. Then close your eyes and count to ten. Then say everything you recall about Eir Glanfath. I'll bet you retained very little. And that's setting aside whether this stuff is actually necessary to play the game. (Not really.)

And, worse, it's all irrelevant to the actual choice the player has to make, because the vast majority of players will know whether they want to play a man or a woman before they even launch the game. If a woman only ever plays female characters, telling her, "The men of the Derpaderp Tribe of Sirius XII are in charge of all of their basket-weaving!" isn't going to turn her head around.

My Friendly Suggestion - Go through all these random facts and see if there are one or two of them the player MUST know. Pluck them out and put them in the Introduction. Cram the rest of the lore in books the player finds in the game world. Then make Male/Female be a toggle in the next screen.

III. Pick Your Race

OK, we're into solid fantasy RPG territory now[...]

You've never heard of three of the races. This is good. Pillars's desire to create new, weird things is one of its good points. Each race has about fifty words of description[.]

Now, this is a description of a "dwarf." But, if you have even the slightest familiarity with fantasy, you know what we're talking about here: Standard-issue, Tolkein dwarves. Short. Stocky. Like digging holes, gold, and ale. Grumpy. Scottish accents. We get it. All you need to say here is, "Strong, durable, great warriors."

For each of the races, the description mainly says the lands they live in. Let's be clear. This is useless information. If I tell you dwarves come from New Jersey, whether or not you've heard of New Jersey, this tells you nothing about whether you want to be a dwarf in your adolescent power fantasy.

It's a total cliche to say, "Show, Don't Tell," but this is a PERFECT example of why this is a key concept in writing. If I say, "Dwarves come from New Jersey," and you've never even heard of New Jersey (or dwarves), you won't care. But if you go to New Jersey, look around, and see nothing but dwarves, you'll instantly be all, "Oh, I get it! I'm in Dwarfland!"

But it gets trickier. This is the first choice you make that has actual impact on the gameplay. There are six statistics in the game, and your race affects what you start with. Each statistic description is 50 more words.[...]

What "Might" means is important information. The player needs this. This text needs to be punchy and clear. Something like, "Improves damage from all attacks. Gives a bonus when healing. Helps intimidate people in conversation."

And this description does that, but messily and with lots of extra words. Pillars tries to do a lot of things differently from other RPGs, so it needs to be extra-clear about the surprising stuff. Having the strength skill also improve spells and healing is neat, but it's also really unusual. ("Dwarves are better wizards? Wut!?")

My Friendly Suggestion - Editing pass. Shorter and clearer. Ask, "Why does the player need to know this?" If you don't have a good answer, save this lore for much later.