Hits: 2317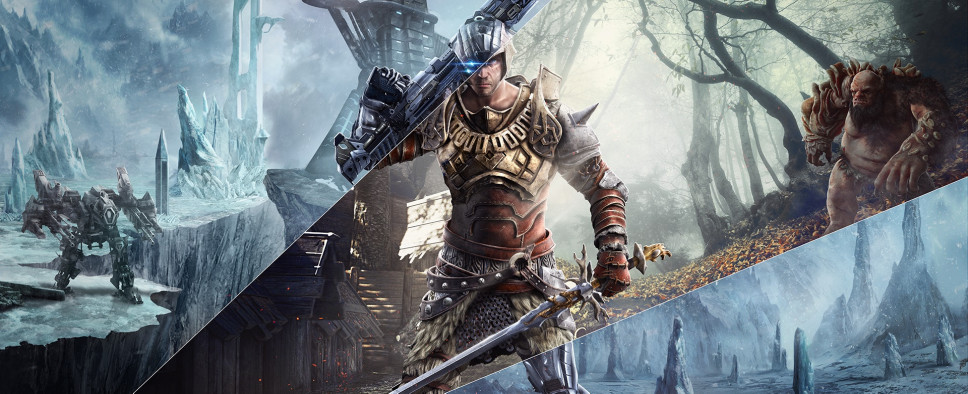 I expected the folks at Piranha Bytes to be currently hard at work on a new Risen, given Risen 3 left the door open for more sequels, but it looks like the German studio is developing a new IP instead, with the help of a new publisher. Today, Piranha Bytes and Nordic Games have announced ELEX, a new open-world RPG set in a post-apocalyptic science fantasy world, and slated to release on PC, PlayStation 4 and Xbox One in Winter 2016/2017.
It's apparently Piranha Bytes' most ambitious game yet, and promises moral choices, a "dark" and "edgy" (I'm quoting from the press release here) tone, and a seamless game world. You can take a look at some of the artwork on the official website and the game's Facebook page, and read the full press release down below, while some "vertical slice build" gameplay is promised for this year's Gamescom, in August:
Nordic Games + Piranha Bytes = ELEX

Vienna, AUSTRIA, Essen, GERMANY, July 2nd 2015:

Nordic Games teams up with veteran studio Piranha Bytes to work on their first collaborative and new project: ELEX. This e clectic, l avish, e xhilarating, x enial open-world RPG is scheduled to release in Winter 2016/2017 on PC and current gen console platforms. This is by far the most ambitious project for Piranha Bytes and Nordic Games to date.

(To say we are excited to see this new project unfold in the hands of Piranha Bytes is an understatement. ELEX is going to be edgy, dark, uncompromising, complex, and we love it already,( comments Reinhard Pollice Business & Product Development Director at Nordic Games. (We will be premiering a vertical slice build at Gamescom 2015, more info will be released in due time.)

(Apart from being enthusiastic about the cooperation with Nordic Games, it is great to know, that we will have ample creative freedom with ELEX, which is a very important factor for us) said Björn Pankratz, Game Director at Piranha Bytes. "We can't wait to show you a completely new game experience with a fresh setting, new assets and plenty of possibilities."

About ELEX

ELEX is a handcrafted action role-playing experience from the award-winning creators of the Gothic series, set in a brand new post-apocalyptic science fantasy universe that puts players into a huge, seamless game world full of original characters, mutated creatures, deep moral choices and powerful action.

About Nordic Games GmbH
Nordic Games GmbH is a wholly owned subsidiary of Nordic Games Group AB, focusing on computer- and video games for PC/MAC/Linux and present/past console platforms. Founded in 2011, the Vienna/Austria based company puts great emphasis on its extensive game catalogue. The core portfolio comprises products and brands which have been acquired from various parties (THQ and others), and further acquisitions of IPs and trademarks will follow.

The company will pursue the long-term goal of delivering quality products that live up to expectations of gamers worldwide.

About Piranha Bytes
Piranha Bytes is based in Germany's old industrial heartland, the Ruhr region. They were founded in 1997, while approximately 25 team members have been working together since 2002. Since its inception, the company has been owned wholly by its employees. Piranha Bytes have acquired fame with their RPG successes (Gothic) (2001), (Gothic II) (2002), (Gothic Night of the Raven" (2003), (Gothic 3" (2006), "Risen" (2009), "Risen 2: Dark Waters" (2012) and "Risen 3: Titanlords" (2014) that have so far sold several million copies worldwide.