Hits: 4120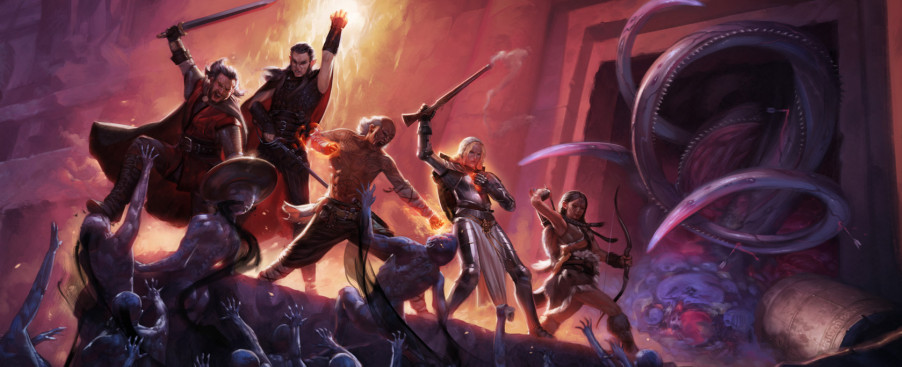 Today, Obsidian Entertainment and Paradox Interactive have announced through a press release that the Infinity Engine-inspired CRPG Pillars of Eternity will be released on March 26th, after being delayed from its original late 2014 release window. The full press release:
Pillars of Eternity to Release Worldwide on March 26th

Never-before-seen Game Content to Be Revealed in Live Stream with Josh Sawyer January 15th

STOCKHOLM January 14, 2015 Paradox Interactive and Obsidian Entertainment today announced that Pillars of Eternity, the role-playing game (RPG) inspired by timeless classics and funded directly by dedicated fans, has a firm release date set for March 26, 2015. Pillars of Eternity will be available at retailers worldwide, and eager fans and backers will be able to experience the game they have been promised.

(Everybody at Obsidian has been dedicated to ensuring that Pillars of Eternity is the game we said it would be ever since we launched the Kickstarter campaign,) said Feargus Urquhart, CEO of Obsidian Entertainment. (The community has been incredibly forthcoming with their feedback, and we want to thank all of our fans for being so engaged with the game's development and for giving us the time to implement their suggestions and ensure Pillars of Eternity is a game we can be proud of. We've used that time well, and the results will be worth the wait. The end is finally in sight, and our journey is nearly complete at which point yours can begin.)

As the game nears completion, a selection of never-before-seen content from Pillars of Eternity will be revealed via a live stream, hosted by Josh Sawyer, the game's Project Director. Sawyer will take viewers on a journey through the world of Pillars of Eternity to show what has been accomplished since the release of the backer beta. The live stream will air Thursday, January 15, at 1pm PST (21.00 GMT), here: www.twitch.tv/paradoxinteractive

(Joining Obsidian for this process has been very rewarding,) said Fredrik Wester, CEO of Paradox Interactive. (We've always known that, given the opportunity, the developers would be able to make Pillars of Eternity into the game we've all been waiting for; we've got several backers of the game on our own team. That's just what we've done: we've allowed Obsidian to dedicate their attention completely to the creativity and quality of Pillars of Eternity, while we've offered our honest feedback, enthusiasm, and full support by handling all the other facets of launching a game that go beyond development.)

Pillars of Eternity is an RPG inspired by classic titles such as Baldur's Gate, Icewind Dale, and Planescape: Torment, which features an original world and game system that evokes and improves upon the traditional computer RPG experience. Funded via Kickstarter in late 2012, raising $4.5 million through both backer pledges on Kickstarter and Obsidian's own website, Pillars of Eternity has been a project of passion both for the development team and for the loyal fans who have made it possible.

To celebrate the occasion, a new edition of the title has been made available for pre-ordering. Pillars of Eternity: Royal Edition, currently only available on GOG, includes the content of the Hero Edition, plus a digital novella by Chris Avellone, the Collector's Book PDF, high-resolution concept art, and a digital version of the game's strategy guide. It's worth noting that all these rewards were already available during the Kickstarter campaign, though the only way to get them outside of being a backer will be to buy this rather expensive edition of the game ($89.99/€82.99).

Finally, it's worth noting that a new update for the game has been published on the official Obsidian forums. Aside from obviously reporting on the game's release date, it offers a look at a leads meeting for the project, and a very succinct road map to the game's release:
Polishing and Bugs. The entire team is busy fixing as many bugs as possible. We are also going through the existing content and polishing it up check out the brigandine!
Finalization of... Everything. We are also in the process of finalizing everything from backer reward items to game boxes. It is quite a bit of stuff, but we are making great progress and everything is on track for the release date.
Showing Off the Game. In addition to finishing up the game and everything else surrounding it, we are also going to be showing off the game. We will be doing a live stream tomorrow at 1pm PST (21:00 GMT), on Paradox's Twitch page. Also look for us at PAX South later this month and PAX East in March (PAX East isn't confirmed yet) where some of the Pillars team will be giving a preview of the game and answering panel questions. It may even be live streamed!