Hits: 5845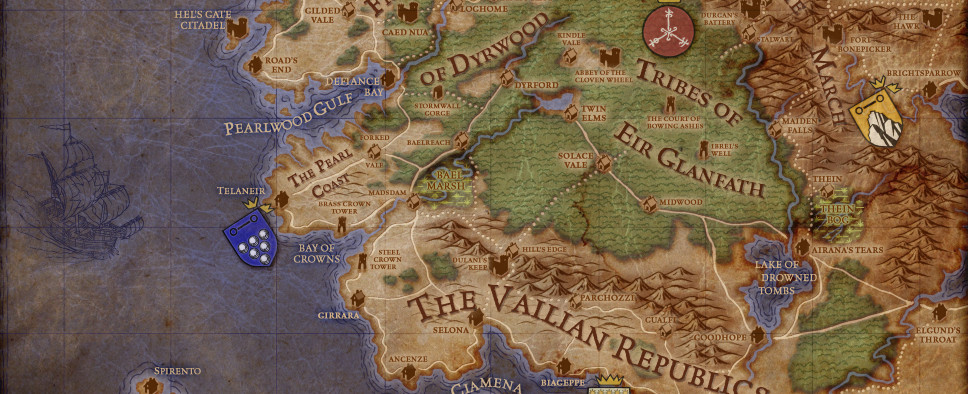 Paradox Interactive has released a new trailer to celebrate the fact that pre-orders are open for Obsidian's upcoming role-playing title Pillars of Eternity via the official website and GOG.com, slated for a released in Early 2015. There are apparently two editions of the game available, a Hero Edition that only includes the base game and some undefined pre-order bonuses, and a Champion Edition that also includes some of the rewards for the Kickstarter campaign backers, including the game's soundtrack, a map of the game, the campaign almanac, the making of documentary, a ringtone and a wallpaper, all, of course, in digital form.

Normally, the Hero Edition would cost $44.99/£34.99/€41.99, and the Champion Edition $59.99/£44.99/€54.99, but given they're 10% off until November 24 they can be grabbed for $40.49/£31.49/€37.79 and $53.99/£40.49/€49.49 respectively.

Without further ado, here's the trailer:

It's clear by now that Obsidian's game will have some really rich and beautiful environment, and what I played in the beta was solid from a writing and quest design point of view, but I'm not convinced by the combat in its current state. Let's hope that Obsidian can get the messaging and balance issues sorted in time for release.

Update: Obsidian has published a press release on its official website that notes new content is going to be streamed on Twitch this Thursday:
STOCKHOLM November 11, 2014 Paradox Interactive and Obsidian Entertainment today announced that Pillars of Eternity, the fan-funded role-playing game (RPG) inspired by classics of the genre, is now available to pre-order from digital distributors everywhere with a discount available for early purchasers. Pre-orders of the game will also include special in-game bonus items while fans who backed the game on Kickstarter will receive these extras free of charge.

Paradox and Obsidian have also announced that this week they plan to reveal a wide array of never-before-seen game content via a live stream, hosted by Josh Sawyer, Project Director for Pillars of Eternity, alongside popular gaming personality Jesse Cox. The live stream will air Thursday, November 13 at 1pm PST (22.00 CET) on the official Paradox Interactive Twitch channel: www.twitch.tv/paradoxinteractive

Get a breathtaking glimpse at the beautiful world of Eora in a newly released trailer for Pillars of Eternity.

All pre-orders of Pillars of Eternity will receive a 10% discount (limited time offer) off of the game's full retail price and will include two secret, special in-game items. This discount and the in-game bonus offer are valid for both versions of the game, including the Hero Edition, which includes the full version of Pillars of Eternity, and the Champion Edition, which includes both the full game and a variety of premium bonuses:



A digital copy of the Pillars of Eternity Original Soundtrack (OST)
A digital campaign almanac containing backstory, lore, and information about Eora
Access to a documentary on the making of Pillars of Eternity
A high-resolution digital game map
High-resolution Pillars of Eternity wallpapers
Pillars of Eternity ringtones for mobile devices


Fans who pledged for a copy of Pillars of Eternity during the Kickstarter campaign will receive the pre-order in-game bonus items at no extra cost upon the game's launch in 2015.

Pillars of Eternity is an RPG inspired by classic titles such as Baldur's Gate, Icewind Dale, and Planescape: Torment, which features an original world and game system that evokes and improves upon the traditional computer RPG experience. Funded via Kickstarter in late 2012, raising $4.5 million through both backer pledges on Kickstarter and Obsidian's own website, Pillars of Eternity has been a project of passion both for the development team and for the loyal fans who have made it possible.

To purchase Pillars of Eternity, visit buy.pillarsofeternity.com.

For more information on Pillars of Eternity, visit eternity.obsidian.net.