Hits: 3036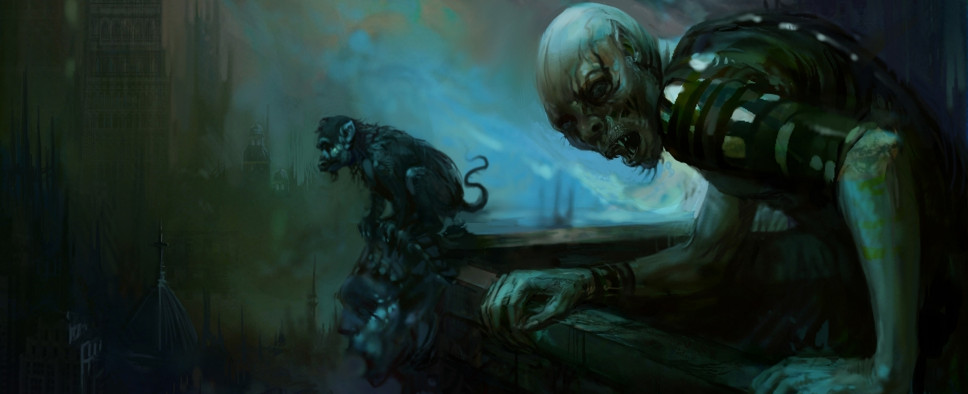 While the original article is in German and therefore requires me to link to a rough translation, I can't help but share the first part of this new "A Chronicle of Glorious Failure" feature on Eurogamer.de that takes us through the development of Vampire: The Masquerade - Bloodlines and features commentary from Troika's Leonard Boyarsky, Activision's Mullich David, and others that played a key role. An excerpt:
As Troika gets the engine, it is still a huge construction site. How we built a house on an uncertain foundation? This is the question that the developers arises every day, without knowing an answer. You must still find ways with significantly less people, less budget. Within a shorter time and with more complex systems than Half-Life 2

The Source engine is not well documented and is in constant change. Much should begin as tattered as it exists the end of 2001 Troika. Other hand, Valve has the luxury and the means to improve their own technology virtually unlimited often exchange Recon, again and again until everything is perfect. Troika is allocated a support representative and some engineers, but they are very busy. Communication is slow. Many calls are not answered.

The artificial intelligence about the developer must write itself, and for a role play of the type "Do what thou wilt". Shootings, Melee, Stealth - these are the elements around which it is designed. Things that should work in the final game, but it never really did.

"We thought we could play using the Source engine give a kind of action feeling."

"Maybe because we always wanted to squeeze as much as possible in our games?" Says Boyarsky. Many implementations are implemented, some early, some too late, without anyone can estimate what will be torn for holes at the other end. "We may have too long followed certain ideas that we rather would have had to discard a lot."

Exactly the same game he would not make today. "I would hold on to that wherein we were best. Hardcore RPG elements, not so much to the action We tried to appeal to a larger audience than we normally did," he says. "We thought we could give it a kind of action feeling the game using the Source engine, but it suffered from this misguided instinct."

...

On a spring morning in 2003 Mullich David leaves his house in Santa Clarita, California, and continues in his car. His path leads through downtown Los Angeles, further to the southeast, 120 kilometers to Irvine to Troika's office. He is assigned by Activision producer, as the publishers feared by one and a half years, lack of development progress. The LA Rush Hour is a reliable constant in its path. An outward journey takes up to four hours.

Mullich finds a very early stage of development. Few Levels run, just the basic game elements are implemented. Much will be renewed again and again in the ongoing transformation of the Source engine. Since the vampire powers and weapons mechanics are designed only at a late stage, suddenly no longer work previously completed sections. Much work is done two or three times. You can tell troika of troubles with his first 3D game and the unfinished art.

At the beginning makes Mullich his Autoroute only occasionally, sometime several times a week, and later from Monday to Friday, the end of production on the weekends. "I came in the morning, worked until midnight, drove back home and got maybe four hours of sleep."

"It was not a pleasant job, but all accepted the situation and acted accordingly." David Mullich "It was not a pleasant job," he admits. "No developer likes it when the producer of the publisher is right on his side, but everyone accepted the situation and acted accordingly."

Mullich is an industry veteran, his first game released at the end of the seventies. He has worked for a dozen games publishers - including long since forgotten how Edu-Ware or Electric Transit -, was instrumental in Heroes of Might and Magic 3 and the successor. In the spring of 2003, he stands in a room decorated with action figures Irviner developers office. Later he obtained a Assistant Producer to also some people from Activision's quality assurance so that they can test levels, once they are completed.