Hits: 235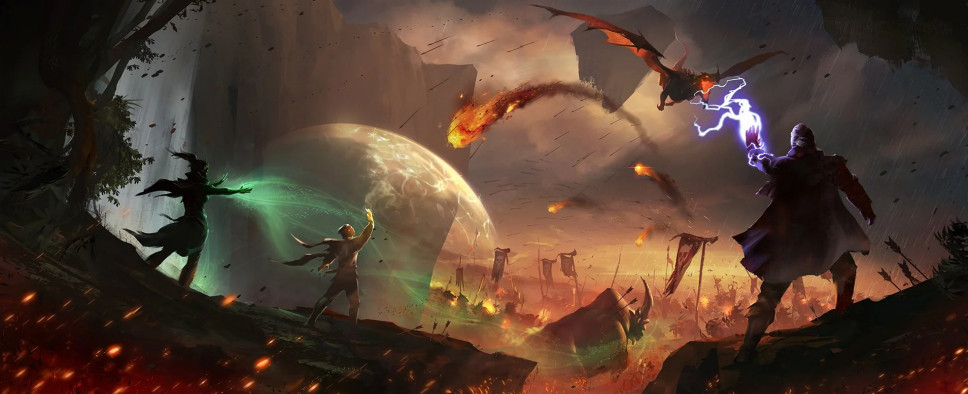 Last week, the folks over at Game Informer shared some trailers and a gameplay video showcasing the Mind Mage class from Cryptic Studios' upcoming Magic: The Gathering MMORPG Magic: Legends. And now, we can follow that up with a closer look at the game's Geomancer class. Check it out:
Then, you might be interested in this article that lists some of the game's standout features. For example:
One area where you have a lot of freedom to customize is in building your deck. Just like in the card game, this requires thought and care, but you can decide how much you want to get into the weeds of it - Cryptic said it's considering some sort of sample versions for players who don't like to tinker. For those that do, you want something that suits your playstyle, but also, if you're playing with others, complements their decks.

For instance, we had someone focus on buffs to ensure our summons would stand the test of time and dole out ridiculous damage, and all of us focused on healing, which meant we weren't going down easily. The cards you can choose from all represent the five colors of magic, and you don't have to stay tied to just one, regardless of class. The Geomancer class may be all about playing aggressive and in-your-face like most red cards, but that doesn't mean you couldn't pair it with some white to give you access to angel summons and healing spells. However, unlike the card game, you can only use two different colors for your decks.

The developers said they plan to have leaderboards of the top decks so people can see different creative ways to approach the game's challenges and follow their lead if they wish, just like how people look for decks in the card game. This gives you something to aspire to, as maybe you need to rank up a certain spell to get the most out of that type or deck. Cryptic said it doesn't want one deck to reign supreme. It won't be banning cards like MTG does, but the team is working to ensure the game is balanced and there's no runaway option for success. Building our decks became far and away the aspect we had the most fun with, and it's cool to have something that's slower, more thought-intensive to complement the non-stop action once you're on the battlefield.
We also have a press release that offers a quick overview of the game and shares some beta-related information. Have a look:
AMSTERDAM, Netherlands – January 14, 2020 – Today, Perfect World Entertainment, a leading publisher of live service games, and Cryptic Studios revealed a first look at gameplay for Magic: Legends, the new free-to-play MMO Action RPG based on the iconic strategy card game, Magic: The Gathering. The time has come for Magic fans and MMO Action RPG fans alike to become Planeswalkers and save the multiverse from its greatest threat. Players will explore some of the franchise's most iconic planes, collect mana-based spells and gather the power needed to overtake their enemies during combat. Magic: Legends will make its official worldwide debut on PC, Xbox One and PlayStation®4 in 2021.

Beta testing for Magic: Legends will kick off this spring! The first playtest will introduce two new Planeswalkers, the earth-shattering Geomancer and the psychic power-wielding Mind Mage. Those interested in joining the action can visit PlayMagicLegends.com/Beta to sign up for a chance to play.

"Our entire team was overwhelmed by the incredible response we received from gamers and Magic: The Gathering fans when we announced Magic: Legends last month," said Stephen Ricossa, executive producer for Magic: Legends. "Now, we're excited to reveal a first look at what makes this game truly special. We can't wait for players to assume the role of a Planeswalker and collect powerful spells to take on some of the most dangerous adversaries in the known multiverse."

From the developers behind Neverwinter comes a new top-down MMO Action RPG featuring fast-paced combat inspired by Magic: The Gathering. An ancient force moves in darkness, posing an ever-growing threat to the entire multiverse. Players will experience the power of becoming a Planeswalker as they discover exciting mana-based spells and strategically build out the perfect hand of balanced attacks to control the chaos of the battlefield. While openly exploring the vast planes from Magic: The Gathering, players will fight alongside iconic characters and legendary creatures made popular by the original card game. Key features of Magic: Legends include:

Become a Planeswalker – Players can choose from five diverse classes and switch between different Planeswalkers at any time.
Walk Your Own Path – Players will need to cross various planes to save the multiverse, but how they weave their path is up to them.
Control the Chaos – Control the chaos in real-time combat. Choosing what spells go into each hand requires strategy, as they will be drawn at random during attacks.
Collect and Upgrade – Players will discover a myriad of spells and collect spell fragments to make them more powerful.
Fight Together – The planes in Magic: Legends can be traversed alone or with up to two other Planeswalkers.

Here's a closer look at the first two classes announced for Magic: Legends:

The Geomancer draws upon the power of the Earth to pummel enemies in close quarters with devastating stone and lava attacks. They are capable of absorbing blows that would otherwise incapacitate other Planeswalkers with their rock shield. Geomancers prefer to call upon creatures like goblins, kavu and earth elementals.
The Mind Mage personifies cool intellect. As a Planeswalker that focuses on psychic powers, they can battle enemies from a safe distance, controlling projectiles with telekinetic powers, and lock down dangerous foes with spells that put them to sleep, or turn them against their allies.