Hits: 874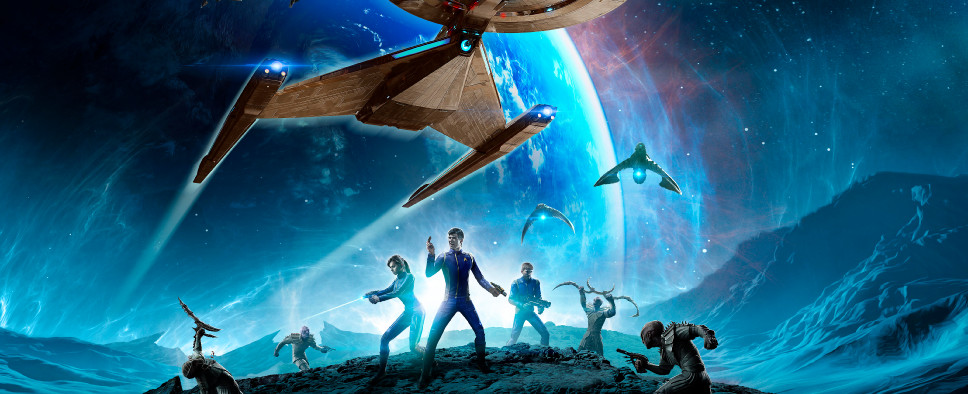 Awakening, a new content update for Perfect World Entertainment and Cryptic Studios' free to play MMORPG Star Trek Online, is now live on PC. The update concludes the game's Age of Discovery arc and transports the action to the year 2410, while bringing a few Age of Discovery characters along. As a result you can expect a new featured episode, new events, new starships, and more. Here's the official launch trailer:
And a press release with additional details:
REDWOOD CITY, Calif. – September 10, 2019 – Today, Perfect World Entertainment Inc., a leading publisher of live service games, and Cryptic Studios announced Star Trek Online: Awakening is now live on PC and launches on PlayStation®4 and Xbox One October 15. The time has come for Star Trek Online captains to return to the 25th Century. In the newest update to the free-to-play Star Trek MMORPG, players will warp to the year 2410 and team up with a sentient hologram of Lt. Commander Paul Stamets (voiced by Anthony Rapp from Star Trek: Discovery) to stop the Klingons from destroying the Mycelial Network. Captains will also discover a new series of patrols to repair rifts in the fabric of space, a brand new Task Force Operation and Mycelial Event to earn a new T6 starship. Plus in the coming weeks, a new ship bundle will be released in the Zen Store, which includes the debut of the U.S.S. Somerville, a special collaboration with the Star Trek Comics by IDW Publishing.

During Age of Discovery, players were introduced to J'Ula, sister of T'Kuvma and matriarch of the Klingon House of Mo'Kai. This savage leader waged a war against the Federation of Planets at Starbase 1 and inadvertently transported both fleets to the year 2410, using stolen Mycelial spore technology. It is now up to Star Trek Online's bravest captains to track down J'Ula and ensure that she doesn't corrupt the entire Mycelial Network. In order to accomplish this mission, players will require the expertise of an astromycologist, a hologram of the legendary Lieutenant Commander Paul Stamets from the U.S.S. Discovery (voiced by Anthony Rapp). Under his guidance, captains will navigate their way through the elaborate Mycelial Network to reverse the damage caused by the Klingons and face off against another fungal based enemy who has returned - the Elachi.

These events all take place in a brand new featured episode and across five added patrols for Star Trek Online: Awakening. Today's PC update also introduces an exciting new TFO, a limited-time Mycelial Event that allows players to earn the new T6 Elachi ship, and revamped UI/Systems updates. A full list of features now available with Awakening include:

Brand New Featured Episode - Captains hailing from all of the game's factions can participate in the new featured episode "Beneath the Skin." Players will depend on a hologram of Commander Paul Stamets from the U.S.S Discovery to safely guide them through the Mycelial Network.
Five New Patrols – Players can embark on a mission with Stamets and Star Trek Online luminaries like Lukari Captain Kuumaarke to close the rifts caused by the Klingons.
New Task Force Operation – Up to five players can participate in this special ground TFO against the Elachi, which tasks them with shutting down probes that threaten to destroy the Mycelial Network.
Mycelial Event – Captains who participate in this special event can earn the new T6 Elachi ship by playing through the new featured episode, patrols and TFO throughout the next month.
New Event UI – The dev team has revamped the Event UI to make it easier for players to access new special events.
Patrol Systems – A new tab has been added to the PvE system, which allows captains to immediately enter selected patrols and gain bonus rewards.
New Starships – In just two weeks, players will be able to purchase the new Cross Faction Intel Science Bundle, which includes the Klingon Balth and the U.S.S. Somerville, a starship first introduced in the Star Trek Comics from IDW Publishing.