Hits: 811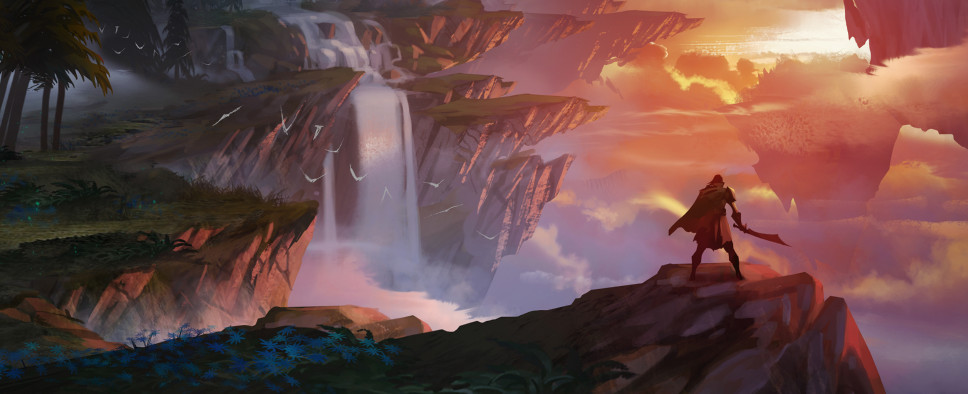 Phoenix Labs' free-to-play co-operative action-RPG Dauntless is slowly inching towards its full release, with the latest 0.8 update for the open beta bringing the game to the consoles and the Epic Games store on PC, together with complete cross-play functionality. If you'd like to give this curious "One Dauntless" system a go, you should check out the official account-linking guide here, and read a bit about the latest "Hunt Pass" here.

Check out the official console release trailer:
And here are the contents of the Hunt Pass:
Here's an overview of all the new stuff in the latest update:
NEW TO DAUNTLESS

True cross-play. Slayers can now play Dauntless with friends regardless of which platform they use. You can also use your Epic Games account to access your progress on any system.

Character creator rework. Improvements to the character creator mean that Slayers can now create more attractive characters and explore more options when styling (or restyling) their in-game representative. Slayers now also have the option to randomize their appearance.

Traversal changes. We've reworked locomotion, traversal, movement speed, and camera positions to make movement in Dauntless feel much more fluid. This change includes a number of tweaks to stamina costs (e.g. for sprinting, jumping), adjustments to run speed, and all-new animations for mantling. In Ramsgate, we've pulled the camera back a bit to give you some breathing room as you run around the city. What else? Slayers will no longer roll forward when they hit the ground after a heavy landing. This should help players who found themselves unintentionally rolling off of islands. The animation you see when you change directions should feel more responsive, too. Finally, Slayers should now walk over small bumps instead of trying to climb them. Hit up our Reddit (/r/dauntless) to let us know how these changes feel!

Support-A-Creator. Players can now choose a creator to support when they make qualifying purchases in Dauntless. Look for the Support a Creator button in the in-game store! If you don't know your favourite creator's Tag, you can search the full list at https://playdauntless.com/support-a-creator/

Elemental rework. A new element – Terra – has been added to the aetheric spectrum, bringing balance to frost, blaze, and shock aether. Koshai, Kharabak, and Skarn have adopted this new element and have developed new strengths and weaknesses to match. Be sure to check their info before you dive into a hunt! We've also added new visual and audio effects for Terra Behemoths and their gear. And speaking of gear: New Terra Orbs and Terra Patrols have been added to your mats and maps. You may also see some changes on gear related to this verdant element. As a final bonus, elemental relationships are now more predictable! Look for opposing pairs of frost/blaze, terra/shock, and umbral/radiant.

New alternate weapon specials. Axe and repeaters users can now unlock alternate specials! Look for Grim Onslaught (axe) and Full-Bore Chamber (Ostian repeaters) as you climb the Mastery ranks for each weapon. If you've already passed their unlock level, you'll receive them when you log in on May 21.

Mastery rewards view. Slayers can now check their earned and upcoming Mastery rewards without leaving the game! Look for the Rewards button on the Mastery screen.

New Hunt Pass. The Hidden Blades Hunt Pass begins with OB 0.8.0. Celebrate the Moon Blossom Festival with 50 levels of assassin-themed rewards, including emotes, weapon skins, dyes, and more. See the full list of rewards at https://playdauntless.com/hunt-pass

Improved store. This patch delivers a new store that loads quicker, works better, and allows players to preview items before purchasing them. Try it out by selecting a dye trio, weapon skin, or other visual store item. You'll also be able to preview items inside of the Hunt Pass!

New store packs. Two new packs have been added to the store. Pick up the Arcslayer Pack for a full set of cosmetic armour, a lantern skin, platinum, and more, or go for the Timely Arrival Pack to get a brand-new arrival emote and essential supplies. You can view both packs (and all of their inclusions) in the store. (Go to Main Menu > Loadout > Transmog to apply any weapon, armour, or lantern skins you've earned.)

Dye rework. Dyes are getting a major update! Look for new categories, new names, and new ways to earn dyes. This patch also lays the groundwork for an upcoming third dye region. Read all about it in the dye changes blog.