Hits: 637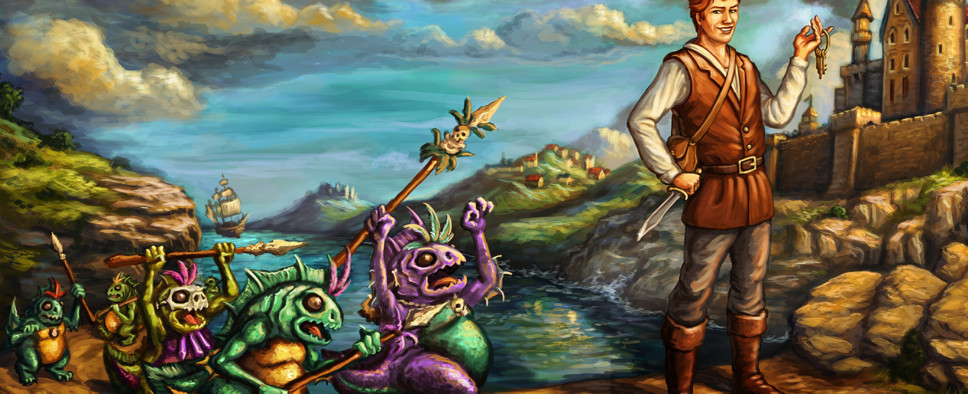 The latest developer blog for Transolar Games' Adventure/RPG hybrid Hero-U: Rogue to Redemption shared some details for Summer Daze at Hero-U, Rogue to Redemption's follow-up that should be ready by mid-2020. It also announced a developer livestream featuring Lori and Corey Cole playing Quest for Glory III: Wages of War. You can watch the complete six and a half hour long VOD of that livestream over here.

And here are a few paragraphs on the studio's next project:
Spring has Sprung

You know that Spring has sprung when Winter withers and Daffodils dally daily with boisterous bees. It's the sensational season of fabulous flowers flowing in the blowing, blustering breeze. There's no snow so go enjoy the show… it's a Spring thing. Have a Spring fling!

But what has this got to do with games? Well, if Spring has sprung, then Summer will soon sizzle. Summer Daze at Hero-U is on its way. For next Summer, that is. Games grow slowly.

Summer Daze is a interactive adventure tale set the semester before Shawn finds his way to the Hero University. The Summer session is almost over and the Harvest Festival is approaching. Somebody has to be in charge of making sure the festival is a success – whether they want to or not.

You get to play as either a Rogue or a Wizard who is assigned the task of running the festival. There are other students at the school who may or may not help you. You need to find ways to recruit them to your team. It's all about finding friends, fixing a festival, and having fun.

Daze of Details

The initial game design has begun on the project. Our animator Al Eufasio set the style and designed all of the characters. We're going with an elegant 2D illustrative style with a bright palette and tone that fits this lighthearted story. Artists John Paul Selwood is creating the backgrounds and the character closeup "talkers" for each emotion. Programmers Cidney Hamilton and Judy Feng are turning our Composer tool into a general purpose game input tool. This time we are using the Ink scripting language with Unity to turn Composer scripts into the game. We have another type of composer – musician Paul Korman – creating the music and soundscape for Summer Daze.

So we're off to a great start.

Summer Daze has the choice of two main characters – Tilly Appleberry or Ifeyo Kinah. They are very different people. Tilly is a carefree Rogue who gets through life with a twinkle in her eye, a grin on her face, and a talent for mischief. Ifeyo is a serious Wizard student who loves to study magic. Each main character will interact with a unique cast of characters and face very different challenges to put on the Harvest Festival.

We're focusing first on Tilly's tale. We want to have Tilly's game fully designed and programmed before the end of this Summer – just in time for a fall Kickstarter to help fund the rest of the project. That will include Ifeyo's story and other features depending on how much we raise.