Hits: 837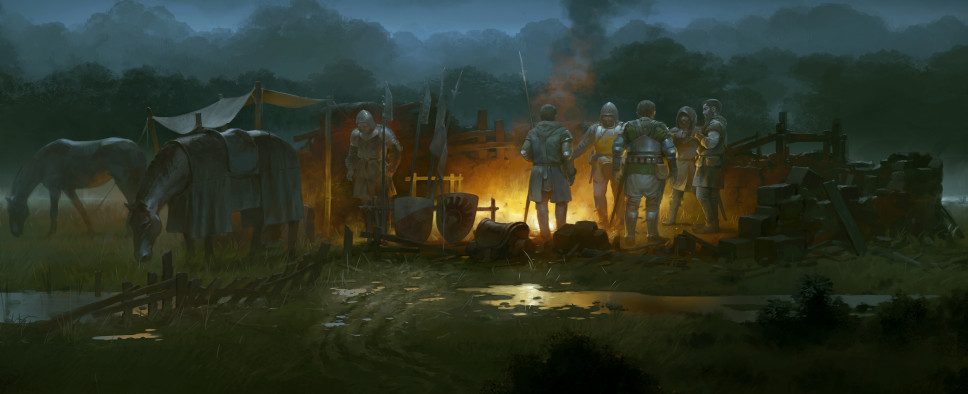 This month's official newsletter for Warhorse Studios' historical RPG Kingdom Come: Deliverance lets us know that when the Royal Edition of the game goes live on May 28, 2019, it will be accompanied by a permanent discount for the base game and its DLCs. The newsletter also invites us to the annual "Battle of Libusin" reenactment event that will be happening on April 27th, and offers an opportunity to win a number of tickets.

Apart from that, we get a vinyl soundtrack announcement, a few words on the recent live concert, and an overview of some recent awards Kingdom Come has managed to win.

See for yourself:
Hello KCD Friends,

Newcomers to KCD and fans alike will have much to look forward this and next month. Henry's job seems to never come to an end, which is a good thing for all of us, isn't it? However, this time around, you'll play as Theresa in A Woman's Lot, which finally has an official release date. We haven't told you exactly everything about this DLC, so prepare yourselves to spend a good chunk of time in our meatiest DLC to date!

Here is a breakdown of the latest updates:

Royal Edition & Price Reduction
Battle of Libusin invitation & contest
Kingdom Come: Deliverance on Vinyl!
Soundtrack Podebrady Concert on Steam
Czech Game of the Year Award - WE WON!

Royal Edition & Price Reduction

Soon, everyone will be able to get their hands on our highly anticipated DLC, "A Woman's Lot." Newcomers to KCD will be able to get our complete Royal Edition, which includes the game and all 4 DLCs and will also release on the same day! What's more is that the full game will be discounted and remain discounted, including most of the DLC, the OST and the Artbook! Take advantage of the discounts yourself and as always, thank you for your continued support. Kingdom Come: Deliverance will be permanently discounted to:

Base Game - €/$39.99
Treasures of the Past - €/$3.99
From the Ashes - €/$7.99
Amorous Adventures - €/$7.99
Band of Bastards - €/$7.99
OST Essentials - €/$7.99
Artbook - €/$3.99

Battle of Libusin invitation and CONTEST

Sharpen your blades and polish your amour – the annual "Battle of Libusin" is around the corner. On Saturday 27th over 1000 fighters are fighting for honor and glory – only the strongest will prevail. Warhorse Studios is the proud partner of the "Battle of Libusin" and is happy to invite fans from all around the world to spend the day with us, a medieval camp… and hundreds of medieval enthusiasts!

WIN 3x2 Tickets (and a beer with the Warhorse guys)

Just answer this one question:

Where does the Battle of Libušín take place?

A) My bedroom
B) Libušín
C) Planet Zog
D) Answer C

Send the right answer (it's not A!) with the subject "TICKETS" to info[at]warhorsestudios.cz and win 3x2 free tickets for the Battle of Libušín.

Meet & talk to us there on April 27th.

Kingdom Come: Deliverance on Vinyl!

We have a treasure for the audiophiles (yes that's a word) among you! The release of our Kingdom Come: Deliverance 12" album on vinyl. 2x20 minutes of selected music on 180g high quality vinyl in a premium hardcover come together with a Steam key voucher for the OST Essentials. Definitely a must have for all those gentle persons.

Pre-order now at: https://www.kingdomcome-store.com/

Soundtrack Podebrady Concert on Steam!

You can now watch the most amazing glorious KCD live concert on planet earth for free on Steam and YouTube. Experience the award-winning music of Kingdom Come: Deliverance performed live during Soundtrack Poděbrady festival in Czech Republic. If you're having a rough day, be prepared to have your spirits lifted. Our music composer, Jan Valta, delivers one heck of a masterpiece for all to enjoy. You'll even be able to recapture those special moments that you had in the beginning of your journey as Henry.

Czech Game of the Year Award - WE WON!!!

On Friday, April 5th, we had the incredible honor of being nominated in 6 categories of the Czech Game of the Year Award 2018.

Out of the 6 categories, we won 3 of them!

Best Game Design
Best Technology
YouTuber Choice Award

Thank you everyone for your support! You made this possible for us!