Hits: 679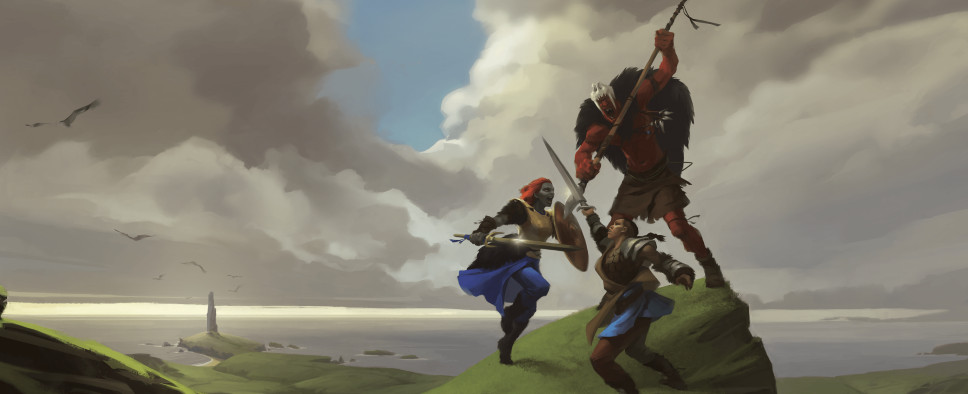 The latest Kickstarter update for Gato Salvaje Studio's time-travel RPG The Waylanders shows off some backer-exclusive weapons, talks about pledge management, and lets us know that a pre-alpha build of the game will be showcased during the upcoming PAX East that will be running from March 28th through 31st. Check it out:
Greetings adventurers,

We have some news and announcements. Here we go!

If you followed the previous updates, you'll know about the three exclusive weapons included in the +$80 reward tiers:

Well, the weapons have gone from concept art to finished 3D models. And this is the result!

Werewolves represent the traditional way to craft a weapon, as they scavenge and combine present-in-nature materials. In this particular case, the bow is made with antlers.

Werewolf weapons are usually finished with some leather, ropes, and even metallic ornaments. They intentionally paint these weapons with dark colors to give off a rougher vibe.

Mourian weapons provide a counterpoint to the werewolves' style. They use smoother shapes and elegant ornaments to embellish their weapons. Gold and precious metals reflect the power and wealth of this race. They fight with style!

Intimidation and strength are the best words to describe Fomorian weapons. Given their limited access to quality materials, they mostly use bones as a base for combat-oriented objects.

They've perfected the art of bone-carving, and for good reason; animal skulls and feet are a good way to make durable and devastating weapons.

BACKERKIT & PLEDGE MANAGER

We are working hard to find the best shipping option. Not only to find good prices, but also to guarantee a good service.

Also, we've prepared the pledge manager platform with Backerkit.

For technical reasons, the platform doesn't allow us to send you the pledge manager until we include the shipping costs and charge the payments. So, unfortunately we have to wait for a while to collect the info with the pledge manager. But don't worry, this only means you'll receive the link for the pledge manager later, and will change nothing in practice :)

PAX EAST @ BOSTON

We have great news. We are proud to announce that The Waylanders will be one of the featured projects in the Kickstarter booth at PAX East! We are very grateful for their confidence in our Project.

So, we'll be at Boston from March 28th to 31st, 4-6pm in the Kickstarter booth. If you are at PAX East, we invite you to try our playable pre-alpha demo! Don't miss this oportunity to be one of the first people who plays The Waylanders!