Hits: 741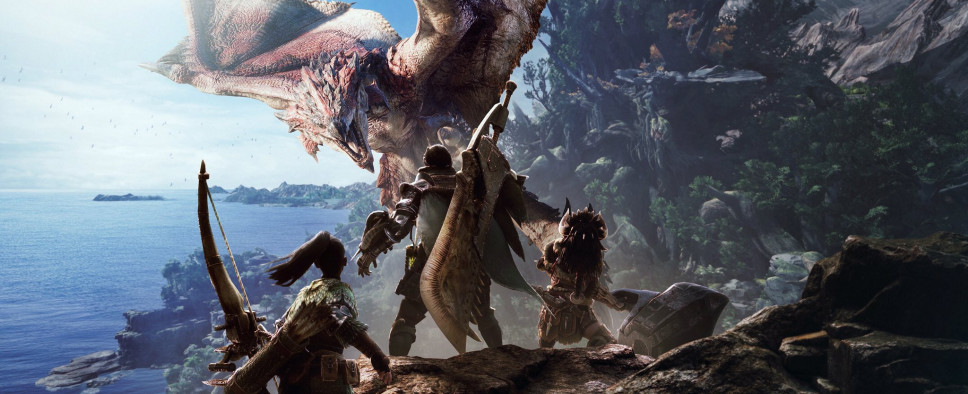 During a recent livestreamed developer update, Capcom unveiled some new content coming to their co-operative action RPG Monster Hunter: World. The biggest announcement there was the premium Iceborne expansion that's currently slated for autumn 2019. The expansion is said to add new quests, monsters, locations, moves, and equipment.

And while we're waiting for this big expansion, Capcom will be launching a number of free updates throughout 2019, one of which will introduce some The Witcher-inspired content to the game and give Doug Cockle an opportunity to reprise his Geralt of Rivia role.

Here's the full update:
Here's the Iceborne expansion reveal:
And here's The Witcher collaboration trailer:
Some additional details:
This year, we've launched Monster Hunter: World, our most ambitious Monster Hunter project to date, bringing in a new age for the series and breaking our own records left and right. All along we've maintain the same goal: make a premier game that fans worldwide will enjoy.

Shortly after launch, we let the Deviljho loose into the New World, introduced the all-new Kulve Taroth Siege, followed by a completely revamped Lunastra, and a mighty collaboration with Final Fantasy XIV to bring you the legendary Behemoth. But we're not done yet; we have pretty big things in the works… and that's what we're here to talk about.

Introducing Monster Hunter World: Iceborne.

Looking at the main art, logo and after watching the teaser trailer above you should already start to feel a little chilly… but I sure hope that little stinger at the end warmed your heart; it certainly warmed mine!

So to reiterate, we're working on a massive expansion to MH:W, including new environments, new monsters, a new quest difficulty rank, new moves, and much more. This is a paid expansion and will be delivered as DLC, so you can seamlessly transition from Monster Hunter: World into Monster Hunter World: Iceborne.

We'll have more details in spring 2019, but for now our target release window is set to autumn 2019 for PlayStation 4 and Xbox One. Details on the release timeframe for the PC version are still in the works, but we'll be sure to let you know ASAP.

[...]

Recapping some of the big reveals there…

Arch-Tempered Kulve Taroth (December 20th, 2018 ~ January 3rd, 2019)
Appreciation Fest (January 2019)
Arch-Tempered Nergigante (spring 2019)
All-new collaboration with The Witcher 3: Wild Hunt (early 2019)

[...]

A lot of love from both Capcom and CD PROJEKT RED was poured into taking the best elements from Monster Hunter: World and The Witcher 3: Wild Hunt and crafting a unique RPG gameplay experience for fans of both game series. We'll have more details on this soon, so stay tuned!

And to close it out with a bit of news for those who have not yet joined the hunt in Monster Hunter: World – from December 11th 4pm PST until December 17th 3:59pm PST, you'll be able to play MH:W for free with our Trial Version.

This free Trial Version is the perfect way to get started and lets you play up to Hunter Rank 4 (3 Star quests), with the same content that's available in the full version. This means you can take on some story quests, hunt a variety of monsters in two environments, craft weapons and armor with materials collected from those beasts, and join up with other hunters in multiplayer quests—you can even match up with hunters who own the full version, so feel free to call upon your veteran hunter buddies for help! It's the best way to dive in to Monster Hunter as players are always super helpful to newcomers.